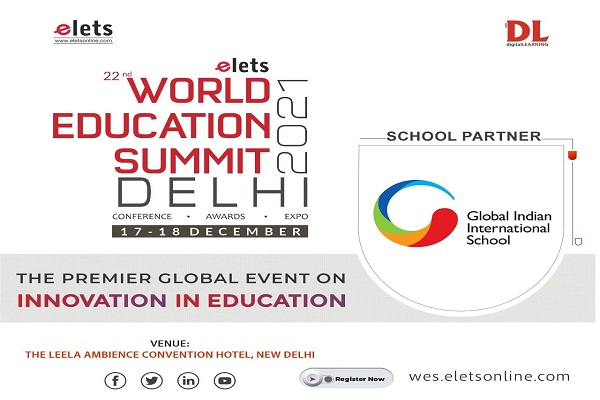 Global Indian International School (GIIS) focuses on delivering quality education to students. The diversity of GIIS helps students to have a broader outlook of life and shape a brighter future for the kids. The educators in GIIS are of the opinion that perfect schooling is more important than academic achievements.
Educators at GIIS focus on the holistic development of children. The International School (GIIS) uses age-appropriate pedagogical approaches to frame curriculum and provide teachings.
Since its inception, GIIS has built its reputation and expanded its reach from Singapore to different nations across the globe. Their teaching style, methods and approaches will be an interesting area to understand and discuss during the 22nd World Education Summit, to be held in December, 2021 in Delhi. We welcome them as a School Partner during the global premier event.

At GIIS, the teaching methods are based on proper research, evaluation of information and exploring new learning techniques. Currently, GIIS has campuses in Mount Sophia, Singapore, which is their first campus following which they have opened campuses in Singapore, Malaysia, Japan, Thailand, UAE, Vietnam and India.
There is a need to implement best practices in order to keep students engaged in learning, build their interests, develop curiosity, expand their knowledge and prepare them for the future.
GIIS teaching further exemplifies the students to understand the culture, society and develops critical thinking. The international school maintains its position as an education leader by providing exceptional and comprehensive education by utilizing the latest technology-enabled products and services.
Students can also enroll in their e-School to receive world-class education and enjoy a seamless learning experience.
The GIIS process is very simple, they introduce information and reinforce it throughout the course via repetition and application to different subjects and focus on meaningful learning and acquisition of skills.
The presence of GIIS at the world event will help the audience to understand the importance of international schools and why there is a need for educational innovation.
Kindly join us at the 22nd World Education Summit & Awards, wherein you meet and network with educationists who will share their real-world rich experience. You can also gain knowledge and insights of the education sector. So, Hurry up and Connect with us soon!
Follow and connect with us on Facebook, Twitter, LinkedIn, Elets video
>