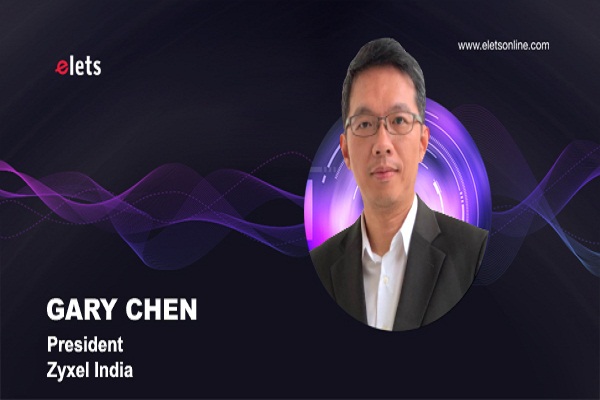 Zyxel is providing innovative solutions to the education sector, said Mr Gary Chen, President, Zyxel India to Elets News Network and added the company is actively innovating products and services for transforming the education sector.
What is Zyxel doing to bring transformation in the education system?
Zyxel provides high-end solutions across industries and education is one of the main focused sectors, which Zyxel looks up to and keeps on serving with innovative products and solutions. We are actively innovating education solutions for the bright future of this country. We are bringing the latest wireless solutions for better connectivity since digital platforms are the future of education institutes. The top B-school IIM Raipur, Leading K-12 schools like Shri Ram Millenium School, top graduate school – BITS Pilani are using our solutions and helping the students to have bright futures.

The apps and technology-enabled solutions play a crucial role after the Covid 19 pandemic in the education sector. Can we meet the requirements of the education industry?
During COVID 19, online education has taken the front foot and offline education is still distant. I am sure that even after Covid-19 digital platforms and online education will continue to happen, giving a boost to the education industry. All the technology enabled devices are to be managed, monitored and controlled by the internet. The devices, which provide hassle-free internet connectivity to the students and also to whole premises, Zyxel is a leader in it. Similarly, our latest inclusion for the education industry is WiFi6 access point, which is the latest technology and provides the best bandwidth. Be it outdoor or indoor connectivity, Zyxel is the one-stop solution provider for all networking needs.
What kind of tech-solutions Zyxel is providing that is helping the education industry?
As mentioned above, we as a leading networking brand are providing wireless access points, network switches, network firewall security and cloud management portal NEBULA. Education industry doesn't have to do the hassle of managing different brands at their site, they can simply control, manage all their Zyxel devices over the cloud with the help of Nebula Cloud Control Management Portal. Since, after COVID-19 online teaching is the new normal, we make sure that we are providing the best networking solution to the education institutes.
Do you think there is a challenge to implement smart and effective network solutions in schools? How can we mitigate this?
I would say that before COVID-19 it was a challenge to implement smart and effective network solutions but after COVID-19, education sector has understood the importance of smart education tools, online teaching, good internet connectivity, so now slowly and gradually the education premises doors are opening to welcome such new and effective network solutions which brings us in the picture and other education tools providers in the market. Also, beside the circumstances of covid-19, we have been continuously making efforts to implement smart network solutions in the education sector, to which we have been successful but the path is still long and we make sure that we continue to do the same in future also so that one day all the education institutes are on same page and our students are getting best facilities in terms of education and infrastructure.
Could you tell us about the Zyxel Network's new e-learning platform – Zyxel Campus Academy?
Zyxel understands education is the foundation for any big thing. Our Zyxel academy provides a diverse curriculum to individuals and organizations. Zyxel's network certifications offer network professionals the ability to become Zyxel-certified with proven experience and skills.
How secure is your AI and cloud-powered business solutions for users?
Cybercriminals are always quick to exploit the latest technology and AI is no exception. We are already facing a cybercrime pandemic, and the global cost has now reached $600 billion, according to a recent report from McAfee. To counter these more sophisticated threats, we need the advanced threat protection (ATP) that Zyxel is now building into all its firewall solutions. ATP uses AI to detect and silo potential threats before they have any chance to be deployed. The primary method used in ATP is sandboxing. This examines activity at the processor level, in real-time, detecting and blocking anything that looks like it could be malware and shutting it away in a protected area of the system before it can do any harm.
Our cloud-powered business solution is very effective for our users, you can access Nebula Control Center (NCC) from anywhere with an Internet connection and configure, monitor, and manage a wide range of networking and security devices from access points, switches, to security gateways and firewalls without the complexity of remote site access. We even have a dedicated app. The features that come along with Nebula are zero-touch efficient deployment, real-time updating and monitoring with historical data and best user experience.
Follow and connect with us on Facebook, Twitter, LinkedIn, Elets video
>