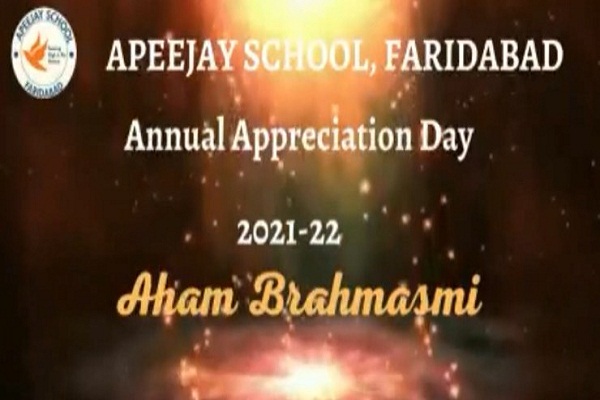 To celebrate the eclectic achievements of its students, Apeejay School, Faridabad, recently held its Annual Appreciation Day for the academic year 2021-22. The virtual event was graced by Sanjay Joon, IAS, Commissioner, Faridabad division, Faridabad, as the Chief Guest, and Ms A Mona Sreenivas, IAS, Director (Coordination), Election Commission of India, as the Guest of Honour. The event also saw the presence of eminent actor and special invitee Mr Kunnal Kummar. Dr Neha Berlia, Co-promoter, Apeejay Stya and Svran Group, presided over the event.
Congratulating the school for its exemplary achievements, Mr Joon said, "You have had commendable achievements in different fields. It is a great idea to appreciate and give recognition to the contribution by students in their respective fields of interest. I congratulate all the children who have done well and got laurels. I wish all the best to those who have completed their schooling at Apeejay recently."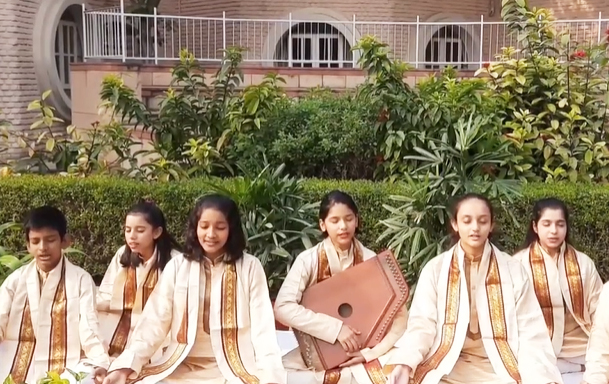 In her address, Dr Berlia talked about how the school strived to overcome all challenges in the pandemic to ensure that the education of the students was not compromised in any way. "A special appreciation is due to the school for going ahead with the annual appreciation day on a virtual platform despite all odds. Congratulations to the school for its commendable work in all realms—in academics, extra-curricular activities, sports, and community outreach initiatives.
"In the wake of the pandemic, Apeejay found effective online alternatives of high quality, blended, hybrid learning, which is here to stay. At all times, the vision of Apeejay Education is to provide value-based, holistic education leading to man-making and nation-building. Apeejay is guided by the vision of my late grandfather Dr Stya Paul, the inspiration behind all our institutions…(which) is dynamically being taken forward by my mother Mrs Sushma Paul Berlia, Chairman, Apeejay Education Society and Co-promoter and President, Apeejay Stya and Svran Group, as well as myself and my two brothers. Today, the Apeejay family comprises 24 educational institutions across the country," she said.
At the event, the school students showcased their impressive talents through various music and dance performances under the theme "Aham Brahmasmi—the divinity within", reflecting the union with the higher self and reminding how every individual is an integral part of the cosmos.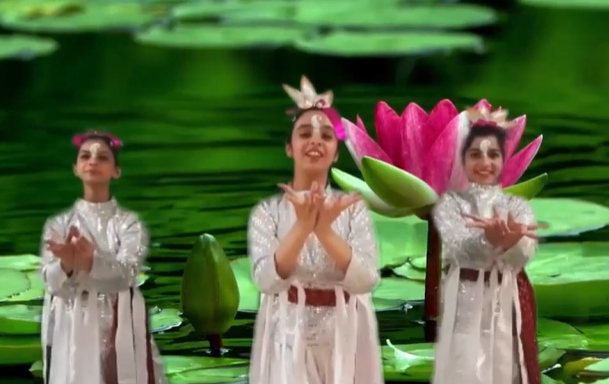 On the significance of the theme, Ms Sreenivas remarked, "This term has a spiritual connotation. It speaks about how each one of us is a microcosm. This sense of being yourself and also part of the much larger energy that runs the universe fills one with pride and happiness. The past two years have been very difficult. The impact of Covid has changed all of us. Though it has been a difficult time, it has also come up with a lot of opportunities for doing good. I have seen young people using crowd sourcing and digital platforms to connect to those in need and deliver food, oxygen, and medicines. I feel that it is this innate sense of kindness and humanity that makes us great. This is the Aham Brahmasmi that the Upanishads talk about. Celebrate, share and keep up these acts of kindness. Never lose heart and hope. There is always a scope to spread your wings."
The alumna of Apeejay School, Faridabad, further said, "Some of my formative years of life have been spent in this school. I did my classes 6, 7, 8, 11 and 12 from the school. I must compliment all parents and children. This institution has something very different to offer—a sense of discipline, well-being, and togetherness. I have many fond memories."
"Moved" by the theme for the event, Mr Kummar also shared his insights and thoughts with the students. He said, "I was so moved when I read the theme of the event, Aham Brahmasmi. It is a way of life in which we need to see God in everyone. Constant reflection is needed so that we go to deeper levels. We are beyond the labels that society puts on us. Meditate on Aham Brahmasmi and you will achieve what you are looking for…We need to not be body-conscious but soul-conscious."
Highlighting what sets Apeejay apart from other educational institutions, Dr Berlia further mentioned, "Apeejay reached out to its students with a seamless stream of online education. We were one of the first to start online teaching during the pandemic. All the Apeejay institutions are trying their best that uninterrupted learning continues for all its students. Teachers, under the guidance of the technical team, have swiftly adapted to the online world of teaching. Being at the forefront of IT-enabled education and cloud computing for years, we have been able to leverage that strength to our advantage very quickly in accordance with the need of the present time with requisite training and mentoring." She also talked about the infrastructure updation undertaken by the school amid the pandemic, from renovating the auditorium to the washrooms.
Dr Berlia went on to thank the parents of Apeejay students for being constant pillars of support. "The last two years have been tough for students but more so for parents. While online teaching seems easy, it has required huge efforts from parents to ensure education was being imparted even at home. We look to their continued support at all times, and the commendable effort put in by our teachers who have been constantly working, creating schedules, and managing examinations during such times…May the school continue to soar higher and higher.
"I congratulate all those who have won prizes today. To those, who have not won any prizes, I would like to say that never give up on your dreams and follow it up with determination to get the kind of success you deserve."
The outstanding efforts made by the school and its students came forth through the achievements listed in the annual report. Principal Dr Parul Tyagi enumerated the various laurels won by the school, in both scholastic and non-scholastic fields. She highlighted how the school was nationally recognised for its contributions to blended learning, while appreciating individual achievements of students in board exams, and national and international events, from sports to science and social work. "Our sincere efforts have earned us prestigious positions as school leaders in different surveys helping us create a niche as an enriching and empowering school. The focus is to encourage teachers and students to become reflective practitioners through experimental and inquiry-based learning, decision making, and interpersonal trust," she said.