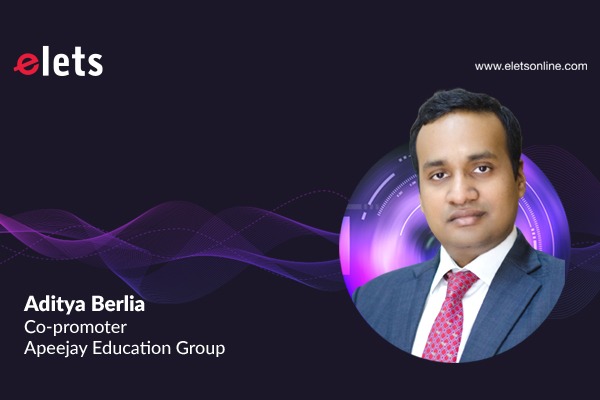 Aditya Berlia is the Co-promoter of Apeejay Education Group. Apeejay Education Society (AES) is a leading education group committed to providing quality education from Pre-nursery to Doctorate level. He spoke to Digital Learning Magazine.
How do you see the use of technology, specifically digital technology, in the last two years ?

Covid-19 has pushed everyone to experiment with technology like never before. It has shown us both the possibilities and the limits of digital transformation with the current state of art and context. For the next few years, the focus for governments and organisations will be to learn from these experiments and quickly build on their gains. With the learning of limitations, we are seeing more confidence in digital technologies and a drive for innovation based on now expanded use cases.
Also read: Aditya Berlia: Safety of all stakeholders our priority

Do you think that the education sector has been able to sail through even during the pandemic because of the active use of technology?
Active technology for those who had the luxury helped bridge much of the gap, but most students, especially those dependent on government and low cost institutions, were left behind. The great lesson has been to demonstrate to parents, students, and regulators the possibilities of blended and online learning, demonstrate its efficacy and change their mindset on how modern education can be delivered.
Have we seen a boom in the use of technology to conduct online classes? Do we see online replacing physical classes ?
With two years of experience, the thought process has become more nuanced. There are specific learning goals and materials that are even better taught online than offline, while others still require physical classes as standard. The ability and manner in which students learn and their access to structured home life also plays a significant role in determining the success of online versus physical. It is doubtful that one would replace the other. Instead, we will see a more blended approach on the one hand and more field-specific inroads of online learning.
There is a strong demand to make curriculums industry ready and also, an enabler to create more job givers than job seekers. Your views.
The greater struggle is for the industry to communicate to future students and their parents what fields and types of education they value and that will thrive. There are enough excellent courses directly linked to the industry that exist but are going empty because there is a mismatch between industry needs and students' understanding of those needs.
Do you think digital technology has shrunk the world and brought the best mentors closer to the students, bridging the barriers.
Deep comfort with technology has enabled mentors, speakers, and teachers to cross significant geographical barriers. By freeing up travel time and cost, institutions and students have access to a broader pool of expertise. However, at the same time, there needs to be concentrated effort to train these new mentors and enable them to be more productive and involved in the lives of their mentees, even if they are far away.