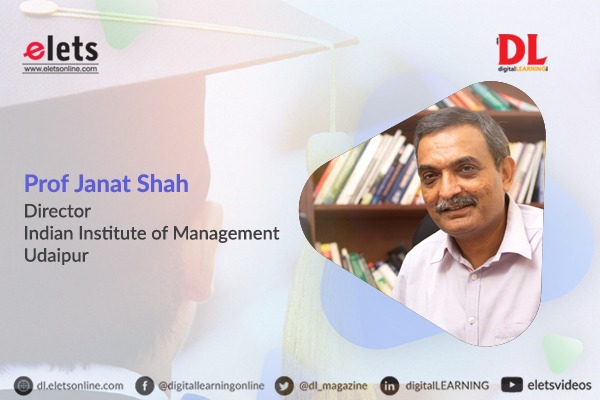 Prof Janat Shah is the director of Indian Institute of Management, Udaipur. He spoke to the Digital Learning magazine about the use of technology in education.
What has been the biggest innovation in higher education during the pandemic time?

The pandemic has immensely affected the lives of people and the way we do things. COVID-19 has unlocked new opportunities in education technology to help engage teachers and students. Lockdowns have made people move towards virtual models. Online learning has witnessed a lot of infrastructural development and the adoption of platforms such as zoom and google meet to fill the gap. The shift to hybrid classrooms has grown the prospects for collaborations between universities and businesses. The increasing number of webinars has given students a chance to interact with faculties and professionals from various industries worldwide, giving them a leap in their education and career. These advancements make education more flexible, open more ways to connect with the community and expose students to real-world scenarios to seek solutions and apply their learning.
How do you think use of technology is upskilling the students and making them more industry ready?

Covid has influenced people worldwide to learn and adapt to the different technologies to be industry-ready. From studying in physical classes to being present in the online medium and interacting with peers virtually, learning has been immense, motivating students to upskill their technical knowledge. Students can now access to personalized education 24*7 and the availability of recorded sessions that help them gain high-quality education no matter where they are.
NEP has been advocating for the addition of technology in the curriculum. What do you think can be the best way of doing this ?
With the onset of the Covid pandemic, the importance of technology has increased immensely. Businesses have started adopting new and old technologies to function effectively in the unique setting. Some of the ways of doing it are –
• A special course dedicated to technologies: To cope with new technologies, it is essential to get to know them. Disciplines like digital business execution, digital technologies, digital transformation, etc., can be made part of the curriculum to give students a genuine understanding of these areas.
• Fintech courses: Since fintech is becoming immensely popular, inclusion of it in the curriculum will help students to get knowledge about the use of technology in the banking and finance sector and also help them explore new opportunities in the field.
• Exposure to digital tools & skills: Usage of tools like AI, blockchain etc., are gaining popularity in the industry. To prepare for the modern workplace, hands-on experience in these concepts and tools can be provided..
Can you share some best practices of use of technology in higher education?
Technology trends can encourage a holistic learning environment with the inclusion and feasibility of both staff and the students. Recent trends like AI, data analytics, online learning, and hybrid models have revolutionized the overall education system. We, as a premier management institute, are also embracing technology to enhance the learning experience of our students. We have invested decisively in advancing our infrastructure with our existing connectivity. We wish things to go back to normal as for high-quality management education, face-to-face or campus based learning will always be the dominant and preferred mode of education. For tier-II & tier-III institutions, which are currently in significant numbers in our country, I think COVID-19 has opened up an exciting set of opportunities.