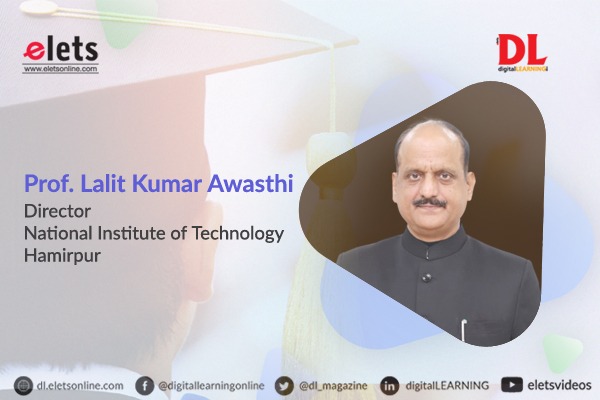 Prof. Lalit Kumar Awasthi, is the Director at National Institute of Technology, Hamirpur and also a Professor, Computer Science and Engineering Department. Prof Awasthi spoke to Digital learning magazine.
What has been the biggest innovation in higher education during the pandemic time?
The major innovation that I can see is the whole process of teaching learning shifted from majorly offline to online. Digitally enabled teaching-learning has been the main focus with curriculum also being evolved to encompass online teaching-learning and evaluation. We are listening more commonly to the term "Education 4.0" which is enabling the students to learn skills of new technologies that are deriving "Industry 4.0". The curriculum is being carefully drafted not only to include technologies like artificial intelligence, machine learning, cyber-physical systems, IoTs, sensors, gamification etc. but also to include the main essence of "New Education Policy NEP 2020". There have been innovations in providing a full-proof online evaluation system for the examinations being conducted online.
How do you think use of technology is upskilling the students and making them more industry ready?
Our students are quite innovative and if you challenge their abilities, they are delivering the best. I can tell you the success story at NIT Hamirpur, during the pandemic five students have been placed at an annual unprecedented package ranging from 1 Cr to 1.51 Cr in 2021-2022. The focus of NIT Hamirpur and similar institutions is on innovation and research and promoting hands-on learning, teamwork and entrepreneurial skills. During the pandemic, emphasis has been to invite industrial experts online to deliver the lectures on latest technologies, mentor virtual projects with a focus on developing IT skills and training on programming skills. Also, the learning has improved due to the organization of Hackathons (technical competitions) online where the students from around the world solve open problems.
NEP has been advocating for the addition of technology in the curriculum. What do you think can be the best way of incorporating technology in the curriculum?
Technology can be used for teaching-learning and secondly new age technologies can be taught to the students. Institutions like NIT Hamirpur are already using technology for teaching-learning like: power point presentations, multimedia, supplementary videos, recorded lectures, and we also ask the students to present their project work, term papers or latest developments in his/her area. New technologies to be included in the curriculum. NIT Hamirpur and all such autonomous institutions have freedom to teach latest technologies to their students and we are in fact updating the curriculum at regular intervals and also if need be it can be done even yearly.
Can you share some best practices of use of technology in higher education?
Technology has enabled the faculty to deliver lectures online and record them. These lectures are available not only to the students of NIT Hamirpur but to all the students in the country or abroad as well. Similarly the recorded lectures of the faculty from other institutions including MIT, Harvard and Stanford will also be available to the learners either free of by paying a small fee, and now it depends on the learner to access such lectures and study from the best faculty in the world.
"Exciting news! Elets Education is now on WhatsApp Channels Subscribe today by clicking the link and stay updated with the latest insights!"
Click here!