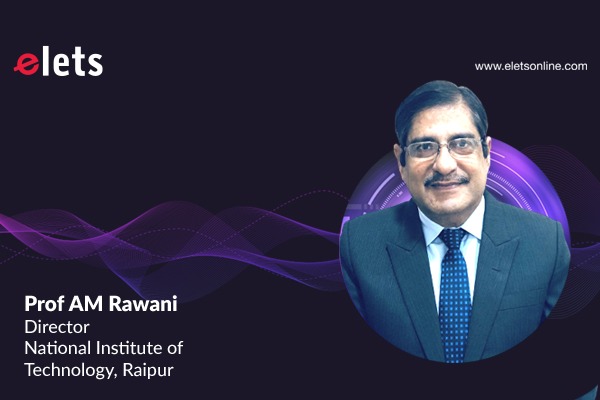 Prof AM Rawani is the director of National Institute of Technology, Raipur. He is an academic professional with 35+ years of experience and flair for academic administration. An engineer and a qualified management scholar, he has produced 8 Ph.Ds and has published over a 100 research papers in international journals. He spoke to Digital Learning about changes in higher education during the pandemic.
What has been the biggest innovation in higher education during the pandemic time?
The COVID-19 pandemic has brought unprecedented disruption in all sectors, including the education sector, but it has also acted as a catalyst of innovation. With the pandemic indefinitely shutting down traditional in-person classes around the world, many institutions and faculty have risen to the challenge and implemented unconventional pedagogies in higher education. The biggest innovation in higher education during the time of pandemic has been the adoption of technology for online teaching-learning on a large scale. Now institutions across the globe are embarking on their digital transformation initiatives by embracing educational technology to make learning, and online learning in particular, more efficient and personalized. Although I know our students are anxious to return to the classroom and campus, but they will be returning to a learning experience forever transformed and improved by technology. Institutions will get past the pandemic, but online learning is here to stay.
How do you think use of technology is upskilling the students and making them more industry ready?
The use of technology is definitely upskilling the students and making them more prepared for Industry 4.0. Technology and the Internet provide remarkable resources for students to easily access latest industry specific information for educating and updating themselves. It helps the students in the learning process by simplifying the knowledge. Also, it helps to visualize what is being taught by the teachers. In today's world, Data Analytics, Machine Learning and Coding are some of the many skill sets needed. The use of technology and the Internet is helping students to learn and acquire new skills so that they can supplement their academic knowledge with industry relevant skills, both hard and soft skills, thereby enhancing their competencies to bring added value to the industry.
What do you think can be the best way of incorporating technology in the curriculum with reference to NEP?
The National Education Policy (NEP) 2020 emphasizes on the use and integration of technology in education. Technology can be incorporated n the curriculum in several ways. Educators can take advantage of internet-enabled computers, laptops and tablets, allowing students to visit educational websites, access MOOCs, watch informative videos, play educational games, access databases and conduct research. Educators can keep the learning environment interesting and maximize efficiency by using interactive smart boards in the blended classroom. Educators can also bring presentations to life for students by incorporating visual effects, photos, videos, music and multimedia into slideshows to boost engagement with class via conference call tools. Virtual laboratory is a powerful educational tool that enables students to conduct experiments at the comfort of their home.
Can you share some best practices of use of technology in higher education?
Some best practices of use of technology in higher education include the usage of a Learning Management System (LMS) application for delivery and management of all types of content, including video, courses, and documents, assessment of students, feedback of faculty, and for staying connected. Higher educational institutions should have video recording studios to deliver and record lectures and content with interactive smart boards and an e-library for digital storage and dissemination of video lectures and other educational resources. Technology-based courses and MOOCs should be adopted and Virtual labs should be utilized for practical demonstration of theories.