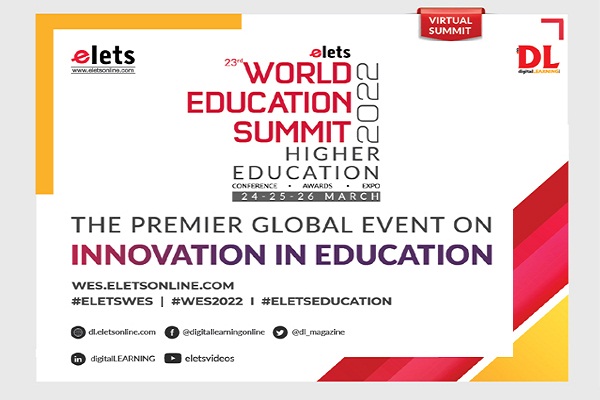 Get ready to witness the best from the Higher Education sector coming together and discuss the most pertaining issues at the 23rd World Education Summit 2022 (Higher Education) on 24, 25 and 26 March 2022. The virtual summit is being organised by Digital Learning Magazine and is Co-Powered by Adobe. The partners for the three day event are UpGrad (Skilling partner), Samsung (Display Partner), IES University (University Partner), TruScholar (Credential Partner) and Ecophon (Associate Partner)
The event is the biggest platform that brings together the best of the Higher education sector and witnesses them sharing insights and views on topics that trend in the education ecosystem.
Giving details about the event that explores the latest innovations in education, Dr Ravi Gupta, CEO, Founder and Editor in Chief of Elets Technomedia said, "Elets has always been a pioneer in showcasing innovations in education and WES has been a global event which is in its 23rd edition now. In the Higher education edition, we have some of the top names from Universities and institutions from across India."
It is a well aware fact that the education sector has undergone a major transformation during the pandemic times. Blended learning, E-learning and technology support played a vital role in transforming the education ecosystem and ensuring continued education even during the lockdowns. in a big way. The three day event would see experts talking on the need for constantly evolving technology and learning technologies to ensure industry ready curriculum.
The event will also see the experts and educationists talking about the best practices that has been used in the last two years and share their experiences on the same.
Here are a few topics that will be delved upon by experts –
National Education Policy (NEP): Approach, Opportunities and Challenges
Impact and Role of Artificial Intelligence in Higher Education
Education & training for integrated urban & rural development; stepping stones for curriculum development & skill enhancement
Reimagining Higher Education: The Post Covid – Campus
Rise of Massive Online Open Courses – Roadmap Ahead
International Collaborations for building Future Ready Workforce – a Global perspective
Block chain technology redrafting the blueprint in the Indian Higher education sector
Creating a synergy between technology and curriculum for better employment ready courses – How can digitalization help this goal ?
New UGC Reforms: How should HEIs adopt?
Challenges in intersection of SaaS and Higher education to deliver exponential growth for the education sector
Blended and Multi format digital learning – can they be the building blocks of higher education in India.
Enhancing classroom experience – Key Infrastructure aspects which can aid the teaching-learning process
Do not miss a chance to be a part of the event.
Registration Link – https://wes.eletsonline.com/he/23rd-wes-higher-education-query-form/