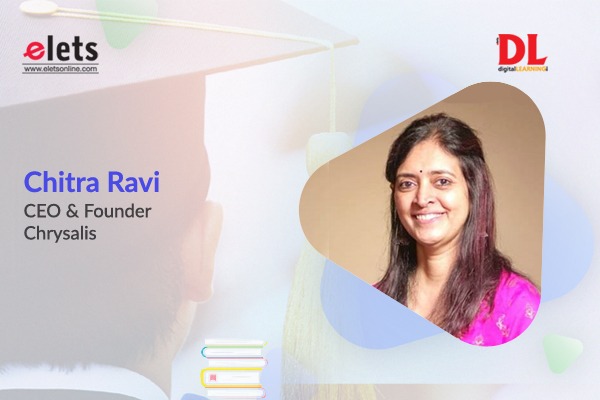 Could you brief us about the company and its founder?
Chitra founded Chrysalis about 20 years ago. Chrysalis started with very simple initiatives like teacher training, and curriculum programmes for computer education in schools. In early 2000, multimedia was emerging and schools were keen to bring in computer labs, but they didn't know what to teach and how. Schools were also open to external help from organisations like Chrysalis when it came to something new, like computer education. Chrysalis started working with schools closely. Until 2010, Chrysalis was more like a boutique advisory and consulting firm for schools' computer education. The organisation also started working with corporates like Wipro, IBM, Nokia and Dell. In 2005, Chitra went to Harvard graduate school of education and did a programme in education management and pedagogy. Her whole specialisation was on how children understand. In 2012, she realised that just being in the periphery of the school system and organising external training for teachers wasn't adequate, because that the teachers would go back to using age-old textbooks after undergoing the training. They could not incorporate it in their everyday teaching. So, a significant difference wasn't seen in the application level.  Hence Chrysalis launched the ThinkRoom programme for schools, which fundamentally reimagined the way textbooks were created and introduced Studios which while covering the syllabus, also nurtured the thinking skills and 21st Century Skills. It was an instant hit with schools and the rest is history.
How does Chrysalis help in bringing out the innate potential in every child?
We follow a questioning-based pedagogy in Chrysalis Books. When we state facts or when we make statements about history or geography, it merely communicates information to the recipient (student). But, if we want the student to think, then we should ask more questions. Good questions always make children think and come up with answers.
Let's take counting. To understand the pedagogy better, counting is taught in a traditional manner. In schools, one plus one is two and two into two is four is taught through rote learning. Chrysalis believes that there are four distinct ways that you can think. They are:
•            Look Deep
•            Look Within
•            Look Around
•            Look Beyond
Look Deep: Let's take for example, photosynthesis. You're looking for a deep meaning in the phenomenon. Why is the leaf mostly green? What is the element that makes it green? How does it help in the making of food in a plant?
Look Beyond: Suppose plants had the choice to go to beauty parlours. What services would be there in the beauty parlour? It is a question we've asked third and fourth standard children when they were learning about plants. It is what we call creative thinking. One wouldn't believe the answers children say, like pedicure, manicure, facials, and those kinds of services.
Look Within: fosters reflective thinking. Now, you see a plant that looks like it is dying. What would you do? The children can either say, I'll just walk home, or see if there is water nearby to pour.
Look Around: which is societal thinking. What will happen when trees are cut? How can you help? So, we bring in every topic right from the early grades.
Chrysalis brings these four facets of thinking as we call it. It is one example of our pedagogy. The result is that the children start thinking divergently all the time.  The pandemic has accelerated digital transformation. So now Chrysalis has also collaborated with an international partner with whom we are taking technology to the next level and bringing in a blended model for schools to adopt.
What is the impact of Chrysalis's methodology on the standard curriculum? How is Chrysalis transforming the traditional education system?
In 2012, Chrysalis started with the curriculum and content for all the core subjects like math, science, social studies, english and started developing a "studio." It was different from a typical textbook. It made the whole process of thinking and learning more engaging for the child. Teachers were still conducting typical tests and exams and teaching for the test. We conducted an assessment, and launched our programme in 2012-13 called ThinkRoom, where we said, mundane classrooms can become stimulating ThinkRooms. That is where we started also using technology to see how it can support the initiative. and help teachers and students do better? It is right from pre-kindergarten (pre-KG), which is for two and-a-half-year-olds, and goes currently up to grade five. We are expanding it to class eight. Beyond grade nine, education becomes more test-oriented, with board exams, etc. So, we want to make as much impact as we can on the child's brain development, which is in the early years and move to the primary and elementary school system.
Can you brief us on the emergence of blended learning and how it is helping enhance the learning experience of students?
In the last two years, we believe that technology has become a great leveller. Yes, there are macro factors, like the availability of technology, the infrastructure available to teachers the internet facility in classrooms, etc. But if there is an internet facility, we believe that children and teachers should get the best framework and the best technology to make it a reality. Blended learning comprises offline and online teaching methods, which are synchronised. In synchronised learning, instruction and learning occur simultaneously as for example, online learning from instructors in real time, but not in person. Pre-recorded video lessons that students complete on their own constitute asynchronised learning. We have specialised in asynchronised, synchronised, as well as offline instruction. We believe that in future every school, is going to have blended learning. When children go to school, they have a good mix of peer and teacher interaction with blended learning.
What are the tech-enabled solutions used by Chrysalis?
Chrysalis was always a pioneer in technology. In 2014 we were the first to launch a QR code enabled textbooks. In 2016 we were the first in India to bring in Augmented Reality enabled books for KG-5 grades. And now we are pioneering the AI and machine Learning enabled Blended Learning Platform KidsLoop. KidsLoop is a global EdTech Platform with a powerhouse of features for schools and education service providers. With its AI and machine learning capabilities, KidsLoop is the fastest emerging EdTech platform globally. Also, KidsLoop has flexible delivery options including live, in-class and homework that allow education providers to choose their preferred method of instruction. Whether you're in a traditional classroom, strictly remote, or a bit of both, the KidsLoop platform has what you need. Our ESL and STEAM programme is suitable for ages 3 – 8 years. Going one step ahead, schools can completely take control of the platform and digitise their own curriculum. Easy-to-use tools help schools to take their physical curricula into the digital space. Schools use the game engine templates to make their digital activities interactive and attach learning outcomes and milestones for easy assessment and reporting.
What is the 'ThinkRoom' concept? How is Chrysalis transforming Classrooms to ThinkRooms?
The whole idea of the ThinkRoom was to transform mundane, unstimulating classrooms to a stimulating ThinkrRom because every child deserves the mental stimulation.  If proper stimulation isn't given to the muscles – by inactivity, the muscles become weak and one becomes complacent. Similarly, minds also need to be stimulated constantly. We need to bring a more colourful, stimulating ambience in the classroom. The school and the teacher need to create an emotionally safe environment. For example, the babies don't need to taken to the gym as they are constantly exercising. They want to learn, explore, build their muscles, and their body. Older children in a static environment tend to become complacent.
What are your growth plans for the next 12 months?
Chrysalis is looking for a 5X growth in the next 12 months. Currently, Chrysalis is impacting around one million students. The goal is to impact over five million students in the coming months. One of the biggest factors is the international collaboration Chrysalis is having with KidsLoop. The KidsLoop international brand helps in tapping into several markets, including Africa and parts of Korea and Vietnam. The offered pedagogy and content are attractive for other markets as well. Chrysalis is looking forward to tapping into Indonesia, Vietnam and other parts of the world.
Chitra Ravi, CEO & Founder of Chrysalis