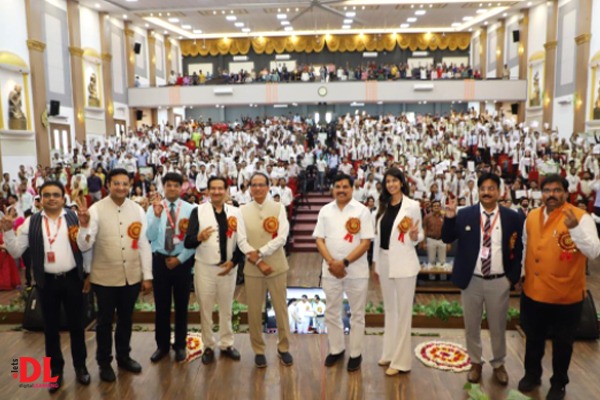 The Bhopal campus of SAGE University celebrated the SAGE Career Day 2022 on May 20. The event was graced with the presence of the honorable Chief Minister of Madhya Pradesh Shivraj Singh Chauhan as Chief Guest. To celebrate the success of students, SAGE Career Day 2022 was commemorated by special guests, Respected Higher Education Minister of State, Dr. Mohan Yadav, Chancellor of SAGE University Er. Sanjeev Agrawal and the Executive director of The SAGE Group, Ms. Shivani Agrawal. Chief Guest for the event was welcomed with floral felicitation by our Chancellor Er. Sanjeev Agrawal. The session was addressed by Ms. Shivani Agrawal showcasing the efforts and achievements of the Training & Placement Department of The SAGE Group.
The Chief Guest encouraged students to progress ahead with innovative ideas without worrying about the funds, further stating that Madhya Pradesh Government will provide financial assistance to worthy ideas. Chief Minister also urged students to stay in the country and contribute their services to nation-building. Higher Education Minister of State, Dr. Mohan Yadav wished success to students and enlightened everyone on the various programs in the education sector carried out by the administration. Chancellor of SAGE University, Er. Sanjeev Agrawal elucidated the contribution of The SAGE Group in the education domain from its inception in 2003 to this day. He extolled the efforts made by The SAGE Group in enhancing the career growth of its students. Today students of The SAGE group are working as heads of various companies glorifying the name of their city and state. Chancellor Er. Sanjeev Agrawal expressed his gratitude to Chief Minister and his administration for supporting the SAGE Group in its efforts. The event was illuminated by the presence of The SAGE Group's Eminent Members, Senior Associates, Faculty Members, Industry Experts, and students.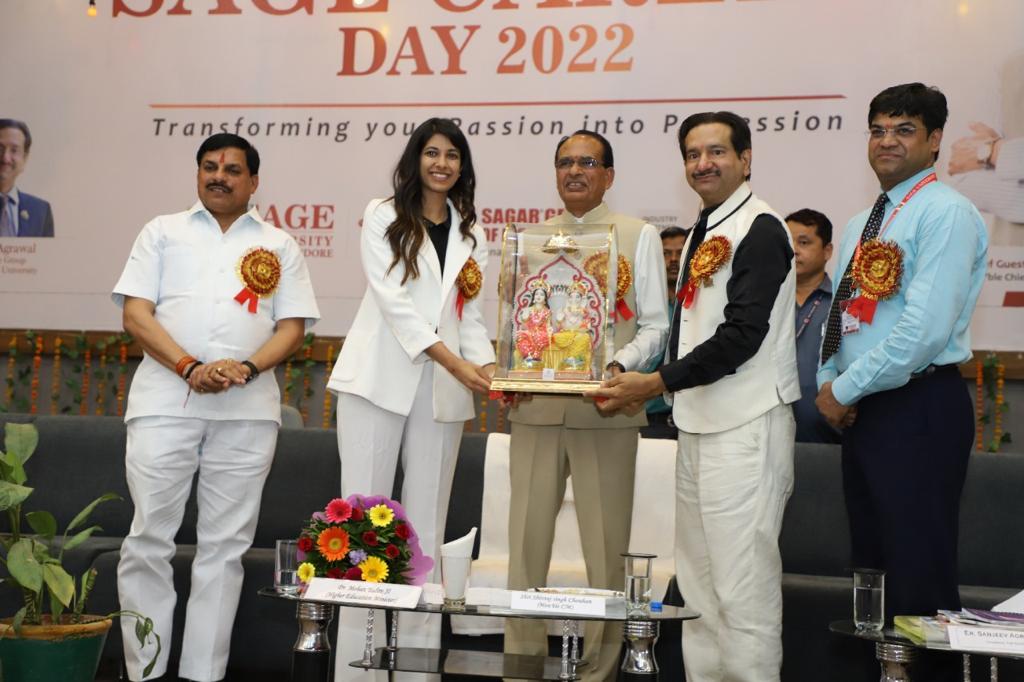 In the last sequence of events, the placed students were awarded. PHD Chamber of Commerce and Industry is chaired by Er. Sanjeev Agrawal, Chief Minister Shivraj Singh Chauhan was honored with a souvenir by the Chairman on behalf of the Chambers.
The SAGE Group has signed more than 150 Memorandum-of-Understanding (MoU) with various national and international organizations to promote better employment and excellence in education.