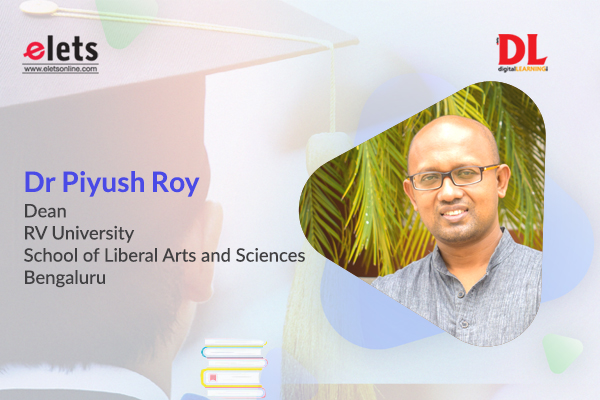 Dr Piyush Roy, Dean, RV University, School of Liberal Arts and Sciences, Bengaluru. He spoke to Digital Learning Magazine.
What do you understand about STEAM?
Simply put, a STEAM-centric education model is designed to integrate traditional STEM (Science Technology Engineering Mathematics) subjects with those in the domain of Arts (Humanities and Social Sciences) in an immersive way that is truly inter-disciplinary. While STEM-driven careers lead to popular imagination, the mandate for education today is no longer about just guaranteeing the means to a student's livelihood; but to develop their emotional resilience, sociocultural confidence and professional intelligence, through abilities for anticipating and dealing with change, which a foundation in subjects in the Arts stream guarantee. As regards impacting the way we perceive higher education expectations, the STEAM model offers a game changing approach to learning as a multi-disciplinary endeavour visa-vis traditional silo-centric pursuits. The idea that Arts and Sciences command distinct and different learning orientations no longer holds true, and the STEAM approach is yet another endorsement in making higher education go the 'liberal, holistic, multi-disciplinary way.
How can a paradigm shift from STEM to STEAM through the integration of arts and humanities with technical education help in creating well rounded individuals?
Contrary to misplaced criticisms about education in the Arts being esoteric and unscientific compared to its STEM counterparts; many modern subject streams within Arts oriented disciplines, especially when offered in the Liberal Arts way, expose students to an equivalent degree of rigorous inquiry methods and analysis, ranging from quantitative mathematically-based methods to qualitative methods derived from social sciences. The latter research techniques expand the scope of studying any subject by helping articulate 'the nuance beyond the obvious'. However, it's imperative that institutions shifting from STEM to STEAM, or offering arts within sciences do not limit it to just another 'unique' degree-awarding pathway but get to the worldview widening spirit of creative and logical quests done together. Such a multi-disciplinary approach can be extended even beyond STEM, to Law, Management or any education that envisions impact through its learners.
Aesthetic sensibilities with scientific temper, responsible citizenship with emotional balance – as personality attributes when accompanied with the rigours of knowledge expertise in one's chosen domain will make one irresistible on an individual as well as employability quotient. Steve Jobs, CEO and co-founder of Apple Inc., once famously said, "Technology alone is not enough – it's technology married with liberal arts, married with humanities, that yields us the result that makes our heart sing". Not surprisingly, many successful digital era entrepreneurs (e.g. the founders of LinkedIn, PayPal, YouTube, Facebook, Airbnb, Pinterest, Alibaba, etc.) are all people with a background in liberal studies/arts.
With the changing of jobs and job destinations becoming commonplace in twenty-first-century careers, the purpose and nature of education too will have to go the liberal studies way – i.e. making students career-ready, instead of only being ready for their first job. Hence cross-disciplinary pursuits will increasingly be prioritised over silo-centric studies. At present, a liberal approach to education arguably is, the only education model that gives a way to acquire holistic knowledge from a combination of study in the arts and the sciences.
When we talk of Liberal Arts, which are the most favoured and in-demand subjects?
Two years of Covid and work-from-home across sectors, while achieving tectonic shifts in technological advancement, has also resulted in a spurt in the study of Psychology for emerging careers in health and caring. This has also been a consequence of a growing acknowledgement of 'mental health issues as an illness/ health challenge like any other physical ailment arising from confining a diversity of age groups to limited shared space. Today, many are looking at Psychology and Psychotherapy as a valuable calling toward servicing mankind, along with helping bring sanity to their own experiences in times of prolonged uncertainties. Answers to the latter identity-oriented struggles can also be found through deeper quests in Philosophy and Literature. The boom in content creation and the diversification of creative and infotainment industries across various platforms – theatre, television and online – have made Film and New Media Studies, popular among emergent new streams. Among the traditional Social Sciences – Economics, Political Science and International Relations – continue to retain their attraction as top draw subjects with assured, lucrative careers.
How is RV University's School of Liberal Arts and Sciences helping prepare for careers of tomorrow?
Future workplaces across the world are going to get more complex, more culturally diverse, and transnational. Hence, young career entrants can no longer afford to be highly specialised in only one field (except for highly technical applications such as scientific and medical research). Our liberal education model offers an equal mix of subject choices from the Arts (Visual and Performing), Humanities, and the Sciences (Physical, Social and Behavioural) with focus on the context of their unfolding. Presently, RV University's School of Liberal Arts and Sciences (SOLAS) offers students the opportunity to take Major Specialisations in six subjects, which while including popular/essential Humanities and Social Science disciplines like Psychology, Philosophy, Indology/India Studies and Politics and International Relations; also feature emerging multi-disciplinary streams like Film Studies and Environmental Science.
Historically, the 'liberal education' model has produced notable global leaders, thinkers, scientists, writers, poets and scholars, both in ancient civilisations and the modern world. A Bachelor's degree level study of any subject involves engaging with a discipline in significant depth and breadth.
The liberal education curriculum at SOLAS, offers students the opportunity to study in a secondary specialisation (Minor), which can be in total non-alignment with their primary specialisation (Major). A Minor subject gives students the opportunity to explore and enrich their passion, while a Major specialisation arms them with preparatory skills and knowledge for myriad career opportunities in their chosen subject. Depending on a student's Major and Minor subject combinations, the jobs can vary across a range of sectors and profiles. While a liberal studies Major in traditional humanities and social science disciplines can make one employable as a journalist, editor, researcher, counsellor, psychologist, social worker, research analyst, archaeologist, economist, human resources consultant, project coordinator, operations manager, anthropologist, brand consultant, etc.; a Film Studies major can join the creative/entertainment industries as director, broadcast presenter, researcher, film curator, film scholar, critic, journalist, film historian, professor of film studies, curator, writer, commentator and film festival director. Environmental Science majors can graduate to join environmental thinks tanks, NGOs, Government and corporate sector or pursue careers in environmental entrepreneurship and business.
Furthermore, in many of the new and emerging careers today – like idea entrepreneurship, film making, decision scientists, digital artists, social media influencers, motivational speakers, content creators, consultants, policy makers, bloggers, environmentalists, diversity and ability officers, curators and teacher-communicators – achievers have been hailing from an educational background that's been liberal and drawing from the above disciplines in its learning opportunities.
Finally, aligned to our vision of preparing responsible global citizens with valuable subject expertise, the curriculum is cognisant of building an India-centric awareness that takes into account emergent aspirations towards decolonising twentieth century curriculums. Aiding this endeavour are our various discipline specific centres of excellence, industry-academic collaborations, knowledge partnerships with global universities, and Explore India internships for students to partake in experiential work based learning opportunities across the nation.
Do you think technology has disruptive effects on higher education? Your take.
If parents and teachers ask, how to educate youngsters and students to embrace the pace of change in attitudes and abilities that living today calls for, instead of being ready with professional qualifications for surviving through – just a job, a skill, a technique or a discipline [only] – they will realise that technology is an integral element, if not the core factor in ongoing interdisciplinary assimilation and expansion within subject domains.
Education in the twenty-first century should enable youngsters to think critically and work creatively, while being responsive and adaptable to evolving skill expectations and lifestyle changes around them. Technology, I see, as a facilitator in nurturing the above quests by opening up access to a wide variety of resources and a diversity of skill platforms to learn from across the globe. Combining divergent thinking with convergent thinking is the way ahead, but any thinking without solid rooting in ethics, values and one's context can be dangerous. Hence, path-shaping, future anticipating interdisciplinary curriculums, offered through interactive new age, technology-driven teaching methods that encourage and reward creativity is essential.