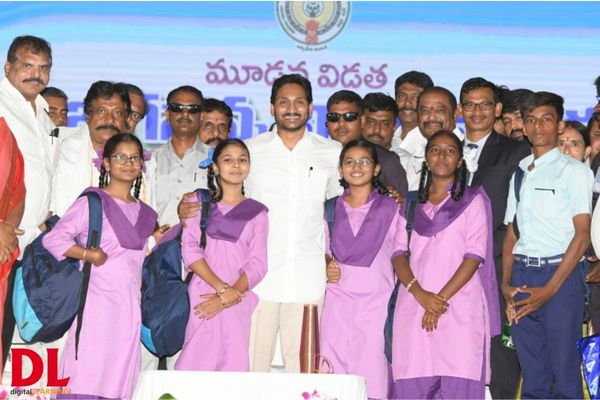 Marking the third consecutive year, the 'Jagananna Vidya Kanuka' stands as one of the most beneficial schemes for school students. The Jagananna Vidya Kanuka started with the aim to ensure that the beginning of an academic year should not be a burden on parents. The government is providing a school kit free of cost, and it consists of three pairs of uniforms with their stitching charges; one pair of shoes; 2 pairs of socks, a belt, a school bag, textbooks, notebooks, and workbooks for all students pursuing education in all government and aided schools from Classes 1 to 10. Overall, *47,40,421 students* from government and aided schools across the state received school kits. The government this year spent around Rs. 931.02 Cr which adds up to *Rs. 2,368.33 Cr in the last 3 years.*
Ever since CM YS Jagan Mohan Reddy's government took over the reins of the state, the Chief Minister has been emphasising a holistic approach towards the overall development of the education sector that has always been taken up on priority. Right from education-related schemes from 'Amma Vodi' to Swecha, the total expenditure by the government in the last 3 years is Rs. 52,676.98 Cr. As a result, the number of students studying in government schools (From classes 1 to 10) has seen a remarkable increase from 37.21 lakh students to 44.30 lakh students – i.e. 7 lakh students have joined government-run schools and the number is on the rise ever since.
No stone is left unturned in improving the education standards in the lives of the students, beginning with the introduction of CBSE education in government schools to newly partnered BYJUs who will now be adding on their expertise into digital education. Speaking further on their role, the CM said _'The government has signed an MoU with BYJUs, one of the largest educational tech companies. BYJUs study material will be distributed to all students studying in govt schools from class 4 to class 10. Apart from knowledge building, 4.7 lakh students of class 8 will receive tabs by September 2022. Steps are being carried out towards the installation of smart TVs or digital display board in each classroom to facilitate the digital format of teaching and learning'.
Further lending support and appreciating the government-led initiatives under the education sector, Haji Altaf Hussain, from the minority welfare said, "Education policy is not targeted to one section of society but for the benefit the students across the state. The Chief Minister has ensured that it is his responsibility to educate, irrespective of caste, creed, and religion. Even with the financial constrain, the CM stands as a guarantee and proved to implement it so. CM emphasises on education because the future lies in better education and ensuring to make them globally competent. I urge my minority community to fully utilise the resources, facilities, and privileges which is being provided in the banquet of the education policies because this is the future, you can create a foundation of new Andhra Pradesh under the leadership of Chief Minister Jagan Mohan Reddy."