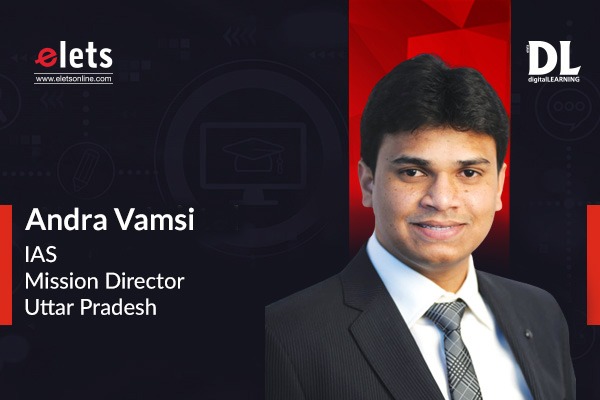 Skill Development Mission is a dynamic subject and its concepts are very fluid. Skilling is a continuous activity and people should use it as an institutional mechanism to get trained and skilled for the betterment of their lives, says Andra Vamsi, IAS, Mission Director, Uttar Pradesh Kaushal Vikas Mission, in an interview with Tarannum Manjul of Elets News Network (ENN).
When we talk about NEP, skilling is an important factor. How is the skill development mission contributing towards it?
Basically, the skill development mission takes care of the skilling aspect of the age group, ranging from 14 to 35 years. Earlier, we did have a framework arrangement in place for school dropouts or college dropouts of the other segments. We are now just making it universal that it should be a part of the curriculum as per the national education policy.
The dropout phenomena can now be hyphenated as we can actually go for a universal curriculum where skilling is a mandatory aspect for each and everyone to excel in their lives. Skilling is always an evolving sector. Today, the skilling drive is being imparted in almost 1600 plus job roles in nearly 36 sectors, but the quality is not that good. So, we must strengthen our skilling drive and improve its quality. It is the need of the hour because the mission is hardly eight years old and it is still in the evolving phase.
We are expanding ourselves towards women's welfare also. We are even advancing towards the secondary education department. So, in the secondary education department, people will be given a choice to opt for the skilling mechanism. On a pilot basis, this financial year, we are targeting to train and skill around 20,000 people which will add value to their education. In this way, they will feel confident and move forward in life.
Skilling not only pertains to the physical skilling activity but also the communication skill sets. So, we are strengthening our base on communication skills where international employment can also be posted through these skilling mechanisms. And last but not the least, the market is always a variable related to the skilling mechanism because the market is fluid and dynamic and we also don't know what sort of skill patterns are required from the workforce. So, that sink has to be established in the market and also in the corporate houses or the industrial setup in such a way that the skilling practice that we offer, remain on par with the National Skill Qualification Framework 6. These emerging challenges warrant our skilling drive to be of excellent quality. We have to borrow the best practices from various states of India and try to amalgamate them into our system to ensure that it is being used for the betterment of our people.
What are the courses that UPSDM is offering to dropouts, specifically as we talk about a skilled workforce?
As a part of an organisation, I have to ensure that since absenteeism is very high, we are working very much on preventing this absenteeism. We have ensured an Aadhaar enabled biometric system in the skilling centers. Second, we are increasing the number of centers and number of batches, and providing quality training partners. There are almost 750 training partners who are below the enrollment target of 40%. So, we didn't even take them on board and we are awarding them for the best performance or see who is really doing 100% good. We are encouraging them to perform well. Not only this, we are opening our ideas in terms of pulling up the engineering training partners. For example, engineering colleges, the startup training partners for the newcomers who are not able to produce the experience or cannot submit their experience, but we are trying to open a browser saying that we will give you a chance of six months to prove yourself. If the performance is good, then we are ready to take you on board. We are also going for flexible training partners, it is nothing but a corporate house that can offer captive placements. Captive placements are really the need of the hour because employment is a huge challenge for all of us. Also, to mention, the dropout is not the correct word that we should use. Instead, we should use a universal curriculum of skilling that should be part of the present education policy.
When we talk about a universal curriculum in India, it has always been debated that ours is a text-based curriculum and this is the first time skilling has actually been introduced to it. So how is the skill development mission contributing to it?
I have to say in our school or college days, we used to have something called extracurricular activities. It can be sports, photography, music, dance, and many other ideas that can nurture the skills of a person or the personality development of a student. So, skilling can also be a variable added to those kinds of factors.
What are the major skills which UPSDM is providing especially in the rural areas?
There are 36 sectors in which 1600 job roles are functional in rural areas. There, we can go for construction-related activities, IT, apparel and electronics-related activities. Nowadays, we see housekeeping activity, beauty and wellness, banking and financial services, electronics and hardware, food processing, green jobs, plumbing, power sector, and retail works also emerging and expanding in rural settings. We are also advancing into sports and tourism and hospitality. So, there is no end to this thing. Let the market come to us, let them submit the request, and we are ready to offer them.
So far, a lot of these courses are being offered by the ITIs, so how does the Skill Development Mission (SDM) find relevance here?
The duration of courses is the primary thing that we should understand. ITI has a certain duration of its own curriculum. ITI can be a government training partner. Almost 280 ITIs have been our government training partner. There are private training partners whom we have encouraged apart from the mission itself. The mission can be a common umbrella to amalgamate all these things and ITI can be one of these in the subset.
So far which are the biggest corporate partners you have correlated with?
We are dealing with RSWM, Raymond's, Apollo Medics, Wipro, and GE Healthcare. And we are trying to pull up more and more. Flipkart is in our pipeline.
Is there anything specific that you would like to say in regards to the NEP and skill development mission?
With respect to skill development, I have to be very clear that we were following a top-down approach which is not the need of hour anymore. We have to start from the bottom because the working force has to be identified at the district level itself. This is exactly the last mile where we can generate employment and the district authority needs to remain more focused to review the centers and batches in order to ensure attendance, and halt absenteeism.
Also, they need to ensure biometric attendance in such a manner that the authenticity of the skilling mechanism is not lost. Greater focus should be kept on qualitative training, induction of new age courses, and new technologies or technology-related skilling activity. I can say that there are a lot of infrastructure facilities in the private sector that is lying idle, so they can be pulled up and encouraged to come forward and do their best.
What do you think is the biggest challenge for our skill development mission especially in a big state like up?
The first is communication skills, the second is absenteeism, and finally the third is the bottom-up approach or the decentralised approach.