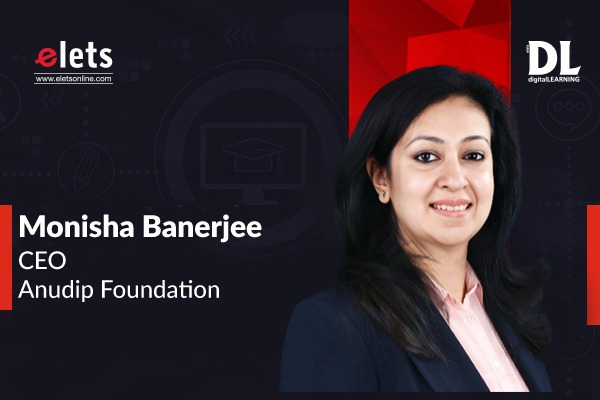 Technology is an enabler and has become an equaliser also given the fast-paced changing environment today. We have reached a long way after covid advances the adoption of technology into our professional and personal lives. There are institutions that are very much adapting to the changing landscape of emerging technology and doing some wonderful work for the human spirit irrespective of any discrimination. To delve deeper into the topic, Sheeba Chauhan of Elets News Network interacted with Monisha Banerjee, CEO, Anudip Foundation. Edited excerpts:
Could you elaborate on the various courses your foundation offers?
We run a range of courses across the country, that includes broad based entry-level programs post which students could be placed in any sector but also some high-end specialised courses such as AWS and Java that enable students to start lucrative careers in the IT industry. However, the common thread in all this is that we run courses based on the demand for a certain job role or skill set in that geography. Our model of E2T (Employer to Training) is about identifying job roles that are in demand and working with the employer/industry to curate courses that are up-to-date and relevant. This ensures that students have a better chance of cracking the interviews and getting selected..
What are the digital capabilities required by tech professionals to be future-ready?
While several technical skills are needed by different organisations, the core competency that tech professionals have to develop is learning agility, given the fast-paced changing environment of today. What digital capabilities must be required by an organization will of course depend on the business, but while those could differ from business and geography there are a few common capabilities that most companies in the digital era require. Largely these are customer centricity, agility, and responsiveness, working with large sets of data, and positioning to deploy newer technologies such as Artificial Intelligence and the Internet of Things. All this requires collective action and not a sum of individual performances, and therefore beyond the digital skills, tech professionals must know how to function effectively in teams.
What do you consider the most important skill sets to be inculcated in our youth to make them excel while working in the industry?
Our students come from economically vulnerable sections of society and under-resourced communities and therefore the education they have received has not been able to transform them into truly thinking and learning individuals. For them to compete with mainstream youngsters, they first need to build the foundational skills needed in the twenty-first century. Key skills include communication, curiosity and learning agility, self-discipline, critical thinking, and problem-solving. These skills are inevitable and need to be developed for them to truly not just get a 'job' but build an aspirational career.
How do you think technology is bridging the knowledge gap for socially and economically vulnerable sections of society?
Technology is an equaliser. Without access to technology, the divide between the haves and the have-nots will only deepen and create greater inequity. It is imperative in the 21st Century to be digitally literate to be able to avail of education, skilling, and even medical facilities (as we have seen during the pandemic). Government schemes and utilities have moved completely online and the payments have gone digital. Agriculture and manufacturing are rapidly transforming as technology is being used to drive efficiency, cost reduction, and productivity. Retail has fast been consumed and enhanced by e-commerce.
Most student households that we work with typically have at least one mobile phone and hence have some access to information and amenities. During the pandemic we have seen, nano-enterprises gain from digital training and unemployed people could access skills and get placed in jobs ensuring survival. Thus, in my opinion, technology is an enabler and should not be seen as a wasteful expense. More needs to be done for sure to enable cheaper access to the internet and ensure internet availability in remote geographical terrains.
Life is a process of continuous learning. What skills do you recommend to women who are now homemakers and want to learn something to be financially independent?
Indeed, learning is lifelong and in some ways basic survival skills. With the uncertainties that exist with climate change, the advent of technology, and pandemics, it is important to adapt. Hence there is no age for learning and becoming 'financially independent. In fact for women, a certain way to gain agency and be part of the decision-making process at home is to be well-aware of the external world and generate income at home. For women, in particular, I would say that self-learning, communication, persuasion, and resilience are important to start something at a later stage in life. Women first have to believe in themselves and enroll in a training program and then start the journey. There will be numerous hurdles that they will have to surmount and the easiest route often, is to give up. Hence the ability to persevere, gather support from family and friends, and be ready to constantly learn from failures will be essential.