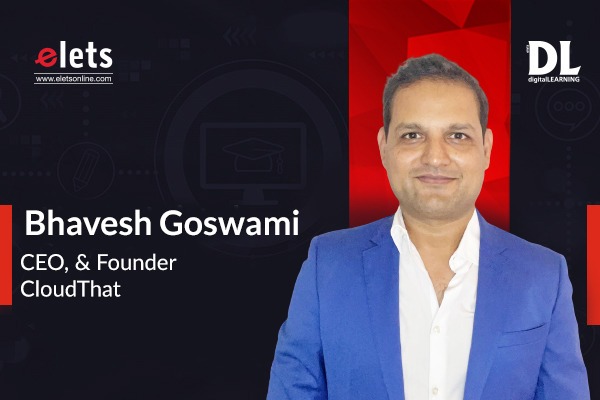 With the increased use of technology, the huge amount of data is generated that needs to be kept safe and that too with a cost-effective method. Here, comes cloud computing into the picture. Cloud computing offers opportunities for innovation and benefits in the classroom that are both safe and cost-effective. The advent of technologies like cloud computing, Artificial intelligence, and Machine Learning has increased the chances of innovation in the education landscape. Today, mere teaching and learning with the traditional methods are not sufficient, students need to critically think, evolve and innovate in the classroom to upskill themselves with 21st-century skill sets. Sheeba Chauhan of Elets News Network had an exclusive conversation with Bhavesh Goswami, CEO, & Founder, CloudThat to discuss the possibilities that cloud computing offers to the education space. Edited excerpts:
You have more than 17 years of experience working in the cloud computing space. What are the major challenges and opportunities you faced throughout your journey?
I moved back to India from the US in 2011 after working on the initial development team of Amazon Simple Storage Service (S3) in Seattle to launch their first service of AWS and worked for Microsoft on some of their initial cloud products. Then, India hardly had any cloud momentum. AWS had no office in India, Singapore housed the nearest AWS office, and Microsoft Azure was not available in its current form. Also, Indian IT giants like TCS, Wipro, and Infosys had no cloud division.
The initial challenge for us was to train the workforce of these organisations in the cloud. We were the first cloud training organisation in India to accept this challenge and have helped 5 lakh professionals to get trained in the cloud computing domain.
In the present context, the cloud space has matured, and the services have expanded exponentially. AWS has over 200 services and releases over 2000 major features each year. The biggest challenge is to help organisations to gear up to meet the rapid changes witnessed in cloud space. Most organisations are finding it tough to ramp up to the rapid changes. We at CloudThat are on a mission to build a robust cloud ecosystem in India with our cloud training and consulting expertise.
How do you rate India's readiness for the adoption of technologies like Artificial Intelligence (AI) & Machine Learning (ML) in the education department?
While the Ed-tech industry has embraced AI/ML innovations with open hands with Edtech leading the deck in AI adoption, the general education ecosystem is far behind. CloudThat itself with the partnership of Microsoft conducted a unique program called "Week of AI" where we educated over 2 lakh aspirants in AI in just a quarter.
But still, we lack. This is evident from the recent NasscomZinnov report. India is projected to face a shortage of 14-19 lakh tech professionals by 2026 and primarily the dearth of skills is witnessed in niche areas like Artificial Intelligence Big Data Analytics and Cloud Computing.
Reskilling the workforce and upskilling the fresh aspirants is the key to addressing this AI skilling challenge. Research says, if we can succeed in this mission, by 2035, Artificial Intelligence has the potential to add the US $1 trillion to the Indian economy. Moreover, fostering a robust AI ecosystem relies on how universities, research-based companies, start-ups, and policymakers gear up to adopt these technologies.
What are the job opportunities that can be attained by upskilling oneself in the cloud computing space?
To nurture a career in the cloud computing space you are primarily expected to have sound knowledge of programming languages, database administration & programming, Artificial Intelligence & Machine Learning foundation, and a comprehensive understanding of various cloud technologies and providers. Once you gain competency in these skills vivid career roles open that include Cloud Architect, Cloud Engineer, Cloud Software Engineer, Cloud Consultant, Cloud Security Analyst, Cloud Network Engineer, and Cloud Administrator.
Interestingly, the IT giants in India like TCS, Infosys, Wipro, and others have realised the need to have a different pay band for cloud professionals. For instance, According to TCS chief human resources officer, Milind Lakkad, they are hiring 77,000 freshers in the FY-2022, and in that they are offering a higher pay scale for candidates with proficiency in Digital Skills like Cloud. Further, as a fresher, you can earn anywhere between 4 lakhs to 10 lakhs rupees and for experienced professionals, the sky is the limit.
What are the key considerations a user should make before choosing a cloud computing platform?
Any organisation must ensure the following factors are considered before deciding to choose a cloud platform.
• Types of Cloud – You must weigh the pros and cons of choosing a public cloud, private cloud, or hybrid cloud for your business needs. Also, it is recommended to take up a multi-cloud approach to avoid the pitfalls of vendor lock-in.
• Pricing – It is important to pay attention to the pricing of each of these cloud models and smartly take a decision that suits your budget.
• Disaster Recovery & Governance Policies – Get clarity regarding the Disaster Recovery policies offered and how your vendor implements governance policies.
• Service Level Agreements – Read the Service Level Agreement documents thoroughly.
• Data Governance & Information Security Policies – Understand the data governance & security policies put forth by the vendors and seek clarifications if needed.
With the advancement in industry and changing needs of the education sector, how is CloudThat innovating in its product portfolio?
Every day, principals face new challenges in their efforts to create a strong student education ecosystem. One of the most difficult tasks I've had in my journey has been planning and streamlining a more comprehensive and all-encompassing curriculum. To address this, I have formed alliances with academicians & industry experts and developed customised outcome-based education that will map competencies and standards to improve learning outcomes. Today, this is commonly referred to as VESASC Autonomous courses, which have gained strong popularity among students.
In the evolving landscape of education, like recent amendments in NEP, introduction of CUET for admissions, and a lot more. How are you planning to adapt to these changes? What are your plans for expansion of your institutions?
The Cloud industry is growing exponentially, and the dearth of skilled professionals is evident in every sector. We have realised that there is a huge gap between the skills imparted in academia and what is expected by the industry and have initiated a unique career transformation and job guarantee program that is offered to final-year graduate students so that by the time they graduate they will have a career path defined with a job offer in hand or otherwise we will refund their fees.
For the corporate sector, we have our unique Capability Development Framework (CDF) which can assess the cloud skill gaps of their workforce and thus help them strategise and roll out upskilling programs to be cloud-ready.
To date, we have trained more than 5 Lakh professionals on cloud and other niche technologies like AI & ML, Analytics, DevOps, and Kubernetes.
Today with cloud computing booming already 85 per cent of organisations have moved their IT resources to the cloud with a 'cloud-first' approach. The demand for cloud certifications in AWS, Azure, and Google clouds is skyrocketing, and multi-cloud and virtualisation are seen as the future of the cloud arena. In this context, CloudThat has strategically entered authorised training partnerships with Azure, AWS, and VMware.