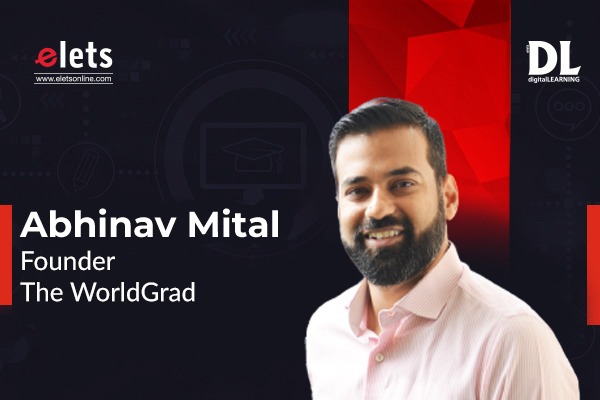 In the first quarter of 2022, 133,135 students left India for academic pursuits, an increase from 2020 when 259,655 students studied abroad. Students opt for undergraduate and higher education courses abroad, to shape their career and have global exposure. Though, pandemic has served a pinnacle of opportunities for the candidates through online mode, who wants to have international degree. Whilst students who were there physically have to suffer when pandemic hit the world. Global exposure is as important as studying in India. Based on a recent survey about the education abroad Sheeba Chauhan of Elets News Network interacted with Abhinav Mital, Founder, The WorldGrad and explored the myriad opportunity that the world offers in the education segment. Edited excerpts:
The proportion of UG students considering a hybrid learning option is highest among those considering Australia and the United Kingdom (86 per cent). Why hybrid courses have become popular amongst students?
The most common difficulties students face when considering studying abroad are fees, transitioning to a new educational system, and cultural differences that come with moving to a new country. By completing a portion of an abroad degree from home, a student often saves 20-25 per cent on overall costs, becomes more familiar with the academic environment, and is able to demonstrate their dedication to studies without a doubt. Students with hybrid education have better time management skills. Hybrid learning allows for greater savings as well as instant learning. The ability to attend courses from faraway locations using internet-enabled devices has made life hassle-free for students.
Employment opportunities are the most crucial part after graduation or post-graduation. How do you think studying abroad increases employment opportunities for fresh graduates?
International programmes offer students a one-of-a-kind and diverse learning experience. They can get a good education, learn about a new culture, meet new people, and learn new skills and languages. A study abroad program can also help students advance their professional chances. Studying for an overseas degree is an achievement in and of itself. A degree from a prestigious foreign university can give the student's CV an edge when searching for jobs. One can also include any course placements, internships, or work experience. It provides students with a fresh viewpoint and opens up professional opportunities they had never considered or heard about before. Studying abroad exposes learners to various fields and industries and assists them in developing a global perspective. Furthermore, having studied overseas, students are better prepared to handle difficult professional duties in any field.
Employers frequently look for a candidate's confidence, adaptability, flexibility, and practical expertise. All of these qualities can be acquired when living and studying in another country. Students learn critical life skills and the capacity to deal with unforeseen circumstances while making their way through a new nation and its culture.
I feel studying for a degree abroad is a wise investment because it can help students find a better job and pave the way to a more fulfilling career and life.
Australia is 32% of UG students; top destinations. What makes Australia the top destination?
Australia is a secure and hospitable destination to live and study, constantly ranking among the world's safest countries. The best learning outcomes are those that are active, engaging, and relevant. Australian universities are known for providing high-quality education through industry-focused courses that place a greater emphasis on real-world learning than theoretical knowledge. The learning models are specifically developed to assist students in becoming industry-ready and realising their career goals. Full-time employment among graduates of higher education institutions in Australia climbed slightly to 68.7% last year. Also, the Australian government recently announced a major extension of post-study work rights for international students, giving the extra-nudge.
Many Indian students choose to study in Australia because of the country's pleasant, laid-back atmosphere, great education system, and high standard of living.
With the coming of hybrid models, do you think online degrees abroad will be at par with offline degrees?
Over time, the education industry has evolved. The sector's growth has been facilitated by the pandemic-induced digital world. Edtech businesses have risen to prominence since then, facilitating remote education. As previously stated, our recent study found that more than 80% of undergraduate (UG) students and 75 per cent of postgraduate (PG) students are eager to continue their international studies through a hybrid learning model. According to the response, finding career chances is still the most essential factor for students, followed by costs. This proves that while students choose part-online education, they also want to study offline and with their respective peers face-to-face.
How is The WorldGrad helping students choose the best option abroad? Will hybrid models impact your business?
Our objective is to improve student access to high-quality education, which means we need to broaden the possibilities for students who want to study abroad. It is not only about establishing more universities but also about offering different modalities or paths for students to study at those universities. We are the first to offer a hybrid route to overseas degrees, in which a student can complete up to one year of their degree through The WorldGrad and the rest at an overseas campus of their choice. Students can customize the length, courses, and scheduling of their studies with us, resulting in flexible and unique pathways based on their readiness to migrate overseas. We also provide students with direct connections to the same universities and institutions in other countries if they so desire.
Firstly, we assist students in selecting the best path for them, for which we rely on our highly qualified academic counselors. Once enrolled, the student will learn in our bespoke online environment with tailored academic help from teachers in India and overseas. This permits individuals to bridge scholastic gaps and become used to academic standards in other countries.
Our principal objective is to equip children for academic success in a global setting. We see the hybrid approach as an addition to the traditional offline curriculum model. We intend to increase students' opportunities to get academic experience.
Having such a successful company makes students' dreams a reality. What are your expansion plans for this year and beyond?
We at The WorldGrad aspire to provide students with online access to globally renowned foreign universities. So far, we've gotten an incredible response, which has inspired us to grow. By expanding in India, we will create more platforms. Australia's Online Education Services (OES) is a well-known online education enabler, and their recent investment in The WorldGrad has aided in the platform's expansion, allowing more students to study overseas at prestigious universities. With this initiative, we hope to establish 50 academic program partners in the next 12 months. Furthermore, we have successfully introduced the "UK 1 Year Program," which allows students to complete their 40-week first year of any undergraduate degree in just 26 weeks online. Additionally, one-on-one coaching ensures that students are prepared to finish their remaining coursework on campus. Over the next 18-24 months, we will add 500 professionals to our team, including instructors, administration, recruitment, content developers, and branding.