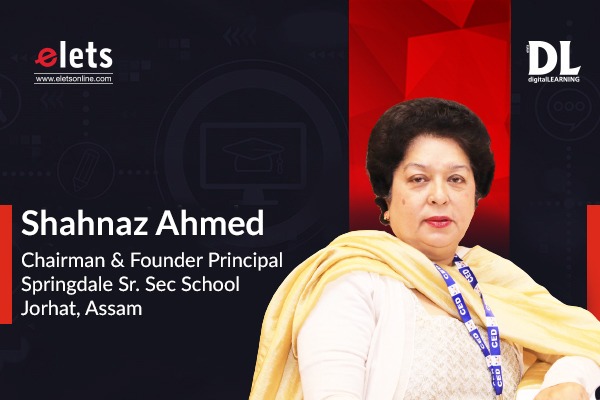 Shahnaz Ahmed, Chairman & Founder Principal, Springdale Sr. Sec School, Jorhat, Assam in a conversation with Sheeba Chauhan of Elets News Network (ENN) expresses her vision on the multidisciplinary framework, technology transforming education and various initiatives taken by her institution to transform India into a completely educated nation. Edited excerpts:
Multidisciplinary direction is transforming the way teachers impart education and how students learn. Please let us know your perspective on the same.
Multidisciplinary education is a unique educational approach that allows the students to learn and explore distinct subjects or curriculum from various disciplines. It is a method of curriculum integration that brings diverse disciplines and illustrates a theme, subject or issue. A similar topic in multidisciplinary teaching can be taught in a very innovative process. In today's hyper competitive world, it is very important to have a unique education system that promotes a multidisciplinary approach to help students follow their passions.
There are both advantages and disadvantages of multidisciplinary approach. These include:
While students get to choose the subject, courses and programs from different institutes, they might also feel lost at the variety of subjects
A child might discover their interest during the teaching – learning journey, but they are not masters of anything. They might also feel confused about choosing the subjects and courses in this multidisciplinary approach.
ICT and innovation are enhancing the quality of education in schools. What are the practices that your school follows?
ICT and innovation in schools trains students to meet the challenges in the world. Lack of digital knowledge definitely keeps students unconnected with the progressive world. At Springdale School , we strongly believe that technology has to be integrated in the learning cycle hence, we empower teachers and students to use it well. Different technological innovations are being adopted in our school for the holistic development of the students.
Emphasis is laid on the digitally enabled classroom with 3D and 2D multimedia modules for all subjects. Internets and smart classes enable students to gather information on the subject matter more easily. Students and teachers use collaboration and communication tools such as instant messaging, whatsapp, audio video aids, information via computer softwares, google form, google calendar, computer labs, broadcast messaging with google applications and other various educational applications that contribute in the learning process.
Springdale believes that no other investment promises a bigger return than an investment in the skills in the classroom.
What is your enhancement plan to transform India and its populace into a 100 per cent educated nation? How is your school contributing to the same?
To fulfil this dream of transforming India and its populace into a 100 per cent educated nation, Springdale School has taken up this mission with the students and teachers with the program of 'Each One, Teach One' method in collaboration with All India Private School and Children Welfare Association and Rotary India Literary Mission. Workshops have been conducted and will continuously work with the main objective based on the concept of New India Literacy Program – 'Nav Bharat Learning Program 2022 – 2027. Jointly raised by the Rotary association and Springdale High School with many other schools target to educate 50 million uneducated adults of India by the year 2027.
For this challenging task, the students above Class 6 in our school will take up the mission to educate atleast one uneducated adult family member – peon, driver, gardener, servant, maid, washerman etc. Books would be provided by RILM to people in their own mother tongue with basics. For this wonderful and commendable work, students would be honoured with certificates, as well as adults who have been educated will also be presented with the honour of being educated by certificates.
Evaluation is an integral part of the educational paradigm. What are the methods your school inculcates in terms of evaluation for better growth and development?
Evaluation is the key component of any learning program to determine the quality, effectiveness, continuous improvement and to focus on better teaching and learning process.
In our school, both formative and summative assessments are given extreme importance. To know the learning improvements of the students, weekly tests of multiple choice questions and short questions are constantly taken in the school every week. Surprise tests in the form of quizzes, group discussions and projects are an integral part of the evaluation system. Any child found lacking in the learning process is given importance by remedial classes. Projects and assignments are also a part of evaluating a child in understanding the concept of the subject. Exhibitions, debates, speech contests also become an integral part of accessing the child in concept formation. Rote learning is replaced by innovative critical and creative learning. Concept clarity is given more importance than unnecessary completion of syllabus. Integrated learning is another process of assessing a child's concept of constructive and objective learning. Students are appreciated constantly which becomes a self-booster.
How are you addressing digital disruption in the education sector? Do you think it will enhance the way learning is used to prosper?
The emergence of digitalisation in the education sector has made learning interactive, innovative, engaging, motivating and handy. It is no longer limited to text books and classrooms. It has become an amalgamation of technology, innovative learning, and digital content. Easily affordable and accessible internet has led to a great confluence of digital and traditional teaching methods. The contemporary digital method will allow teachers to customise the study material to the aptitude and ability of the child. Students will become smarter to be able to search and utilise online resources to develop effective self-directed learning skills. Digital education will allow students to explore and use treasures of knowledge. Now preserving and sharing information is just a click away, which saves students a lot of time and physical labour. Students become independent thinkers who know what to study, when to study and how to study. They no longer remain dependent on their teachers and parents to spoon-feed them with information.