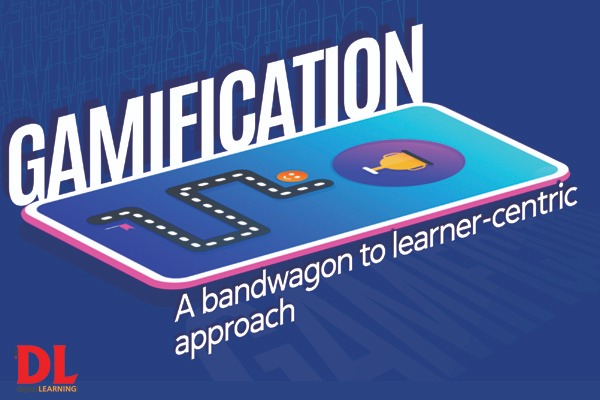 The growth of innovative online learning platforms in recent years has altered the face of education in India's ed-tech business, which is expected to reach $3.5 billion by the end of the year 2022 (Omidyar Netowrk India study, 2020).
Over the projected period, the worldwide gamification industry is estimated to grow at a CAGR of 26.5 per cent (2022-2027). The exponential proliferation of smartphones and mobile devices has immediately produced a massive base for the gamification sector. Gamification systems are gaining popularity as a way to structure human behaviour in order to induce innovation, productivity, or engagement.
Institutions are also effectively utilising gamification in performance management, learning and development initiatives, as well as training and compliance. The most significant benefit of implementing gamification in the industry is that it inspires students and assists organisations in achieving their targeted objectives from a given action.
Many innovative learning management systems, as well as numerous creative technological frameworks, have lately emerged, causing a paradigm change in educational institutions. There is a new awakening in digital learning as a result of increased usage of audio-visual as well as video-game based curriculum powered by AI, IoT, and other technologies. Technology and mobile communications have played a significant part in this development.
Education has advanced to the point that classroom-based learning, textbooks, and teachers — which were formerly the main modes of instruction — are no longer adequate. Gamification seems to be the best method for providing learners of this generation with the more individualised, entertaining, and engaging material they require.
The foundation of gamification is the notion that enjoyment and learning go hand in hand. By utilising, game-based feedback like points, badges, leader boards, advancement, etc,. promotes and increases the motivation of the student with engaging content.
Using gaming mechanics could boost learning capacity by 40 per cent. Gaming techniques increase users' commitment and motivation to the activities and processes in which they participate. Consumers are familiar with game mechanics because most of them have played or are currently playing various games. This conclusion applies to businesses and their employees, according to Gabe Zichermann.
Gamification's impact on higher education:
Here are some ways in which gamification improves classroom learning:
1. Boosted learner motivation: Gamification employs a variety of motivating strategies, such as challenges and incentives, to keep students engaged in the learning process.
2. Increased student engagement: Game-based learning methodologies make learning crucial topics more enjoyable and entertaining for pupils.
3. Adds to the overall experience: Using gaming features aids in the collaborative resolution of classroom difficulties and radically transforms the standard evaluation technique based on a reward system.
4. Extended attention span: Gamifying learning topics in an engaging way (getting a badge, providing feedback) increases students' attention to what is being taught to them.
Gamification proposes replacing grades with points granted at each stage of learning in a specific topic. Students can receive badges as visual evidence of progress in addition to their scores once they have accumulated enough points. It encourages students to learn and grow quicker by providing a sense of accomplishment when they hit key milestones such as learning a new topic or finishing an assignment or test.
One of the most significant benefits of gamification-based learning is that games may be localised depending on language, locality, and age group, providing each learner with an equal opportunity to learn without obstacles. Aside from that, students may learn and develop a variety of abilities by demonstrating their learning results.
Learning Management System (LMS) and Gamification:
LMSs are used by educational institutions to manage the learning process and to provide a variety of electronic courses with learning resources and activities. LMS allow for the incorporation of Web 2.0 tools, which increases their usefulness and reacts to new educational paradigms, as well as the need for collaboration and cooperation among all learning participants
LMSs are ideal for gamification since they include capabilities for automatically tracking students' performance and development.
It is feasible to obtain information about the amount of time students spend seeing and interacting with content.
Gamification software tools:
There are numerous gamification tools available. Some are web-based (cloud services), requiring no additional software installation and allowing access at any time and from any location. Socrative, Kahoot!, FlipQuiz, Duolingo, Ribbon Hero, ClassDojo, and Goalbook are some of the most popular gamification tools.
BadgeOSTM and its add-on BadgeStack are free WordPress plugins that automatically build the many achievement types and pages required to set up a badging system. The Mozilla Open Badges Project aims to enable the identification and acknowledgement of students' acquired knowledge and abilities outside of the classroom – the results of informal learning. Anyone can issue wins and display badges using Mozilla's Open Badges project's common technical infrastructure (Mozilla Open Badges).
Industry perspective
While talking about the gamification of learning, Sharad Tiwari, Principal, Mayoor Chopsani School, Jodhpur said, "Gamification is nothing really new in the world of learning. However, there is now increasing pressure to use these tools and techniques to a much greater extent, especially in learning that is provided digitally. It would be fine for me, encouraging gamification at schools until the ultimate goal of its implementation is not compromised which is the mastery of knowledge, skills and behaviours that are a requirement for student's future.Making maths and science more of a fun then a dull exchange of facts and figures certainly helps young learners, even breaking the cultural prejudices for certain subjects labelled as "Tough or Difficult".
"Gamification may work well for junior learners, certainly not of much help to senior school students unless we are taking into consideration differently abled learners. Finishing years of school must prepare the young adult to take up challenges he/she would soon be dealing with in a working environment in his/her near future", he further added.
Ritu Pandey, IT Head, MIEE, Seth Anandram Jaipuria School Lucknow, talked about gamification and its assimilation into education with the thought that "if we impart gamification into normal teaching, it could become very easy for children to understand and assimilate." She said that through graphic and virtual video, teaching is going to have a lasting impression on children's psyches. She emphasised that organisation like Microsoft is helping in this regard.
Connecting the dots
Gamification might be easily and effectively integrated into e-learning. Game approaches and processes can be used as activities in the learning process to achieve specific learning objectives, enhance learners' motivation to complete them, and engage students in a friendly competitive atmosphere with other learners.
Gamification is an effective method for changing students' behaviour and attitudes toward learning in order to increase motivation and engagement. The effects of the alteration are bidirectional in that they might affect students' outcomes and knowledge of educational content while also creating circumstances for an optimal learning process.
Succesful gamification in education is intentionally incorporating game mechanics and aspects into lesson design to help influence the structure of the classroom. Gamification, when used wisely, has the potential to assist higher education students learn the skills they need, stay interested and engaged in their courses, and achieve their long term goals.