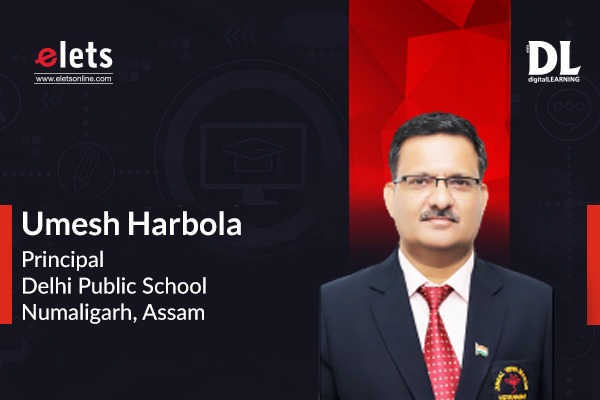 Educators are inclined towards technology for teaching methods massively now. Though the technological availability in the education ecosystem is still in its beginning stage, but it is going to take the landscape to a higher stage. Shifting from "Chalk & talk" to an era of smart classes with projectors and screens, we have already come a long way. There are a lot of schools that already have transformed their schools into e-campuses. The changes are for good and yet to flourish with a lot more novel opportunities for students, educators and the entire education sector. To delve deeper, Sheeba Chauhan of Elets News Network interacted with Umesh Harbola, Principal, Delhi Public School, Numaligarh, Assam. Edited excerpts:
The admission procedure for entering into DPS shows the quality of education DPS posses. Do you think, there is any need to evolve the admission process?
Yes, the admission procedures show the quality, standards and culture followed. We're selecting children on the basis of academics mostly. I feel we need to also test their aptitude and identify the skills that will help them to contribute for the development of individuals, schools, society and country.
Apart from academics, what are the other areas that your school focuses on to develop and stir the talent of students in the right direction?
Our school tries to work on the all-around development of our students. We have a well-trained music department, NCC cadre, and physical education department with well-trained faculty and coach who gives the opportunity for children to explore their skills and talents. We organise different extracurricular programs and various competitions for children to make them confident individuals. We also conduct and organise workshops on career programs, educational tours, and interactive programs with motivational speakers for children and parents which help them to decide the right path for students. We have facilities like inclusions, and special education for Children With Special Needs (CWSN) and we provide required accommodation and relaxation for CWSN as per Rights of Person's With Disabilty (RPWD) act 2016.
We also look into developing the emotional quotient of students. We have expertise in counseling support services for students to overcome their difficult emotions and any mental health problems.
We also have a well-being team that looks after different awareness programs and the needs of growing adolescents and little budding children to get more exposure.
Amendments in the education policy were much needed. What amendments do you still think are left unattended and not focused up to the mark?
Much has been done in the field of education but still, sometimes I feel that most policies are only given on paper not followed practically. I feel much more is required in the field of special education and to make inclusive education a success. So, we will have a society of equity, not equality.
How is your school planning to foster innovation and new-age pedagogy in your students?
Our school will be consistently focused on what it is doing at present. It will be focusing on all four most important perspectives of human development 1) Intelligence Quotient (IQ),2) Emotional Quotient (EQ),3) Social Quotient (SQ),4) Adversity Quotient (AQ). These four will bring holistic development in children to be responsible citizens of our country. The school will work more on innovative methods of teaching and learning. Like more of experiential learning that should application base and providing or creating a flexible learning environment where children can collaborate with their teacher and peer group while learning. The school can invite people who have overcome their failures and achieved success in their life is in difficult situations like entrepreneurs, Innovators, and leaders in different organisation. Inducing various teaching methodologies in which the child can learn with understanding and fun.
What is your idea of evaluation? Is self-evaluation or online evaluation fit into the education ecosystem of schools?
I feel both are important self-evaluation and online evaluation by teachers for the quality output of students' skill set achieved. This helps students and teachers to analyse better themselves and to find their strengths and weaknesses.