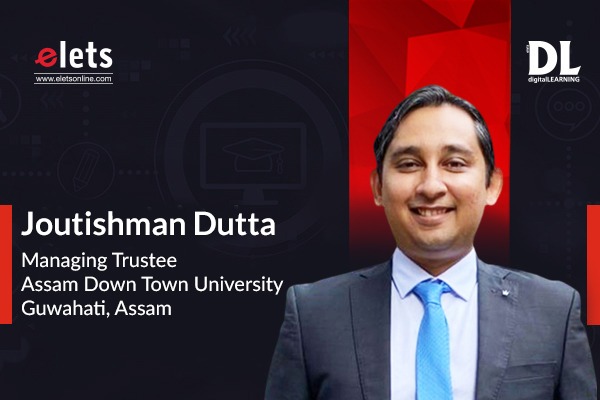 Education has the most profound impact on the growth of a nation. As a part of education, along with leadership and vision as well as building the capacity of teachers and the millennials, creating the right learning infrastructure is equally important. Access to technology can facilitate and empower educators to build 21st-century skills, which are around critical thinking, problem-solving, attention to detail, collaboration and teamwork among several others. 21st-century skills strongly postulates a competency-based approach to learning and teaching. Learning and teaching should not only focus on exposure to knowledge but also build competencies that matter for employability and entrepreneurship. To delve deeper into the infrastructure of education, Sheeba Chauhan of Elets News Network had an exclusive conversation with Joutishman Dutta, Managing Trustee, Assam Down Town University, Guwahati, Assam. Edited excerpts:
As the world is pacing fast toward technology driven education, one such application of technology is the "gamification of learning". What are your thoughts on using gamification as a way of teaching and learning?
Anything that engages the students gets their attention and helps in learning is always welcome. Learning must be delivered in the best way the existing generation can relate to. If we accept that the customer is king then we also have to accept that the student is also King. From gamification to using blended models to even using social media platforms, all can be used to help the students get a better learning experience.
India has the second-largest market for online education. According to the recent National Achievement Survey, there is a decline in learning levels. Do you consider digital transformation as a catalyst for a decline in learning results?
It is difficult to put the blame on a medium. The online medium is critical for India if it has to achieve a GER of 50 per cent as planned by NEP. It is cost-effective and negates geographical disadvantages for India's population. It does come with certain shortcomings but if these shortcomings like method of delivery, full proof assessing system and some sort of added practical exposure, OJT then the results will be definitely better then what is today.
It is witnessed that there is a huge gap in learning practices for fresh graduates to perform well in the industry. How could we bridge the gap between colleges and cubicles?
I think this statement has been overused. There will always be some variation in what the industry wants and what the institutions teach, as institutions don't prepare all for on specific industry and even within one industry there are multiple requirements. In terms of skilling the students in the last decade much work has been done from adopting new teaching methodologies to revamping syllabuses to increasing industry or practical exposure. Most good institutions and even regulatory bodies have made a lot of changes and more such changes are being adopted.
How is your university planning to implement technology-driven education?
Our university has been adopting technology-driven education for a long time. We have been having LMS for 5,6 years now and that has greatly aided the learning and also supported students with content. Besides the LMS support, the University also takes aid of MOOC platforms to open up the students learning to things beyond the syllabus and class. Besides this, we try to have the most technology-enabled labs available like simulation labs to experiential labs to support the students.
India is getting applause for its New Education Policy globally. According to you, how far we have reached, and what are the pointers that are still untouched in the new education policy?
Honestly, till now the policy is still in a very nascent stage. The document is quite forward-looking but it will have to be implemented pan India by all stakeholders in the same spirit. If education has to grow we have to look at ways of not differentiating between government-run and self-financed institutions. That may help better usage of resources and also maybe better utilisation of funds. As infrastructure and HR costs will rise even further it will have an impact on the cost of education. The policy does not talk much about the ways of handling the costs of education from setting up costs to costs per student. This has to be looked into.