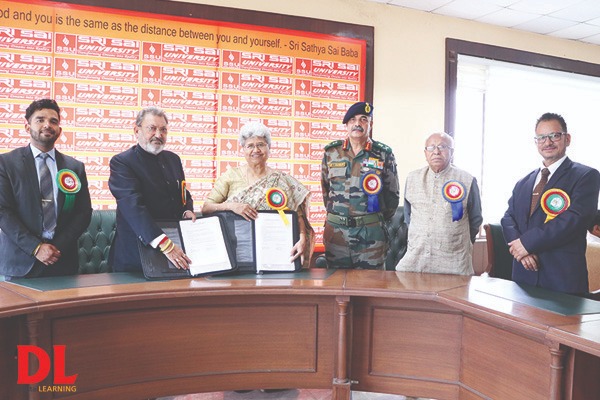 In a multitude of institutes opened across the nation, choosing one of those that meets all the academic ambitions and also enhances your career prospects can be a brain-storming problem. India today is on the brink of adopting Industry 4.0, and education is playing a pivotal role in facilitating this transition. One such institute that has been in the business of creating competent professionals is the Sri Sai University in Palampur which was established in 2010. The University provides access to high-quality education, cutting-edge research, and the development of new technologies in line with preparing successful professionals through our various professional courses i.e. Engineering & Technology, Basic & Applied Sciences, Management and Information Technology, Education, Law, Adventure Sports and Pharmacy with close interaction with industry. The University strives to its aim of "Transforming Dreams into Reality" by developing professional competencies with flexibility, adaptability, and passion for learning.
Technology giants at University

SSU has joined hands with IBM to develop the advanced curriculum to focus on developing the critical understanding of Linear Algebra and Statistics that are the foundation of AI and ML concepts. We are harnessing the potential of AI – ML with new courses at Sri Sai University with IBM. B.Tech in Computer Science Engineering (CSE) with a specialisation in Artificial Intelligence and Machine Learning is a course featured by Sai School of Engineering, SSU which helps its students to gain a practical understanding of various Artificial Intelligence (AI) and Machine Learning (ML). The major focus of the programme is to equip the students who wish to acquire the ability to design intelligent solutions to real-time problems.
SSU has developed these courses with the help of industry experts as our advisory board from experts working in Apple, Deloitte and Google keeping in mind the advancement and increased demand for the use of AI and ML in today's industries. This programme discusses artificial intelligence methods based on different fields like neural networks, signal processing and data mining, etc.

Learning close to nature
Sri Sai University Palampur is a fascinating spot in the Kangra Valley, surrounded on all sides by tea gardens and pine forests. The University enjoys a healthy climate and the pine-scented air that makes it a curative property. The scenery presents a sublime and beautiful contrast- the plain presents a picture of rural loveliness and repose, while the hills are majestic. Behind this University stand the high ranges of Dhauladhar mountains, whose tops remain covered with snow for most part of the year. The combination of all these make SSU, Palampur an escape from the hustle and bustle of the city noises and ideal for a conducive study environment.
The front-runner in innovation
Sri Sai University has taken a leap in launching the first of its kind in India, the new department of Mountaineering and Adventure sports in Himachal Pradesh. The university is starting courses like Certificate, Diploma, and Degree Courses on Mountaineering and Adventure Sports embedded with regular courses in sync with National Education Policy (NEP) 2020. It's a Pioneer project with the aim to promote Himachal Pradesh as the main adventure sports training area of international repute.
Philanthropic workforce behind SSU
With the blessings of Bhagwan Sri Sathya Sai Baba ji and under the dynamic leadership of Chancellor and Er. S.K.Punj, Chairman and Tripta Punj, Managing Director, the group of institutes was founded under the guidance of Late Shri Ram Iqbal Bhardwaj with a dream to provide world-class education in the areas where it was needed the most. The belief of our leaders is that education is the passport to the future and we make sure that in SSU, all our efforts are made to achieve this goal in letter and spirit. The recently appointed Pro-Chancellor Er. Kanwar Tushar Punj (Alumnus of the University of Leeds, UK ) puts his guidance to students and faculty members to follow the most innovative ways and means to impart education, eventually having brought a sea change in work culture of SSU, Palampur.
Extra mile
Addressing world problems with industry-ready courses and research-focused learning at SSU, Palampur. The road to be featured in the world ranking starts with a lot of passionate, talented and ambitious individuals who want to steer the education industry with their skills and hard work. Also making SSU future ready, entering the top ranking in the global standards, creating center of excellence and global alliances and partnerships. In the next 5 years will put Sri Sai University on the Map.
Views expressed by Er Kanwar Tushar Punj, Pro-Chancellor, Sri Sai University, Palampur, Himachal Pradesh