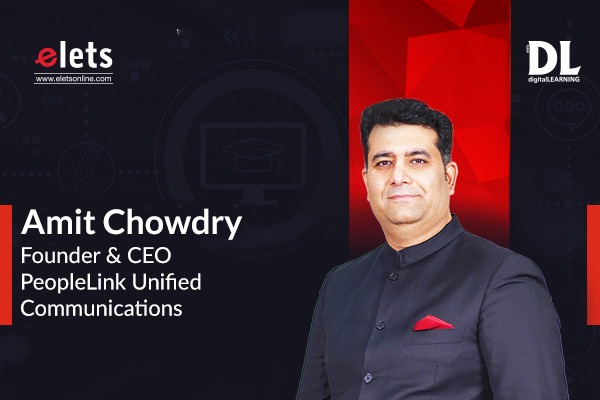 As we ride the digital wave, it is becoming easier to connect with people all over the world. With the click of a button or a simple voice command, you can access a world of information. To brief us about how futuristic technologies are going to transform Education in the year 2023. Amit Chowdry, Founder & CEO, PeopleLink Unified Communications interacted with Nidhi Shail Kujur of Elets News Network (ENN). Edited Excerpts:
Tell us about your achievements in terms of 'Innovation in Education' during the year 2022.
During the year 2022, we are proud to have deployed our HyFlex Classroom solution and SaaS-based virtual classroom platform in some of the leading institutions and universities of India like IIT Bombay, Armed Forces Medical College, Delhi University, NALSAR University of Law, IIIT-Hyderabad, IIT Kanchipuram, and Amity University to name a few.
With this, our cutting-edge HyFlex classroom solution provided a seamless classroom environment for the students and teachers, bridging the gap between a conventional and an intelligent classroom learning experience.

How are futuristic technologies going to transform Education in the year 2023?
The future of education is reshaping beyond the walls of a classroom, and the digital transformation and up-gradation in the education sector have accelerated immeasurably. It has transitioned from the traditional setup to the HyFlex technologies & cloud-based video collaboration approach. As a result, HyFlex education is the new norm, enabling the students to interact and learn directly from the experts.
At their current rate of upending the established educational system, India's value in this sector is predicted to reach USD 30 billion in the next ten years.
According to us, in 2023, HyFlex learning technology will improve the virtual collaboration between teachers and students while enhancing classroom engagement, and productivity, and personalising the overall digital learning experience.
What innovations accelerated the transformation of growth in the education landscape in the year 2022?
The approach to teaching changed, instead of focusing on When & Where, we progressed towards focusing on What & How in our direction moving forward and embraced the new way of teaching.
Leaning towards a hybrid-flexible approach in our classrooms in 2022 ultimately enhanced the overall learning & collaboration experience for the educational institutions as well as the students.
What is your mission and vision to impact the paradigm shift of the education arena in the year 2023?
Our mission is to reimagine the way education is delivered so that each and every individual has access to quality, personalised learning.
We believe that we can create a more equitable future for all by empowering students with the knowledge and skills they need to succeed in today's complex global economy. We will do this by continuously innovating our HyFlex learning solutions & our virtual educational platform that makes it easy for educators anywhere in the world to share their content and curricula with others who want access, while also providing them with financial rewards based on user engagement.
In addition, we will work tirelessly to enable seamless collaboration between different schools, businesses, government agencies, and more so that everyone can benefit from education innovations fast enough for them to have a genuine impact!

br>