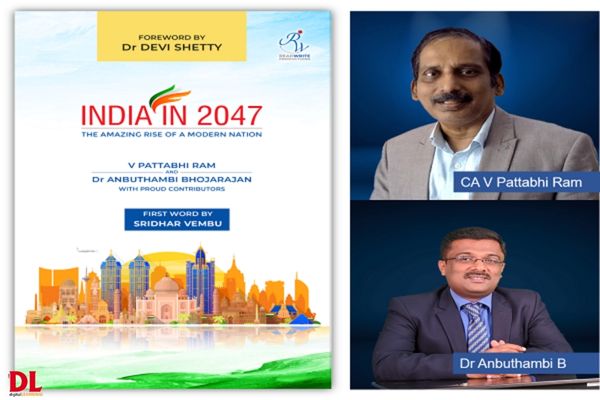 Authored by V Pattabhi Ram and Dr Anbuthambi Bhojarajan, the book India in 2047 envisions how India would be in various aspects of life, profession, politics, justice, societal and legal – and governance. The book is written across six sections: Big picture, Rising India, Education and skills, Sectors, Happiness, and the idea of India.
It is quite interesting to note that the authors have attempted to capture the book with two other layers of support in bringing the Horizon of 2047. One is different professionals contributing to writing at an early stage, and these professionals are individually mentored by senior professionals in industry and governance. The authors attempted a different approach to research-based writing and acknowledging the contributors right from the content page of the book. However, I would have liked to have sections of the book indicated in the contents so that readers have an idea of selecting sections and phasing out the depth of involvement in this book. The book is not just fiction or imagination of the future but a motivational work for youth and children to dream of New India.
To bring more clarity, students may like to read some sectors where they like to be engaged, like agriculture, transportation, scientific research or technology, and the like section on Happiness. A separate pull-out of those chapters may be exciting. Similarly, professionals who have been in the employment market in the last five years will appreciate that education and skills are continuing and linked with the sector with which they are associated. Senior executives would like to see the big picture of rising India and understand and strategize their business to New India.
The book is recommended for readers between 14 and 30 years as they have many actionable agendas from the book. You will read about metaverse, virtual reality, IoT, and digital transformations. The authors may not tell you how developed nations, including China, will be in 2047. The book primes us to stay within the nations we exist, group, and compete with. Youth must be involved in the transition, which may prepare and motivate you. If I were to recommend, the book must be made compulsory for the target segment in education or professional engagement. Governments and companies must find means to develop an action item in each chapter. The authors might have made bold or hyped judgments about the future to win readership across segments.

Some compelling inferences include that politicians need professional training to be in politics with a service orientation and can never be a power game. The book looks at parliament functioning like a professional firm managing its business with clearly defined responsibility, authority, objectivity, visibility, and open book record for verifying and validating decision-making and governance. The book articulates the role of leadership, succession, and continuity of purpose. But the authors seem to have trouble handling sensitive issues like fundamentalism, secularism, and caste orientation. However, they are wishful in many places of the book for a neutral harmonious society. Will the existing position tilt towards the balance due to technological advancements, economy, and societal factors?
The author's depiction of the future of transportation, housing, healthcare, and financial services is mindboggling and looks achievable. Even if we get to fifty percent of what is visualised, the world will have so many nice experiences to feel good about life. The authors, in many places, highlight the longevity of life, need to be independent and active. It starts with well-organised and agile brain. This book will make you excited and motivated to see India in 2047. Some of us have seen 1973, 1997, 2023 and understand how we have evolved rather than changed over time for the better, whether it is security, defence, governance, infrastructure, or utility. Worth taking the time to travel to 2047 through the window the authors depict.
Book review by Dr N Chandrasekaran, IFMR Krea University
To know more about the chapters and other details visit www.readwriteindia.in/indiain2047

br>