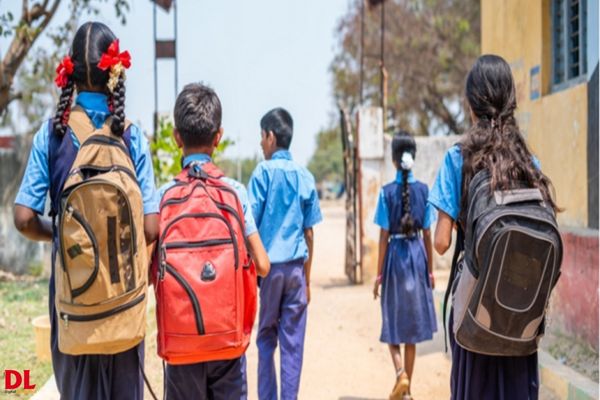 According to the survey tabled by Nirmala Sitharaman, the Union finance minister, presented in Parliament on Tuesday, the financial year 2021–2022 (FY22) saw improvements in student-teacher ratios, an increase in basic school infrastructure, and gender parity in enrollment.
An additional 194 million students were enrolled in schools nationwide during the financial year 2022, and at the same time, the drop-out rate saw a "steady fall," according to the economic survey 2022–23.
The survey found that there were 265 million students enrolled in schools nationwide, with an additional 194 million students enrolled in primary to higher secondary levels. There were roughly 10 million pre-primary (pre-nursery, nursery, and kindergarten) students, 122 million primary (classes first to fifth), 67 million upper primary (classes sixth to eighth), 39 million secondary (classes 9 and 10) students, and 29 million higher secondary students (classes 11 and 12).
With the exception of pre-primary, enrollment has increased throughout the board. According to the survey, enrollment at the pre-primary level decreased from 1.1 crore [11 million] in 2021 to 1.0 crore [10 million] in 2022.

According to the survey, schools at all levels showed an improvement in their gross enrollment ratios (GER) for the fiscal year 2021–22. "The GER in the primary enrollment in classes I to fifth as a percentage of the population between the ages of 6 and 10 years has improved in FY 22 for both boys and girls. This improvement has reversed the falling patterns between FY17 and FY19. The survey found that at the upper primary and primary levels, girls' GER is better than boys", according to the survey.
For instance, 102.1% boys and 104.8% girls were enrolled in primary school in 2021–2022. It represented a rise from 2020–21, when 102.2% boys and 104.5% girls were enrolled. Identical tendencies have also been seen at the upper primary level. 94.9% of females and 94.5% of boys were enrolled in 2021–2022 respectively. In 2020–21, this was 92.7% for females and 91.6% for boys, respectively.
From 39 million students in FY20 to nearly 41 million in FY21, more people are enrolled in higher education. The number of students enrolled has increased by over 7.2 million since FY15, or about 20%. The female enrollment has climbed to 20 million in FY21 from 19 million in FY20″, said the survey.
A rise in the GER in higher education was also noted by the survey. "The GER in higher education was recorded at 27.3 in FY21, which is an increase from 25.6 in FY20, and is based on 2011 population forecasts (updated). The GER for men went up from 24.8 in FY20 to 26.7 in FY21, and the GER for women went up from 26.4 to 27.9 over the same time period", it stated.
According to the report, school dropout rates at all levels have been "steadily declining" from 14% in 2020–21 to 12.6% in 2021–22.
The survey emphasised that government programmes like Samagra Shiksha and the Right to Education (RTE) Act 2009, improvements in school facilities and infrastructure, residential hostel buildings, availability of teachers, regular training of teachers, free textbooks, uniforms for kids, and the PM POSHAN Scheme all played a significant role in boosting enrollments and keeping students in school.
Also noted was the fact that enrollment in distant learning increased by 20% since FY15 and 7% from FY20 to FY21-22 in India.
Also read: 85% of children in India have experienced cyberbullying: Survey
According to the survey, "basic amenities in schools continued to improve in FY22 compared to preceding years, with the exception of medical check-ups in schools since the schools remained physically closed in the wake of Covid-19 limitations."
The assessment found a significant improvement in terms of fundamental school amenities including restrooms (for ladies or boys), drinking water, hand-washing stations, and digitization. For instance, the percentage of schools with internet access climbed from 24.5% in 2020–21 to 33.9% in 2021–22.
The survey identified the student ratio as an indicator that is inversely connected to the development in educational quality and found that it has improved continuously at all levels between FY13 and FY22.

br>