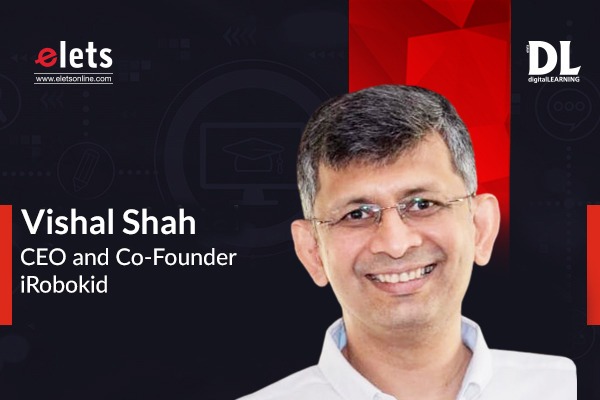 The year 2022 was revolutionary for the education sector and the industry around it. A lot has been revamped during the year and a lot is still remaining. Talking about the same, Vishal Shah, CEO and Co-Founder, iRobokid had an in-depth conversation with Sheeba Chauhan of Elets News Network (ENN). Edited excerpts:
Tell us about your achievements in terms of 'Innovation in Education' during the year 2022.

2022 was all about " Demoratising STEM " for us. It was our mission to ensure that we are able to take our STEM teaching solutions through our platform FLITE with cloud and offline solutions to schools across the country, in a simple plug-and play model, complete with all tools required to teach including robust trainer program.
How futuristic technologies are going to transform education in the year 2023?

This will be a two-way street, technologies like AR / VR and IoT will enhance the quality of learning and ensure that students get access to new learnings pedagogy at the click of a button. Also, students learning new programs like Coding / Robotics in schools will drive the spreading and mainstreaming of technologies to industries and consumer applications at a faster pace.
What are the innovation that accelerated the transformation of growth in the education landscape in the year 2022?
There have been 3 main accelerations in innovation in the education space and this is a spillover from the Covid years.
Data – There is a far more efficient use of data systems for students to use for dissemination information/admin purposes and also other general school usages.
Hybrid Learning – Going Phygital has been the buzzword with using technology to go online or also physical classes
Pedagogy – The innovation in pedagogy is at a paradigm shift and with thrust coming from the govt and other bodies, this will ensure more experiential learning, new technologies and a more holistic learning approach
What is your mission and vision to impact the paradigm shift of the education arena in the year 2023?
Its our mission to democratize stem education to ensure that each child gets access to these programs like Coding / Robotics / AI etc in schools. It's our vision that each school becomes a STEM teaching hub and we can get over a million students to learn STEM on our platform FLITE.