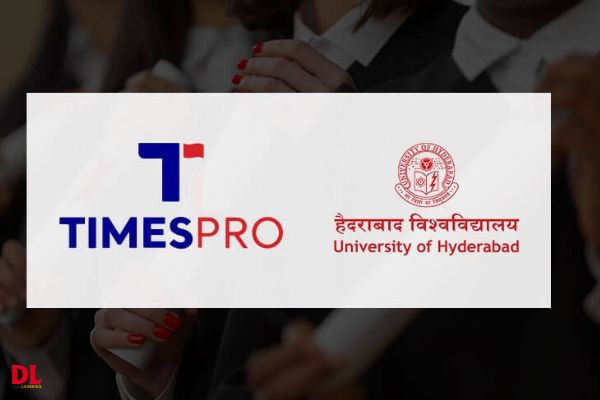 TimesPro and the University of Hyderabad (UoH) by strategically working together are able to provide new-age management programmes for students in India and abroad, enabling them to gain knowledge of contemporary business processes and develop the skills necessary to advance their careers. The collaboration will get started with the release of six programmes geared toward diverse business sectors.
On January 11, 2023, in the presence of Prof. B J Rao, Vice-Chancellor, Prof. Mary Jessica, Dean, School of Management Studies, Dr. S Jeelani, Director-CDVL, Dr. I Lokananda Reddy, UoH, Kuldeep Pareek, and MVR Padma Raju from TimesPro, the MoU was signed by Dr. Devesh Nigam, Registrar, University of Hyderabad, and Arun Kabra, CFO & President.

The programmes will go LIVE in the following months and be delivered in Direct-to-Device (D2D) mode using TimesPro's cutting-edge Interactive Learning (IL) platform. Through a methodology that uses a thoughtful combination of lectures, case studies, assignments, capstone projects, etc., necessary for career advancement, it will equip learners to develop future-ready competencies and a strong foundation across domains. TimesPro will take advantage of its position in the market by helping our students find jobs.
"The MoU between TimesPro and UoH (CDVL) is a happy culmination of two active entities for imparting education for SKILLS. We hope that this MoU will lead to multiple courses being offered across distance for a large number of students", said Prof. B.J. Rao, Vice-Chancellor, University of Hyderabad.

Arun Kabra, President, Enterprise Business and CFO, TimesPro, said, "We are delighted to offer the new-age management programmes in collaboration with the prestigious University of Hyderabad to equip our learners with future-centric skillsets, build competencies and stay in sync with the requirements of Industry 4.0. Learners will gain immense knowledge through UoH academicians and TimesPro industry experts who will train them to counter the challenges of the VUCA world and get them ready for placement in corporates."
Over the years, the Centre for Distance Virtual and Learning has registered more than 25,000 students, and UGC-AICTE-DEB has approved its online courses. Both UGC and NAAC (National Assessment and Accreditation Council) acknowledge CDVL as a member of the National Consultative Committee. The World Educational Services (WES), located in Toronto and New York, also acknowledges it.