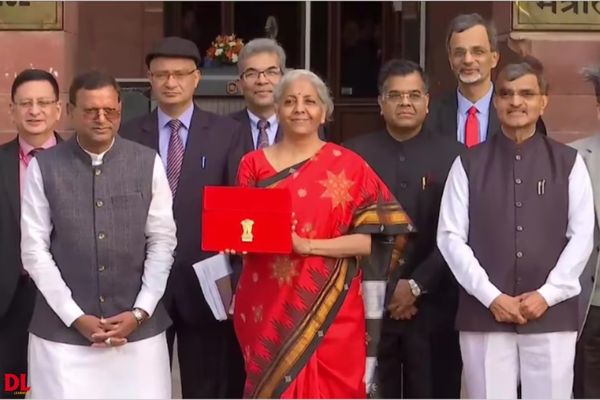 Union Budget 2023 adopts 7 priorities – Inclusive development, reaching last mile infrastructure & investment, unleashing potential, green growth, youth power, and financial sector. Here are the top highlights announced by Nirmala Sitharaman, Union Finance Minister, today.
PMKVY 4.0, 30 skill India international centres- To empower youth and help them realise their dream. PMKVY 4.0 will be launched to skill lakhs of youths within the next 3 years, Sitharaman announced, adding 30 skill India international centres across states. New age courses for industry 4.0 in several skills such as robotics, coding, drones and other soft skills.
157 new Nursing colleges- One hundred and fifty-seven new Nursing colleges will be established in core areas, FM Sitharaman has announced.
National Digital Library- one-stop learning solution- A National Digital Library for children and adolescents will be set up for facilitating quality books across geographies, languages, genres and all other level. States will be encouraged to set up libraries for them at panchayat and ward levels and provide infrastructure for accessing the National Digital Library resources: FM Sitharaman.

Non-curricular books in regional languages- Finance Minister Nirmala Sitharaman said that National Child Trust, Children's Book Trust and other sources to be encouraged to provide and replenish non-curricular titles in regional languages and English, to these libraries; collaboration with NGOs working in literacy also to be done
Select ICMR labs to be opened for public- Facilities in select ICMR labs to be made available for research by public and private medical college faculty, private sector research teams for encouraging collaborative research and innovation: FM Nirmala Sitharaman.
3 Centres of Excellence for AI- Three centres of excellence in Artificial Intelligence will be set up in top educational institutions. Leading industry players will partner in conducting interdisciplinary research, develop cutting-edge applications and salable problem solutions in the areas of health, agriculture and sustainable cities.
Impetus on agri startups- Agriculture Accelerator Fund to be set up to encourage agri startups by young entrepreneurs in rural areas, will bring innovative and affordable solutions for farmers' challenges, will also enhance profitability and bring modern tech: FM Nirmala Sitharaman in budget speech.
100 labs for developing apps using 5G services- 100 labs for developing apps using 5G services will be set up in engineering institutions. These labs will cover among others, apps like Smart Classrooms, Precision Farming, Intelligent & Transports Systems.
Also read: Sitharaman: Top 100 universities to start online courses
Teacher Training will be revamped- Teacher training will be envisioned through innovative pedagogy, continuous professional development, curriculum transaction and ICT implementation. The district institutes of education and training will be established into vibrant institutes of excellence for this purpose announced Sitharaman.
Strong focus on growth and job creation- "Economic agenda for our vision focuses on
1) facilitating opportunities for citizens
2) providing strong impetus to growth and job creation
3) strengthening macroeconomic stability.
38,000 teachers for EMRS- As many as 38,000 teachers and support staff to be recruited in the next 3 years, for 740 Eklavya Model Residential Schools serving 3.5 lakh tribal students, Nirmala Sitharaman announced.

br>