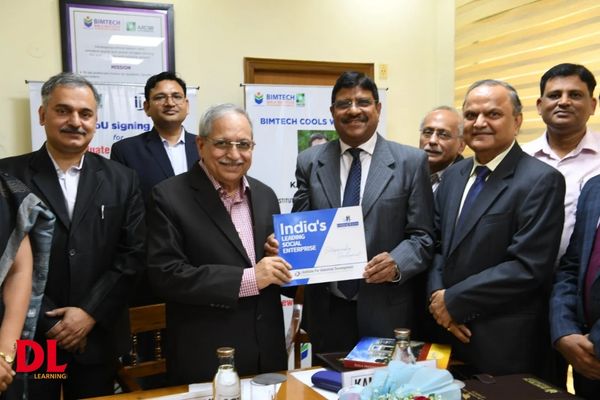 In order to jointly provide industry-specific training programmes and certificate courses in Marketing with a Specialization in Digital Marketing, Finance with a Specialization in FinTech, BFSI, Risk Management, Digital Transformation, Entrepreneurship, Supply Chain & Logistics Management, and related fields, Birla Institute of Management Technology (BIMTECH) and The Institute of Industrial Development signed a Memorandum of Understanding (MoU).
Institute For Industrial Development is an incubator with the Government of India, Ministry of Micro, Small and Medium Enterprises (MSME), and the department of start-ups, an initiative by the Government of Uttar Pradesh.
The Advanced Certificate in New Age Entrepreneurship is one of the first courses to be jointly provided. This will be done in an online setting. Applicants from accredited institutions are welcome to apply for this programme. The curriculum lasts for a total of four months, divided into 12 weeks of live classes and 4 weeks of capstone projects.
Professionals with an entrepreneurial mentality will gain from the certificate program's ability to transform novel business concepts into long-term business strategies.

The MoU will help the Small and Medium Business Enterprises (SMBE) sector, one of the main areas of emphasis for the nation's industrial growth, expand.Through this partnership, BIMTECH and The Institute of Industrial Development aim to empower and equip aspiring entrepreneurs with the necessary knowledge and skills to build and grow their own businesses.
Dr. Harivansh Chaturvedi, Director of BIMTECH, said, "Two premier institutions of India have come together to resolve one of the most significant problems of today – unemployment. BIMTECH as a business school has been providing excellent education on entrepreneurship and startups for many years. IID on the other has a track record of making around 1300 modules on the broader topic of entrepreneurship. They have the resources and mentors, who can help entrepreneurs with a plan and a path. I would like to complement the efforts of IID co-founder, Mr. Mukesh Shukla."
Kamal Bhola, Director, The Institute of Industrial Development, further added, "With the help of BIMTECH, we can reach out to a vast section of the youth. Entrepreneurship certification is the need of the hour and producing capable leaders essential to sustain business growth. The program aims to develop entrepreneurship among the youth so that they can become job providers in the future."

br>