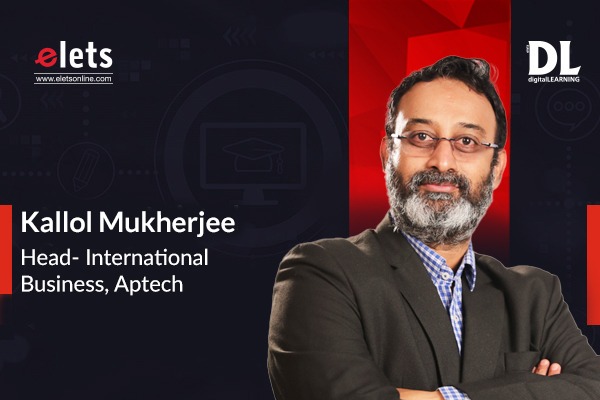 At Aptech, we strongly believe that our competition is with 'Unemployment'. Hence, our focus is on addressing verticals that have mass employment potential for career development potential. This has led us to enhance our student value proposition with unique features. Our goal is to consistently provide students with a better return on investment and faster payback compared to the formal sector, thereby maintaining our competitive advantage in the skilling space, shared Kallol Mukherjee, Head- International Business, Aptech with Sheeba Chauhan of Elets News Network. Edited excerpts:
Aptech offers its students, a competitive edge in their careers enabling them to become dynamic job-ready professionals. So, what according to you are the dynamic skills that can make an individual job-ready professional?

Aptech offers skill-based training across various verticals through its power brands i.e. Aptech Computer Education, Arena Multimedia, MAAC, Aptech English Learning Academy, Aptech Aviation & Hospitality Academy, Aptech Hardware and Networking Academy, Lakme Academy Powered by Aptech and many more. Aptech covers the latest in-demand tools, techniques & skills which are industry aligned and helps students get employed. We believe that our programs created in consultation with the industry allow every student to imbibe skills that in turn enhance their job prospects through Industry Connect Alliances & Placement (ICAP). This can be explained as bridging the gap between joblessness and employability.
Aptech has successfully collaborated with several Government Bodies, Ministries and leading organisations worldwide to offer customized quality training, some of which are the Ministry of Education & Training (MOET) in Vietnam, the Centre of Excellence in Information Technology (CEIT) in Costa Rica, the Ministry of Human Resources in Malaysia, NEC Corporation in Japan and many more. Aptech is also supported by alliances with several reputable partners. Our business associates and our students benefit from these strong alliances and connections. Middlesex University (UK & Dubai), Lincoln University College (Malaysia), NCC Education (UK), Centre of Entertainment Arts (Canada) and University of Bolton (UK & UAE) are a few of our prestigious partners.
What are the various domains in which your brand offers training programmes to get job placements?
We are in the business of creating opportunities to change the lives of millions globally, enabling them to build their dreams. Therefore, our motto is defined as opportunities to create defining careers and to deliver quality learning. Aptech as an organization offers employment-driven education and skill development training through its power brands in various verticals like Software Development, Multimedia, Animation, VFX, Game Design & Development, Networking & Security technologies, Spoken English, Aviation, Hospitality, Travel & Tourism, Beauty & Wellness and Banking & Finance and more.
World Education Summit 2023 in Dubai aims to unlock fresh strategies and foster new approaches to building a future-ready education ecosystem. How do you think such conferences help to uplift education standards at a global level?
Such conferences have always helped us and hopefully others to understand the formal education space globally. Event like World Education Summit is a major platform which is valued by global education leaders like us and influencers from across academia, government, and industry to debate, discuss and drive forward innovation in education not only in formal space but also in non-formal vocational & skill development training space. The discussions, networking and strategies communicated are highly significant to upthrust the education space in future.
The unemployment rate in major countries is rising day by day. What are the factors that are credible for rising unemployment? How can a brand like yours help in doing so?
Currently what we are witnessing is a Wide Skill Gap worldwide. To challenge such situations; we started the reinvention journey seven years ago with a fundamental change in our perspective – that our competition is with 'Unemployability'. Hence, we are focusing on addressing verticals with mass employment and career development potential. Also, it has driven us to add many differentiated elements to our student value proposition. We endeavour to keep delivering a much superior ROI and faster payback for the students as compared to the formal sector and maintain our competitive edge in the skilling space. This eventually helps us transform Qualified Unemployed Graduates (QUGs) into Skilled Employed Professionals (SEPs). Aptech has been the market trendsetter year after year by focusing on initiatives that benefit our five pillars (stakeholders):
Students
Business Partners
Recruiters
Employees
Shareholders
Your brand is best known for Employment Driven Training. What are the strategies and programmes you follow, so that students from your doors land in some good corporates with high-end packages?
It was in 1986 that we at Aptech foresaw and forecasted how technology would transform business challenges into opportunities. It is this dream that gives us the strength to rethink industry-relevant programs and technologies while addressing the evolving employment needs of businesses across the world. Today, we continue to reimagine the way non formal tech education could impact everyday businesses. This has allowed us to focus on delivering industry-ready human resources year after year. Constant industry feedback has inspired our thinktank which consists of various teams which create value additions in existing programs while introducing new ones for any future needs. We also have a dedicated Industry Connect Alliances & Placement (ICAP) team to work closely with the industry which helps every student to imbibe skills that enhance their job prospects. Our students through the alliance partners also have the avenue to pursue a formal degree with direct admission typically to the 3rd year of a degree program in countries like the UK, Canada, Malaysia, Ireland and Australia. Over the decades, we have deployed the Aptech 6-Edge Advantage in our courses to metamorphose our students into industry professionals. This in turn helps push their aspirations beyond their peers. The advantages to our students besides technical skillsets are:
Industry Interface
Presentation Skills
Working Under Deadlines
Creativity
Resilience
Teamwork