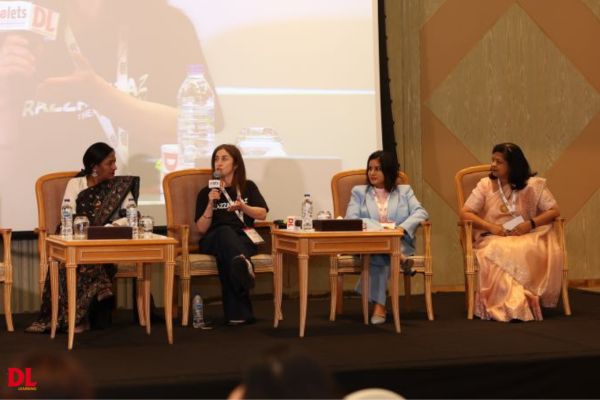 Performing arts education offers a wide range of skill-enhancement opportunities for school students. It encompasses various disciplines such as music, dance, drama, and visual arts. By engaging in performing arts education, students can develop and hone valuable skills that go beyond artistic expression. A panel discussion on the same took place at the 25th Elets World Education Summit in Dubai. Edited excerpts:
Dr. Kavita Bajpai, Director, The International School of Thrissur, Kerala, India started with a quote by Frida Kahlo: "I paint flowers so they will not die. She further explains, "This statement encapsulates the essence of individual growth through creativity and uniqueness. Similarly, the realm of Performing Arts provides a holistic journey towards personal development, encompassing physical, mental, and emotional aspects while emphasizing the importance of human connection. Despite ongoing debates, the role of Performing Arts in a comprehensive educational experience remains undeniable."

"There has been a considerable debate in recent years regarding the inclusion of Performing Arts education in school curricula. However, it is crucial to ensure holistic learning by integrating such subjects into the educational system. In my own schooling experience, such subjects were often overlooked, but today the focus has shifted towards developing the necessary skills that Performing Arts can provide", she added.
"The shift from focusing solely on academic subjects to developing skills is an ongoing process, and while progress has been made, it is not yet fully realized. It can be challenging to communicate to others that art, dance, and theater are not merely subjects, but rather skills that can enhance one's life in many ways, particularly cognitive skills. Therefore, I believe many of you would agree that this transformation is still happening, and we must continue to emphasize the value of developing skills beyond traditional academic subjects", she added further.
Eman HamShari, Director, Innovation Taaleem Dubai, UAE stated that "Our school has integrated Performing Arts into our curriculum for the past eight years, and we have observed a significant positive impact on our students. Performing Arts is all about connections, whether it is connecting with oneself or with society. Once it is integrated into the curriculum, it becomes a means of exploration, connecting with concepts, and enhancing imagination. Through Performing Arts, we encourage students to connect with the topic to be taught and explore their inner selves. This approach has resulted in immense changes in our students, increasing their self-confidence and enabling them to compete with themselves. For example, when teaching an Environmental Science concept, we ask students to act out a scenario, allowing them to put themselves in different roles and connect with the learning content. This approach has helped our students learn and develop critical skills."
"We have observed a remarkable transformation in our students' confidence and overall development through the incorporation of Performing Arts into our curriculum. It is imperative to provide a platform that caters to different types of learners in a classroom as every child is unique and has varying learning styles. Performing Arts is one such platform that can accommodate all types of learners, be it kinesthetic or imaginative. It facilitates group learning, allowing students to learn and grow together. The most significant advantage of this approach is that students learn to compete with themselves and not others. While other students may excel in different activities or possess different abilities, the focus remains on self-improvement and self-awareness, which is critical for personal development", she added.
Karen Keeman, Public Relations Advisor and Content Creator, Razzamataz Theatre Schools shared, "As a specialist provider of Performing Arts training for children and young people, Razzmatazz theater schools recognize the importance of providing a safe and secure space for students to connect with their emotions, thoughts, and feelings. Through this connection, we can unlock their creativity, which is essential for their personal growth and development. Often, students feel that they cannot be both creative and excel in other academic areas such as math or science. However, through Performing Arts, we can help them unlock their creativity, which is an enjoyable and playful experience. As children grow older, they may lose touch with their creativity, but through Performing Arts, we help them rediscover their creative spirit, enabling them to work together and think differently. Our schools across the UK have observed the positive impact of this approach on our students' personal growth and development."
Atika Jain, Co-Director, Vanasthali Public School, Uttar Pradesh, India stated, "The pace of development in the world is accelerating, and I believe that academic strength alone is no longer sufficient. Holistic development is crucial. When we speak of holistic development, cognitive skills are an important aspect. Cognitive skills can be defined as the integration of data received from all five senses with the brain, resulting in logical intelligence. It encompasses how we perceive and think about the world around us, our concentration, decision-making abilities, and communication and listening skills. These skills are essential in today's world, where distractions are everywhere, and quick decision-making is necessary. In our school, we focus on developing these cognitive skills alongside other skills to ensure our students are well-rounded individuals."
Dr. Preeti Manekar, Principal, Hind English Medium School, Maharashtra, India, Stated that "When it comes to teaching cognitive skills, the language we use can be quite heavy and overwhelming. Students often find it hard to engage with subjects like math and science because they can be dry and lacking in emotional connection. However, subjects like music, drawing, and sports, which tap into their desires and feelings, are more popular with students. If we can find ways to integrate cognitive skills into these subjects, we can make learning more interesting and engaging. For example, we could integrate dance with math or chemistry, and suddenly the topic becomes much more enjoyable."
She added further, "Performing arts are also a great way to teach cognitive skills subconsciously. Time management, decision-making, creative problem solving, and other personality traits can all be activated through performing arts. When faced with a power cut during an annual function, one student came forward with a joke, demonstrating their initiative, confidence, courage, competitiveness, presence of mind, and assertiveness. By tapping into a student's emotions and activating their personality traits, we can teach them valuable skills without them even realizing it. Rather than trying to make a child sit and listen to a lecture on decision-making or thought leadership, we can use performing arts to transform and transmit knowledge."