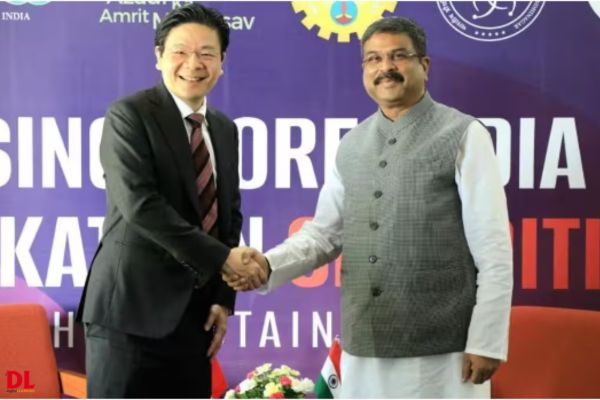 There is enormous potential for India and Singapore to collaborate and create a workforce that is ready for the future for the entire world stated Union Education Minister Dharmendra Pradhan at the completion of the third iteration of the Singapore-India Hackathon.
According to Dharmendra Pradhan, "Our collaboration in the areas of knowledge, skill, and innovation will not only benefit India but also countries in the global south who are looking to us to lead the way."

The All India Council for Technical Education (AICTE) and Nanyang Technological University, Singapore, collaborated to organise the closing ceremony.
Dharmendra Pradhan praised Singapore's skilling concept and asserted that India should learn from it by making sure that everyone has access to training for respectable employment and establishing a confident society.
He said that India needs to work on industry relevant course curriculum and another area of priority for the country on the lines of what Singapore has already attained.
"There is immense scope for India and Singapore to work together to achieve mutual priority, particularly towards preparing a future ready workforce for the entire globe. Skill development and knowledge collaboration are an important element for bilateral strategic partnership," he said.
According to Singapore's Deputy Prime Minister and Finance Minister Lawrence Wong, The hackathon event is special and valuable because it "brings out best youths and minds to solve global challenges together."
The leaders of both nations embrace it, and it was created from Prime Minister Narendra Modi's vision. For the first time since the (COVID-19) pandemic, I'm thrilled to attend the closing event in Gandhinagar, he remarked.