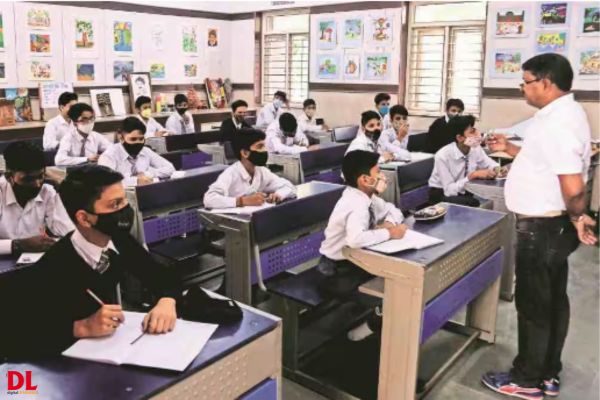 MCD intends to establish a concept for model schools with a variety of cutting-edge amenities. The Delhi Municipal Corporation has set aside 20 crores for school renovations. Schools like Moldband Okhla Urdu Jaitpur Ali Gaon Sangam Vihar Ji Block in Central Zone are among the ones that require extensive repairs. The "schools of specialised excellence" established by the Delhi government will be followed in the construction of these schools, according to senior officials in the MCD's education department. The corporation currently runs two types of schools: conventional schools and Nigam Pratibha Vidyalayas.
Additionally, it is necessary to increase the available resources. The Delhi Government needs to provide a 200 crore rupee money, according to the Education Department. The organization will begin the process of constructing these schools as soon as it receives the necessary funding. The engineering department is now building nine new schools, according to an MCD official, while spending about Rs 4 crore on minor repairs to 191 existing schools. Additionally, Rs 24 crore has been allocated for significant repairs, which the department is also carrying out.

The brand-new network of these concept schools will feature cutting-edge teaching methods, smart boards, sizable playgrounds, and sporting facilities. According to a senior official in charge of the initiative, the curriculum will be modified, and teachers will receive training from recognized universities. The next month, the regulations for the new model schools would be written.
Separate building blocks for each of the two specialities, each of which will have 240 classrooms, will be prepared in this school hub, which will be constructed with STEM and Humanities specializations in mind. All of these classrooms will be furnished with the most up-to-date teaching tools. The government claims that these schools have high admittance rates. In the 1,535 primary schools run by MCD over 12 administrative zones, there are more than 800,000 pupils registered in classes up to the fifth grade, taught by 18,158 teachers.
According to the first official, the civic body has already begun skill-upgradation training at the IIMs to create mentor instructors. The official went on to say, "A second batch of 50 teachers will depart for IIM Kozhikode on August 21, and more batches are in the works." According to MCD's education department, 198 structures will need minor repairs in 2022 (16.7%), while 368 locations will need severe repairs (31.05%). The state government and MCD have also begun collaborating in an effort to close the teacher shortage for municipal primary schools.