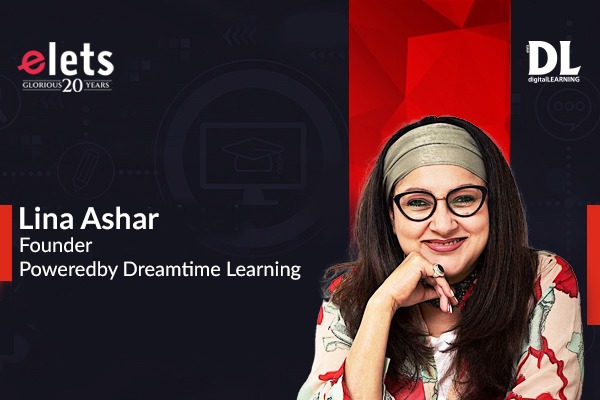 There are three pillars defining the concept of Futuristic Education – Brain & Behavioral Science, Entrepreneurial & Growth Mindset and Social-Emotional Intelligence. Understanding the intricacies of brain and behavioral science is pivotal in designing effective educational strategies that cater to diverse learning styles and enhance student outcomes, shared Lina Ashar, Founder, Poweredby Dreamtime Learning in an exclusive interview with Sheeba Chauhan of Elets News Network. Edited excerpts:
Dreamtime Learning has introduced an innovative model called 'PoweredbyDTL'. Tell us more about PoweredbyDTL model and how it is crafting the curriculum for futuristic educational institutions.
Revolutionising the education industry with various initiatives and entities, we have been at the forefront in bringing one-of-a-kind education-first schools through online schooling and its first Micro-schooling Hub in Hyderabad. Bringing a new approach to the system, we have recently introduced a curriculum licensing business model called 'Powered by Dreamtime Learning" i.e. We power schools with our curriculum solution and 360 support around it to be truly futuristic and NEP aligned.
The purpose of PoweredbyDTL is to transform the school into a cutting-edge educational institution and infuse technological advancements into schools, all without the constraints of a franchise. We have conceptualised this with the respective school's vision and values, giving access to various tools and resources. The motto behind this is to build a futuristic personalised learning centre free from franchise norms or additional costs.
The curriculum we prefer is the International Standard Curriculum, along with a gamified curriculum, which is designed for self-mastery. Further, aligning and structured with the NEP 2020, it also features an advanced and user-friendly Learning Management System (LMS) for better learning. The model also provides a teacher training program and gives access to upgraded pedagogy with all micro and macro approaches constantly.
Our curriculum emphasizes student-centered learning, which is becoming widely acknowledged as a successful way of educating students about all the challenges and opportunities of the modern world. This method encourages creativity, critical thinking, and flexibility, which are vital for success in the modern world.
Dreamtime learning gives access to various tools and resources that seamlessly transition schools towards a futuristic personalised learning centre. Please elaborate on these tools and resources.
We are at the forefront of transforming traditional educational settings into futuristic personalised learning centres, offering various innovative tools and resources to support this transition. We design and offer high-quality online instructional content using various modern methods and technology. Learning management systems (LMS) enable schools to organize and provide curricular content online. They can be a single portal for assignments, assessments, and student progress monitoring. We at Dreamtime guarantee that the transition will be smooth and without significant disturbances to the learning process. This may involve progressive changes to teaching strategies, more teacher training, and a curricular connection with technology. Gamification and interactive content are critical factors in student engagement.
Virtual Learning Environments: Virtual learning environments create immersive and interactive experiences for students. These environments include virtual classrooms, 3D simulations, and online labs, providing hands-on learning opportunities even in remote or resource-constrained settings.
Gamified curriculum designed for self-mastery: Gamification elements engage and motivate learners, while personalized, self-paced modules adapt to individual needs. Real-world applications and continuous feedback enhance skill development. This approach fosters intrinsic motivation, nurtures lifelong learning skills, and ensures students are well-prepared for the future.
Access to constantly upgrading pedagogy with all micro and macro approaches: It offers a vast repository of both micro and macro teaching approaches, keeping educators informed about the latest teaching methods, technologies, and research. This ensures that classrooms are always evolving, enhancing the learning experience for students.
Train teachers and principals: For educators, PoweredbyDTL offers professional development resources to enhance teaching skills and adapt to the evolving educational landscape. This includes workshops, webinars, and access to a community of like-minded educators.
In a rapidly changing world, where AI, Automation and Digitization are transforming how we live and work, it's more important than ever to cultivate critical thinking and problem-solving skills. How are you incorporating the same at Dreamtime?
In the age of artificial intelligence and digitization, educational institutions must equip students with the skills to tackle real-world challenges. At Dreamtime, we develop programs that include critical thinking and problem-solving techniques.
There are three pillars defining the concept of Futuristic Education – Brain & Behavioral Science, Entrepreneurial & Growth Mindset and Social-Emotional Intelligence.
Understanding the intricacies of brain and behavioral science is pivotal in designing effective educational strategies that cater to diverse learning styles and enhance student outcomes. In alignment with PowerebyDTL principles, we place a strong emphasis on nurturing students' self-awareness, personalized well-being, emotional intelligence, self-leadership and self-mastery. This involves helping students gain a deeper understanding of their learning styles, strengths, weaknesses, and areas for improvement, which are pivotal for personal growth and transformative learning. It also boosts strong interpersonal relationships, empathy, and effective communication.
Fostering an entrepreneurial mindset in education encourages students to embrace innovation and consider challenges as opportunities for growth and learning. This instills chances to develop positivity, adaptability, proactivity, curiosity, and a willingness to take calculated risks. Students are more likely to discover their unique strengths and interests, allowing them to pursue their paths with determination and enthusiasm.
Students must understand and manage their emotions, empathize with others, build positive relationships, and make responsible decisions. This goes beyond traditional learning, focusing on the emotional and social well-being of students. It further recognizes skills like empathy, self- awareness, self-regulation, social awareness, interpersonal skills, and emotional intelligence. We continuously evaluate and update our curriculum to ensure it is updated with current trends.
You believe in empowering learners by immersing them in real-world experiences that align with their interests and preferences. What are your thoughts on the present curriculum at school, and how can we transform it to align it with experiential learning?
We should reconsider how students are evaluated. Traditional school curricula are sometimes criticized for placing excessive value on mugging up, which may not necessarily align with individual students' needs and interests. Examine other forms of evaluation that ask students to demonstrate their learning via practical tasks, such as presentations, portfolios, and self assessments.
Poweredby Dreamtime Learning School curriculum is a personalized, futuristic learning system designed to prepare students for the 21st century. It incorporates neuroscience-based concepts, behavioral science, and habits of the mind into its design. Incorporate real-world experiences into the classroom by utilizing online and technological resources. Students can immerse themselves through educational programs, online collaborations, and virtual simulations.
How is Powered by Dreamtime Learning different from the School Franchising option?
The franchise model in education has many drawbacks, such as less flexibility, increased costs, inconsistent quality, and a lack of community. Today, we must consider how we can provide schools with the necessary resources and assistance while retaining brand ownership, which is an essential component of developing a long-term company. Poweredby DTL has redesigned the game with the appropriate solutions, allowing school owners to maintain brand ownership while receiving 360-degree assistance from us in technology, curriculum, and other resources as genuine collaborators in their success. We give access to a well-designed and constantly updated curriculum.
The world of education is open for global collaborations. Have you envisioned any such collaboration for the future at your institute to make it a better place for students?
I have always encouraged multilingual education and international curriculum. This transcends students to maintain linguistic diversity and cultural heritage. With PoweredbyDTL, we are open for collaboration opportunities from overseas. At present, we are seeking to establish connections with educational institutions in other nations or regions to enrich the educational experience and educate students to flourish in an increasingly related and globalized society. But to ensure these partnerships are practical and advantageous for everyone, it's critical to approach them with a a clear goal and an awareness of the possible difficulties, such as disparities in academic systems and language barriers.
"Exciting news! Elets Education is now on WhatsApp Channels Subscribe today by clicking the link and stay updated with the latest insights!"
Click here!