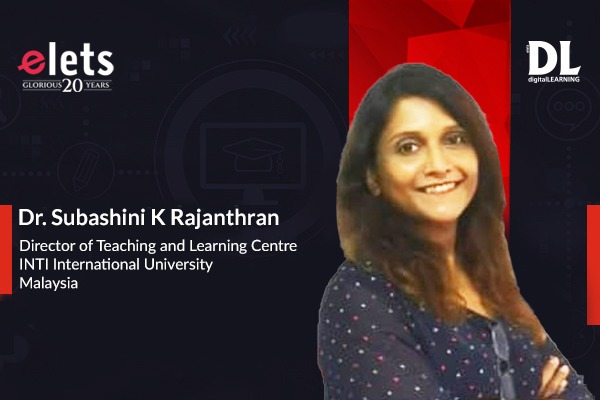 With the growing importance of data-driven decision-making across industries, programmes related to data science, machine learning, and data analytics will be introduced, shared Dr. Subashini K Rajanthran, Director of Teaching and Learning Centre, INTI International University, Malaysia in an exclusive interaction with Sheeba Chauhan of Elets News Network. Edited excerpts:
Your university provides courses in all areas from business to multimedia designs. Is there any plan to introduce some new courses as per the current demand of the education ecosystem?
Yes, definitely, with the growing importance of data-driven decision-making across industries, programmes related to data science, machine learning, and data analytics will be introduced.
Additionally, with cyber threats becoming more sophisticated, courses in cybersecurity and ethical hacking have already been introduced. As for AI and Machine Learning applications, these are also expanding rapidly. Some of the new programmes or major areas at INTI are: Data Science and Analytics, Cybersecurity and AI & Machine Learning. In addition, as the healthcare sector increasingly relies on informatics for data management, at INTI we have also recently introduced the Master's in Healthcare Management.
Southeast Asia, with over 12 million students in 7,000+ higher learning institutions, prioritises education. What suggestions do you have for other regions to strengthen their education systems?
We should embrace the evolving landscape of the new educational era. Our programs should transition away from traditional delivery methods and instead cater to Technical and Vocational Education and Training (TVET) as well as working adults. In essence, we should prioritise flexible educational modes. It is imperative that we explore the expansion of Open and Distance Learning (ODL), Micro-Credential Courses (MCC), Massive Open Online Courses (MOOCs), and work-based learning options.
What strategies do you employ to assess and measure the effectiveness of teaching and learning initiatives at INTI International University?
These strategies are in place, and they reflect some of the practices at INTI International University:
1. Student Feedback and Surveys: Collect feedback from students through surveys and evaluations to gauge their satisfaction with courses, instructors, and learning experiences. Analyse the feedback to identify areas for improvement. (Survey on students feedback on their LMS, Survey on Students' perception of courses, Survey Students' evaluation on Staff Teaching, and a general survey called INTI Listens).
2. Assessment of Learning Outcomes: Assess whether students are achieving the intended learning outcomes through the OBE Dashboard analysis. Here, every student's learning outcomes are analysed and students will receive their own "Report Card" at the end of the semester. Benchmark for learning outcome attainment is set at 75%.
3. Programme and Course Review Taskforce: Established to regularly review and evaluate the quality and relevance of course content, instructional materials, and assessments.
4. Classroom Observation and Peer Assessment: Encourage peer assessment among lecturers to promote reflection on their own learning and the learning of their peers. Conduct classroom observations by performance managers to assess teaching methods, classroom dynamics, and the application of effective pedagogical strategies.
5. Alumni Surveys: Conduct surveys of graduates to gather information on their career success, job placement, and the relevance of their education to their professions.
6. Continuous Professional Development (CPD): Encourage faculty and instructors to engage in continuous professional development to stay updated on best practices in teaching and learning.
7. Innovative Teaching Methods: Sharing Sessions innovative teaching methods and technologies, such as flipped classrooms, online simulations, or gamified learning, and assess their impact on student engagement and learning outcomes.
How does INTI International University support professional development for faculty members to stay updated with best practices in teaching and learning?
These are some ways that we support professional development among out staff
1. Workshops and Seminars: Offer regular workshops, seminars, and training sessions on various aspects of teaching and learning. These sessions can cover pedagogical techniques, technology integration, assessment methods, research and publication.
2. Sharing Sessions/Brown Bag sessions: Encourage faculty members to collaborate and share best practices with their peers.
3. Training on Demand Videos: Create an online repository of training videos and best practices related to teaching and learning. Ensure that faculty members have easy access to these materials anywhere, anytime, anyplace. This is especially for those staff who are unable to attend physical training.
4. International Guest Speakers/Lectures: Invite guest speakers and subject matter experts to deliver lectures, workshops, or webinars on relevant topics in education or any programme specific training, at the same time encouraging internationalisation.
5. Conferences: INTI University organises 4 international conferences annually; International Higher Education Conference (March) , International Green and Sustainability Management Conference (June), International Conference on Innovation and Technopreneurship (Sept) and Asian Social Business Conference (Nov). Faculty attendance at professional conferences and educational events, where they can network, learn from experts, and stay updated on industry trends are highly encouraged.
6. Research Grants: Internal Seed Grants are offered and incentives for faculty members to engage in research related to teaching and learning. Encourage the dissemination of research findings through Knowledge Transfer Projects.
7. Technology Training: Provide training in the use of educational technologies, learning management systems, and digital tools that enhance teaching and student engagement.
8. Professional Memberships: Faculty members are strongly encouraged to obtain memberships in professional organisations and associations related to their disciplines and teaching fields. Membership fees are borne by the university.
9. Teaching and Learning Centers: This centre provides resources, consultations, and workshops related to T&L.
What innovative teaching and learning strategies or technologies have you implemented or plan to implement to enhance the educational experience for INTI's students?
Some of the innovative teaching and learning strategies and technologies include: Blended Learning, Online Collaborative Tools, Global Learning (outbound study), Gamification in selected courses, Open access textbooks, e-books.
How do you see collaborative platforms like the World Education Summit contributing towards the growth of the education ecosystem?
This collaborative education platform brings together a diverse array of education professionals, administrators, policymakers, and experts, from across the globe, for knowledge sharing. It is also great for networking and forging partnerships within the education sector. It gives participants the opportunity to connect with like-minded peers, educational institutions, and organisations, fostering potential collaborations, research ventures, and agreements for sharing educational resources.
"Exciting news! Elets Education is now on WhatsApp Channels Subscribe today by clicking the link and stay updated with the latest insights!"
Click here!