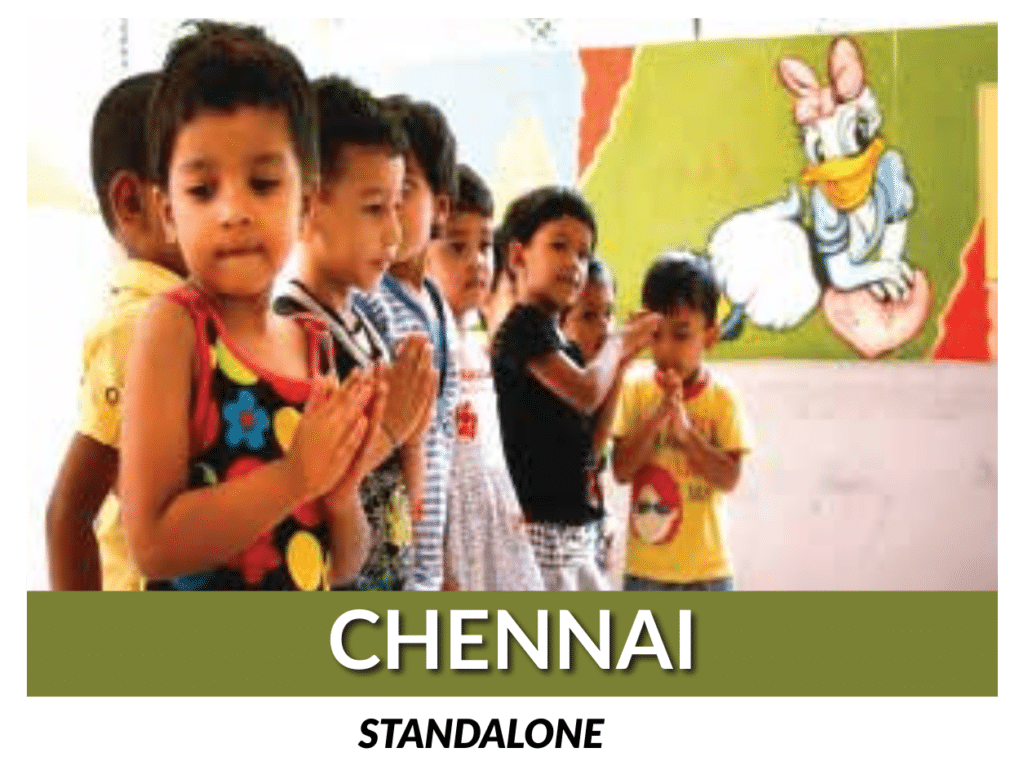 1 NeIndus Early Learning Centre,
Adyar

The Indus Early Years Programme emphasises
on trans-disciplinary education through an inquirybased
approach to learning.

2 Kiwi Learners, Neelankarai

The preschool offers a fresh, exciting, engaging
and progressive teaching and learning environment
for children.

3 Vruksha, Alwarpet

The classrooms of this preschool are equipped
with materials designed to address particular
developmental needs of children at different ages

4 Alphabet Play School, Abirampuram

The school's comprehensive programme helps
children develop creative thinking and problem
solving skills.

5 SEED Academy, Kottivakkam

It is a progressive primary school that aims to
offer children a unique learning experience in
an environment enriched with support, encouragement
and assistance.

6 Amelio Early Learning Centre,
Basant Nagar

The mission of Amelio is to provide a safe, nurturing
and positive learning environment for children.
Amelio currently owns and operates 11 centres and is
launching four more shortly.

7 Bamboola, Raja Annamalaipuram

The school offers a joyous learning environment
where children can learn creatively and
productively.

8 Alacris Preschool, Adyar

The preschool offers an exciting learning
environment and a safe and nurturing space for
young children to learn and grow.

9 SEED, Adyar

Seed was founded in May 2004 with the
objective of empowering children with the
ability to transfer knowledge into action and apply
knowledge to real life situations.

10 Sprouts Montessori,
Mylapore

The school offers outstanding toddler,
primary and elementary programme for
children including exposure to various forms of
art, clay modeling, rhythm and movement, drama
and storytelling, excursions and celebrations.

11 Learning Tree, Adyar

The preschool follows the montessori
method to help children reach
their full potential – intellectually, socially, and
emotionally.

12 Srishti Montessori School,
Nungambakkam

Nungambakkam Promoted in June
1995, the school offers a stimulating learning
experience to children between two-and-a-half
years and 6 years.

13 Seed, Anna Nagar

The mission of the school is to
provide a safe, nurturing and positive
learning environment for children.

14 Blooming Lotus Preschool,
Anna Nagar

The school has an objective to
produce a self confident, creative child who can
make simple decisions easily, enjoy learning and
achieve wholeness.

15 Patasala Montessori School,
Nungambakkam

The study materials used in this
school are scientifically designed to aid development
in a holistic manner. They engage the child
in purposeful activity.