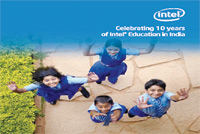 Faced by the challenges of developing economies, mankind needs to harness the powers of science and technology for which they need a robust and effective education system to produce and sustain these skills. Education therefore is the key to empowerment and Intel Initiatives are working across the world to provide equity and opportunity through education.
Intel believes that young people are the key to solving global challenges. That is why, since 1999, Intel, as part of a sustained global commitment, has been involved in India in education programs to enable tomorrow's innovators.
"Innovation and investments in information and communications technology (ICT) will accelerate economic recovery and jobs growth worldwide" – Paul Otellini, Intel Corporation President and CEO
Working in close partnership with government and other decision making  bodies at the central, state and local levels, the IntelIntel Education has helped transform education in India through the Intel® Teach Program where over a million teachers have been trained to bring technology tools and resources into their classrooms for better student learning. It has provided teachers with proven professional development and 21st century skills, promoting studentcentered learning to engage students n appropriate use of technology for learning, creativity, and communication. Launched in India in February 2000 it is the largest, most successful program of its kind and has trained over 6 million teachers across 40 countries and over 1,000,000 teachers and student teachers in India.  Today Intel collaborates with Central
Government bodies like the Kendriya Vidyalaya Sanghathan (KVS) and the Navodaya Vidyalaya Samiti (NVS) and the National Council for Teacher Education (NCTE), to provide the Teach program to teacher education institutions across the country. The Intel Initiatives are not limited to within the formal classroom. To take education beyond the classroom and to the heart of the community the Intel Learn program is an after-school, community education program, targeting underserved youth who have limited access to technology in their homes and schools. It provides opportunities for youth to hone technology and other 21st century skills in fun, engaging learning environments. This Program has reached over 100,000 learners across 22 states and fi ve Union Territories in India bringing about a tangible change in technology knowledge, skills and attitudes giving the young learners in developing countries opportunities to learn key skills needed for tomorrow's success. At Intel we believe, that a solid math and science foundation coupled with skills such as critical thinking, collaboration and digital literacy are crucial for success in the knowledge economy. To inspire
and expand students' knowledge and enthusiasm for science and math the Initiative for Research & Innovation in cience (IRIS) a collaborative initiative between the Confederation of Indian ndustries (CII), the Department f Science and Technology (DST),
Grab the opportunity to meet the who's who from the world of education. Join us for World Education Summit in New Delhi on 9-10th August 2018. It will be a wonderful occasion to explore business opportunities. Like us on Facebook, connect with us on LinkedIn and follow us on Twitter.
>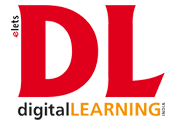 Recommended from all portal