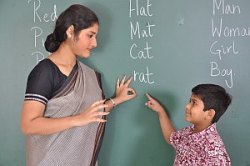 It has been a month that the central human development resource ministry sanctioned 1,100 teaching posts in Chanidigarh, but the Union Territory education department continues to sit on amendments to teacher recruitment rules which is mandatory to begin the recruitment process.
This issue which is pending since 2011, has gained significance after the centre sanctioned 1,150 teaching as well as non-teaching posts in March under the Right to Education Act, 2009.
While the department is awaiting for the lok Sabha elections to end to begin the process since the department cannot go ahead with the recruitment without making necessary amendments in its rules that was necessitated after the Right to Education Act, 2009.
According to the act, the Union Territory will have to notify the amendments in its recruitment rules as per the guidelines issued by National Council for Teachers Education (NCTE) before recruitment.
The Union Territory has yet to adopt its recruitment rules that every state is mandated to recruit teachers only on the basis of teacher eligibility test (TET) conducted by it.
While states like Punjab and Haryana conducts their own TET and Chandigarh being Union Territory is required to consider Central Teachers Eligibility Test (CTET), conducted by Central Board of Secondary Education as part of the eligibility rules.