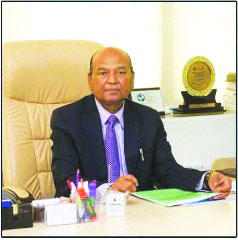 Prof (Dr) Devendra Pathak, Vice Chancellor, APG Shimla University talks about the importance of industry-academia partnership in providing employable skills to students
What has been your mission while promoting the cause of education?
The mission and vision of the promoters of APG Shimla University, is to create leaders who inspire a vision, winners who set positive paradigm of action and achievers who have the will and strength to make the difference.
In terms of regulation of the higher education sector, what are the key challenges and prospects in reforming the landscape of higher education?
In Himachal, we had Himachal Pradesh Private Educational Institutions Regulatory Commission, which has since been struck down by High Court of Himachal Pradesh. However, state government is the regulator through its department of higher education. The government only decides about the number of intake of students, types of courses to be run, tuition fee and hostel charges without any value addition to curricula, assistance to training and development and employability. These are the real bottlenecks in ensuring viability in bringing changes in the higher education landscape.

What are your views on RUSA: Will it be the game-changer in higher education and how?
RUSA is really a revolutionary step aimed at galvanizing the present educational delivery, its pedagogy and methodology hitherto practised. Option for choicebased credit system opens creative avenues for the students to pursue their choice-based subjects adding passion to hobbies and studies.
With foreign collaborations being the key focus of educational institutes, what are the current and future plans of your university in the same?
APG Shimla University already has tieups with more than half a dozen foreign universities and at present, some 60 students from different countries are studying here. The number is likely to go up to 200+ during academic session 2014-15.
Do you think industry-academia partnership is important to provide employable skills to students and how?
Mismatch between the expectations of industry and delivery of academia has been the main stumbling block for employability of the graduating students. We have been trying to bridge the gap by continuous interface with the industry and get our curriculum vetted by
them.
What are your views on the use of ICTs in education? How does the university keep up with the rapid technological changes?
We have given utmost importance to introduction of technology and its convergence has been ensured in all streams, be it management, engineering or any other course.
What role do you think private universities play in the education sector in India?
With three million students seeking to pursue higher education in various streams, the central, state and deemed universities cannot cope up with their existing infrastructure and capacity of intake. Therefore, intervention of private universities is warranted to take care of the increasing demand for higher education.
How can India's higher education system be made more robust? How has your university been able to provide the necessary knowledge for effective employability of students?
Higher education in India can be robust if faculty is well qualified for dissemination of knowledge, emphasis is laid on original research resulting into productive development, adequate compensation, congenial environment, motivation and support are in place. Close rapport with industry and academia in tune with their expectation, course curricula matching to the needs of corporate and industries with proper infrastructure and lab facilities, etc. will help boost quality and standard of higher education raising the employability quotient of the students.

br>