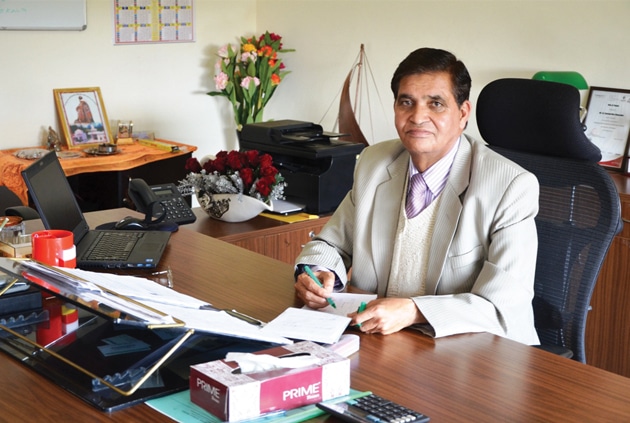 Prof S K Kaushal, Vice Chancellor-cum-Chairman, Arni University talks about the policies that can be a game-changer in higher education
What has been your mission while promoting the cause of education?
Arni University is a vibrant, equitable and sustainable university, committed to teaching and research excellence at the service of its students, scholars and wider community. The mission of the University is to provide high quality education contributing to the advancement of knowledge
that is socially relevant, and applying that knowledge to the scientific, technological and social-economic development of our nation and the wider world. Our principles are to commit ourselves to the pursuit of truth, intellectual honesty, openness to ideas and excellence through the attainment of the highest professional and ethical standards in teaching, learning, research and service to the community in vicinity.
In terms of regulation of the higher education sector, what are the key challenges and prospects in reforming the landscape of higher education?
Our imperfect world is advancing relent-lessly towards uncertain future scenarios, and we must try to redirect it towards sustainability, that is, towards a new way of doing things in order to improve our environment while at the same time, achieving justice, social equality and economic
stability. However, change is impossible without learning, just as learning is impossible without change. In the text that follows, I will analyze the need for a new form of education in today's society and identify the specific challenges that higher education faces.
1. Changes in Universities as institutions and at the level of internal organization. These changes should aim to improve the management of resources (human, economics, etc.) and be restructured to improve internal democracy. Universities must continue their mission to educate, train and carry out research through an approach characterized by ethics, autonomy, responsibility and anticipation.

2. Changes aimed at tapping the potential of information and communication technologies in the creation and dissemination of knowledge. The goal of such changes is to create what Prensky (2009) calls digital wisdom.
What are your views on RUSA: Will it be the game-changer in higher education and how?
RUSA is a good step. It will improve the overall quality of institutions and create an enabling atmosphere in the higher educational institutions where people will devote themselves to research and innovations.
Do you think industry-academia partnership is important to provide employable skills to students and how?
Industry-academia research partnerships have become an important part of good university and corporate R&D. Several basic trends and needs of the academia and industries have fueled these alliances. They include the decrease in government funding of academic research, an explosion in technology, a robust economy, and greater competition within industries. The results of these partnerships are mainly positive for all parties involved. Industry gets needed research, Universities get funding, and society gets new products and technology.
It's a balancing act of mutual cooperation in which everyone has a shot at winning. To remain competitive in the global economy,
it is imperative that corporate sector accelerate their innovation process. The industry gains expertise in areas they need the most. And they have a hand in producing graduates who are better equipped to enter the business world. We cannot deny that industry has benefited immensely from these partnerships by fueling research in academic centers.

br>