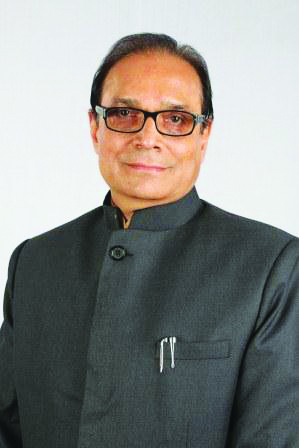 Rajendra Kumar Pandey, President, NIIT University talks about the role private universities play in the education sector in India
What has been your mission while promoting the cause of education?
NIIT University's vision is to be the leading center of innovation and learning in emerging areas of the knowledge society. Our mission is to foster research, discovery and sustainability, deliver distinctive education through the pioneering use of technology, develop talent for the sustainable growth of Industry and society and nurture a culture of seamlessness in all facets of life.
Do you think industry-academia partnership is important to provide employable skills to students and how?
The rapid pace of growth of knowledge and more specifically knowledge in the domain of science and technology demands innovative approaches in higher education. The response time to understand, meet and face these changes and challenges has to be fast. We believe the only way to be able to respond in a far more effective way to these changes is to go hand in hand partnering with the industry.
Exposing students to the corporate world by the way of frequent industry visits, internships, live projects and interaction with senior management from leading organizations makes for a tremendous difference in the understanding of required skills for industry and corporate culture.

What role do you think private universities play in the education sector in India?
The twenty first century has ushered in profound changes in the way society perceives and demands higher education from universities. The rapid pace with which technologies are changing has also put pressures on the academia to constantly adjust to these changes in a dynamic way. Private universities are uniquely positioned in responding to these challenges. The cultural divide between private university and the corporate world is also narrower, which helps in fostering stronger bonding. The benefits of the bond obviously go to the students in terms of job opportunities. These universities also offer better campus facilities, IT infrastructure and freedom from red tape. These are some of the reasons behind the success of private universities in India.
How has your university been able to provide the necessary knowledge for effective employability of students?
Our strong linkages with industries, technology-based education, worldclass infrastructure, research-driven culture and seamless ideology make us unique. The academic programmes at NIIT University have been designed to ensure that students get exposure to the corporate culture by way of industry practice, internship, corporate mentorship and foreign immersion. We also ensure sufficient exposure to R&D. Many of our students have thus been able to participate in national and international conferences in India as well as abroad and won awards. We are indeed very proud to share that our students have received sponsored research project from DRDO. The University takes pride in providing 100 percent placement to all the students.

How can India's higher education system be made more robust?
As we are aware, the number of academic institutions in India is just not enough to meet the targeted gross enrolment of 30 percent by 2020. The existing universities have been unable to compete globally in research or knowledge creation. We, therefore, feel the nation needs to encourage the increase in number of institutions for higher education. To compete and to be acknowledged globally, we should also encourage foreign university collaborations and foreign immersion programmes. The industry should also be involved, so as to understand their social responsibility and come forth with their contribution.

br>