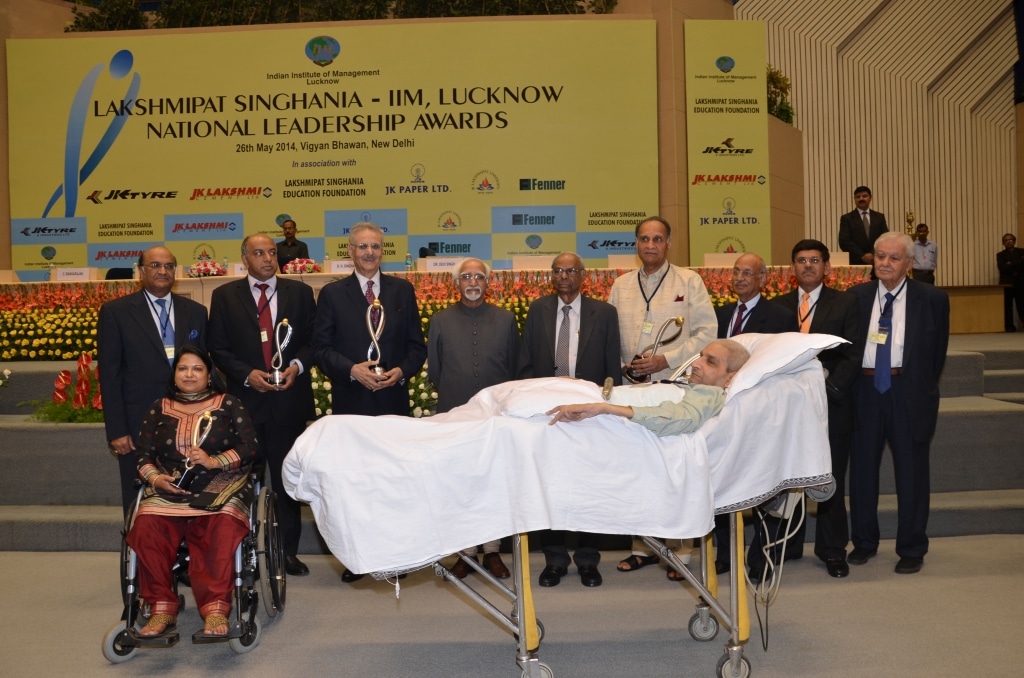 JK Organisation has announced the winners of the 9th Lakshmipat Singhania – IIM Lucknow National Leadership Awards on 26th May 2014.
The awards were bestowed upon the winners at Vigyan Bhavan in New Delhi during an elaborate grand ceremony by the Hon'ble Vice President of India, Mr M. Hamid Ansari. Presented to individuals in recognition of their outstanding social contribution and exceptional leadership talents, the award has been named after the key Architect of JK Organisation, Lala Lakshimipat Singhania. The concept behind the prestigious award is to recognise and encourage young and motivated individuals who have worked those extra miles to bring about social development and have remarkably contributed to the growth of our country.
The recipients are selected through a multi-layer selection process.  The final selection is done by a Jury of eminent and knowledgeable peers from different walks of Society.  The Jury was chaired by Dr.C. Rangarajan, Chairman, Economic Advisory Council to Prime Minister
Applauding the awardees for their exemplary contribution of making a difference in the society; Hon'ble Vice President Shri Hamid Ansari said, "This is a truly remarkable experience that celebrates human spirit. I take this opportunity to salute Shri Lakshmipat Singhania as he is a fine example of a socially aware entrepreneur and always knew his responsibilities towards society."

The awards were presented in three categories- Business, Science & Technology and Community Service. The parameters of assessing the awardees were- excellence in work, high personal values, ethics, innovation and establishing balance of disparate forces operating in their respective fields.
Vice President Hamid Ansari conferred the awards to Mr. Y. C. Deveshwar, Chairman, ITC Limited; Mr. Sanjeev Bikhchandani, Founder, Info Edge; Prof. Goverdhan Mehta, National Research Professor and Jubilant-Bhartia Chair Professor, University of Hyderabad; Dr. Shiraz Minwalla, Theoretical Physicist and String Theorist, Department of Theoretical Physics, Tata Institute of Fundamental Research, Mumbai; Dr. Rajinder Johar, Founder, 'Family Of Disabled', Delhi; Ms. Anjlee Agarwal, Co-Founder & Executive Director, 'Samarthyam', Delhi.

br>