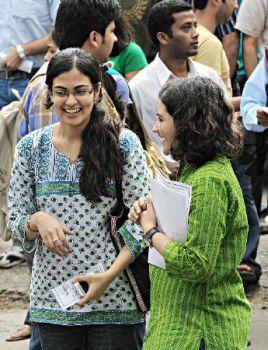 Bangalore students have successfully left behind students from other regions of country to secure first rank in all streams, except in B.Tech (Food), in Common Entrance Test (CET). In total, Bangalore students have secured 45 top ranks across all streams. It was found that majority of the students who achieved good marks belong to integrated pre-university colleges.
Girija Agarwal, from Narayana PU College, secured top rank in four streams: Indian System of Medicine and Homeopathy (ISHM), veterinary sciences, medical and dental, and B.Sc (Agriculture). Srinidhi Prabhu belonging to same college secured first ranking in B.Tech (Agriculture), engineering, pharmacy and architecture.

Soorya VK, from the Expert PU College (Mangalore), is the only student from outside Bangalore who achieved first rank in B.Tech (Food). As per CET, the number of candidates increased by 1,638 this year as 1, 39,198 students- 66,227 girls and 72,971 boys- appeared for this exam conducted by the Karnataka Examinations Authority (KEA).
RV Deshpande, higher education minister for Karnataka, has declared that government will reimburse the entire fee for students (who have achieved top five ranks) who would enroll in Karnataka based colleges.