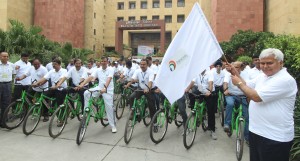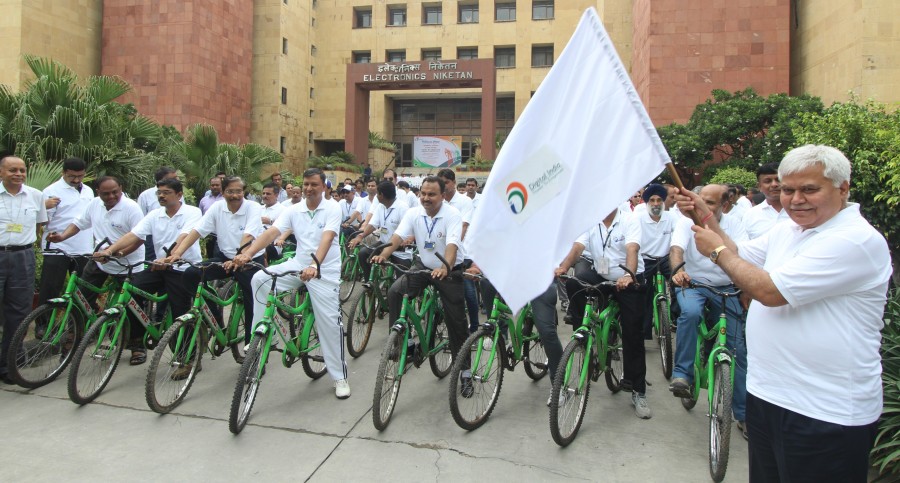 Taking forward the mission of the ongoing Digital India Week, the National Institute of Electronics and Information Technology (NIELIT), a body with the Department of Electronics and Information Technology (DeitY), Ministry of Communications & IT, Government of India has spread the message of digital literacy through a cycle rally from Electronics Niketan (CGO Complex) to Harijan Basti (Valmiki Colony), Mandir Marg, with a view to sensitise the local residents of Harijan Basti about 'Digital India', which is an enabling framework, irrespective of age, gender, caste or religion.
Over 50 officials of NIELIT, DeitY, Industry, etc participated in the rally followed by an interactive session with the local residents led by Dr. Ashwini Kr. Sharma, MD, NIELIT.
The NIELIT officials elaborated on the benefits of various e-Governance initiatives, including digital literacy, Swacch Bharat, Make-in-India etc. The initiative showcased the Government's initiatives to make access to technology and governance an extremely easy process, besides highlighting the endeavor of the Government in ensuring that the information regarding various Schemes of the Government reaches to the citizens of the country.
RS Sharma, IAS, Secretary, DeitY flagged off the cyclists from Electronics Niketan.

He said "A strong base will enable us to take forward the Digital India Mission and build a knowledge economy. As such, it is imperative that we reach out to all corners and sections of society and educate them about digitisation."
Dr. Ashwini Kumar Sharma, Managing Director, NIELIT said that it is our humble endeavour through the cycle rally to move beyond religion, caste, class to spread awareness about the various components of Digital India, especially to the underprivileged sections of society.
NIELIT has trained over 20 lakh students in the last two decades across 31 NIELIT centres besides a network of about 900 accredited training partners and nearly 6000 facilitation centres. More than 9 lakh candidates have been skilled by NIELIT in 2013-14 as against about 4 lakh in the previous year (2012-13).

br>