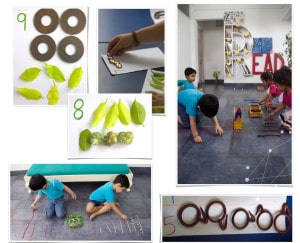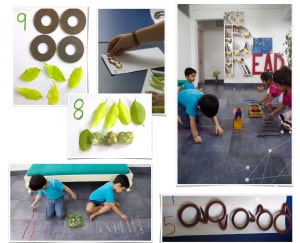 3 year olds find chameleons fascinating, at age 4 the shadows seem to dance and children aged 5 talk about everything from space to electricity.
We conceptualised 'The Atelier' with a vision of keeping the innate sense of curiosity and wonder alive, through the childhood years. Children express themselves in countless different languages and our aim is to encourage them to do so. We have an adaptive and flexible approach to learning which revolves around ideas, interests and choices made by children. Our endeavour is to introduce a learning process that excites and stimulates children.
We realised very early on in our journey that to stay true to our vision, children would need to take centre stage and educators would need to step back, listen to, watch and observe them.
Our curriculum gradually started to emerge from the children's interests, questions and enthusiasm levels. While we have developed a framework for foundational learning with reference to Howard Gardner's Theory of Multiple Intelligences, we follow an emergent  curriculum programme which is largely inspired by The Reggio Emilia Approach to early childhood education.
The children work on medium to long-term projects which start from gaining an insight to their current perspective to research and representations. These projects not only help in developing the children's multiple intelligences but also get them to analyse, hypothesise, plan, solve problems and work together as a team. This programme, thus, gives priority to the process rather than the product. The children develop a sense of individuality and feel confident in expressing themselves without any inhibitions of being right or wrong.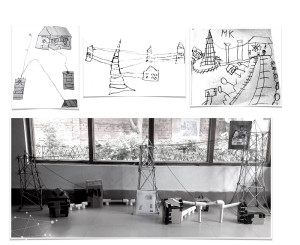 During a recent exploration on essentials for survival, the need for electricity came up. Our conversation slowly led to the source of electricity and we discussed about electrical towers, wires and connections.
Another priority for us is the environment that the children grow up in. We believe in an environment that is natural, respects children and provides them with the materials and endless possibilities to explore.
The use of materials that are open ended, flexible and seen everyday allow children to create their own stories and think creatively no matter what the theme or context.
An early challenge we faced at The Atelier was developing a team of educators that would be able to unlearn the instruction-based teaching methodology and learn an inquiry-based approach to education. Another challenge was getting parents on board with the philosophy and educating them to resonate a similar environment at home. Parents and teachers, both play a crucial role in a child's development. The relationships between parents and children, teachers and children and parents and teachers are two-way relationships that involve respect for each other. We emphasise and value parents' involvement in their child's learning and development. We also expect parents to be actively involved in life at The Atelier. Regular group meetings and workshops ensure that children get a consistent learning environment and consistent messages from adults both at home and at school. The parents are also sent detailed documentations of the projects that the children are involved in on a periodic basis.
While running a preschool involves facing several day-to-day challenges, it is the 'aha' moments and the many small victories that make each day exciting and fulfilling for us.