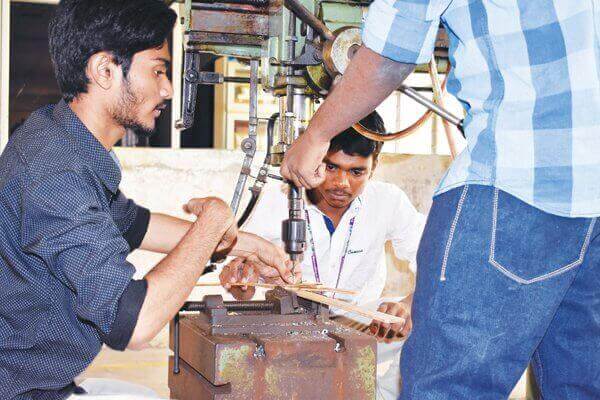 MVGR College of Engineering strives to become a center par excellence for technical education where aspiring students can be transformed into skilled and well-rounded professionals with strong understanding of fundamentals, says Dr K V L Raju, Principal, MVGR Engineering College, in conversation with Elets News Network (ENN).
What are the innovative ways adopted by MVGR College of Engineering to improve the teaching-learning processes?

The teaching-learning processes have changed a lot from traditional methods. The methodologies are now inclined more towards using the Information Communication Technology (ICT). Being an autonomous college, we have the liberty to adopt project based learning which is one of the major differences we are offering. Nowadays, the learning is no more teacher-centric, it is more student-centred. It is so because whatever we are teaching in the classroom is already available to students in the form of Massive Open Online Course (MOOCs) or other resources on Internet. We are encouraging students to use these resources as it helps in making the classroom environment more engaging and students are also enjoy such type of learning.
How the teachers are encouraged to get trained in latest technologies and to adopt the latest practices?

It is very important for teachers to be equipped with the latest technologies and practices as only then they can encourage students for the same. To remain updated with the latest technologies, we have made policy for teachers 2-3 years back under which they have to do training under a professor of a national or international institute of global repute. Teachers are encouraged to take MOOCs so that later they can encourage their students for the same. Teachers in our institute also undergo industry internship to make the classroom learning more meaningful and industry relevant.
It is important for students to be skilled as per the industry requirements, how MVGR helps its students in acquiring industry relevant skills?
Along with industry visits and internships, we have a strong base of alumni working in various parts of the country and abroad. The alumni are having enriched experience of their respective fields and we help students to see the world through the eyes of our previous students. We leverage the experience of our alumni in getting students hands-on experience in latest technology and tools. We encourage them to adopt the best industry experience. Other than that we have collaborated with various industries for students' training. Siemens is providing the training to our students in electrical machines. We have a collaborated with organisations like Microsoft, TCS etc. Every department has collaborated with respective industries to skill students as per the industry requirements. Industry collaborations are also helping us to conduct various skill based certification programmes other than the academic programmes.
We have four to five industry ready laboratories not the academic laboratories. The institute is also among the 20 member institutions under Andhra Pradesh State Skill Development Corporation (APSSDC) for skill training of students.
Education in the Western developed countries are meant for empowerment not for the employment alone. But in case of India, the situation is totally different as the focus is on employment
What methodologies are adopted in your college for better placement of students and to encourage them for entrepreneurship?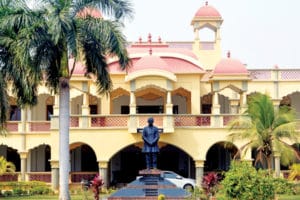 The institution believes in holistic development of students. We have sports clubs, cultural clubs, NCC and NSS to encourage students to participate in various activities other than the studies. These co-curricular activities make them more employable. Co-curricular activities which are complimentary to academic learning like workshops, conferences and symposiums shape the students well and encourage them to showcase their classroom learning to the outside world. Each of the department in the institute has a professional club which helps its students to bridge the industry-academia gap. These clubs identify the gap areas among students and suggest measures to bridge them. We conduct classes for aptitude, language and communication for students and also provide them platforms to self assess and later engage themselves in the activities for a better personality.
In last three years, there is a buzz for innovation and start-up and it is good as it will help in generating wealth and employment opportunities to the students. We have an incubation centre which is recognised by the Ministry of Micro, Small and Medium Enterprises (MSME). People from ministries, leading corporate and banks are available for students to support and guide them in their initiatives. Around 90 per cent of the children are interested for jobs but to the rest 10 per cent who are interested for start-up, we guide them and support them in their ventures.
With such a large number of institutions in India, very few are able to make it to the top list of global institutions, what are the improvement areas we need to focus on?
Education in the Western developed countries are meant for empowerment not for the employment alone. But in case of India, the situation is totally different as the focus is on employment. Around two decades ago, the number of institutions India having, was lesser than the demand. But suddenly there is mushrooming of institutions which are affecting the quality of higher education. The situation may stabilise in coming years but currently it is far worse than that of developed countries.
Another reason of degraded higher education quality in India is that the institution and industries work in isolation. Until and unless the two will work together to bridge the gap, it is difficult to bring the education standards at par with the global standards.