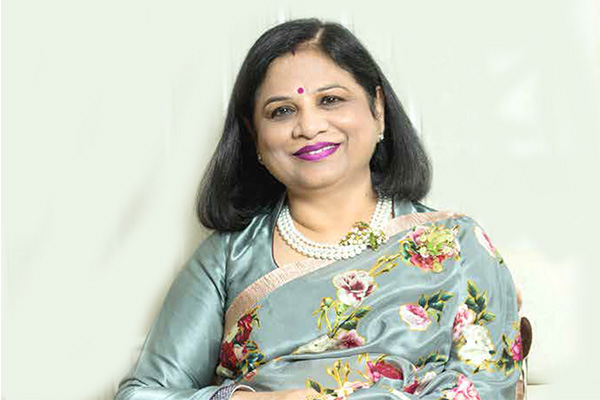 Chitkara University encouraged students, parents and other stakeholders to remain active through various online modes says Dr. Madhu Chitkara, Pro-Chancellor, Chitkara University, Punjab in a conversation with Elets News Network (ENN).
The COVID-19 pandemic has forced many sectors to shift their bases online including education, where numerous schools and colleges have started teaching their students through online platforms all across the world. In India, however, when most of the educational institutions were in search of alternate way of teaching, Chitkara University was equipped with its own initiative "Online Chitkara University" for giving on-line sessions on streaming, trending and state-of-art topics to the students to support their educational and employability skills. Sometimes these sessions were planned as a series of hands-on sessions. Experts from outside were invited to give industry perspectives on emerging new normal. At times, simulations packages were run online for giving insights into a complex topic. Very many cases of team teaching could be witnessed in these live seminars, thus benefitting the students multifold.
To start with, all departments at the university uploaded complete calendar for the online classes. This was done to save the students getting overwhelmed with too much coming their way. For live turorial sessions, the varasity used GotoWebinar, Zoom and Microsoft platforms. Live tutorial sessions / lectures were then planned in line with already announced time-table for the online university. Prior to this, live training sessions were given to students and faculty members for their complete preparedness. The students were incentivized to ask questions during these sessions and if they took part in online discussions. These sessions were recorded and the recorded sessions were available as the repository for the students. An administrative policy was framed and announced for safe use of IT infrastructure.
A year back, when the concept of team teaching was introduced at the University, they started recording the lectures of some excellent teachers. These recorded lectures came in handy when the Online University initiative was launched. These, along with other prerecorded lectures from the MOOC platforms such as NPTEL, Swayam, Coursera, Udacity were used to evolve blended learning models. Pre recorded lectures were also used to set up flipped classes, where students attended the online class after seeing the video lectures, and the synchronous session was conducted for fruitful discussion based on the lecture. The flipped approach witnessed an increase in the engagement of the students.
"We realized that in addition to webinars, and one way seminars, the students needed to engage in one-to-one sessions with the faculty members – especially to clear their doubts. These sessions were named as doubt-sessions. Besides these doubt sessions, other one- to-one sessions included conducting viva voce and other formative assessments to gauze the engagement levels of the students", said Dr Madhu Chitkara Pro Chancellor, Chitkara University.
Structured feedback practices were introduced to take feedback on the online sessions. The survey was conducted in two modes – filling of online forms and the other in online one-to-one sessions. The questions were included to guaze the students understanding of ease of use of technology, ease of understating of online-material, and overall feedback on other online sessions. Sometimes these feedback sessions were conducted in small groups. Another purpose of these sessions was to mentor them and counsel them, if the students struggled with any psychological issues due to home confinement. The teachers also gave them feed back on their online performance.
During this pandemic when most of the Universities and HEIs were closed, Chitkara University encouraged their students, parents and other stakeholders to remain active through online mode. The University's timely investment in IT infrastructure supported this move and as a result most of the students were able to complete their internship through online mode with collaborating industry partner.
Also read: Chitkara University, only University from Punjab to make place in THE Impact Rankings 2020
Chitkara University started the new online "Explore" series of lectures and interactions with eminent personalities Chetan Bhagat, Chef Sanjeev Kapoor, mythologist and illustrator Devdutt Pattanaik and many illustrious speakers addressed the students and staff. Thanks to the rebust IT infrastructure of the University.
Chitkara University has added many achievements in its list:
1. Chitkara University is the only university from North India to feature in the top list of the Times Higher Education (THE) Impact Rankings 2020 and ranked 59th rank globally in SDG- 07: Affordable & Clean Energy. Apart from SDG7, the university was able to secure good positions in other SDGs also, 101-200 in SDG5: Gender equality, 201-300 in SDG09: Industry, Innovation and infrastructure and SDG11: Sustainable Cities and Communities for development for making progress in 'social impact' aligned with the UN's sustainable development goals.
2. Chitkara University was recognized as first Indian university for E-Learning Excellence for Academic Digitization (E-LEAD) Certification from QS IGAUGE, the Indian arm of global rankings and ratings agency Quacquarelli Symonds for its readiness & excellence in online education.
3. Chitkara University was the only University from India to have made it to the top 8 finalists for the category – 'Technological Innovation of the Year' for the prestigious Times Higher Education Asia Awards 2020. Touted as the "Oscars in Higher Education", in which 150 globally renowned institutions across 30 Asian territories participated, Chitkara University proudly announced achieving this milestone, third in line this year, among the league of top recognitions and rankings it has bagged thus far.
4. Chitkara University was ranked in top 100 universities by NIRF with 38th rank in Pharmacy and 75th rank in Management.
Chitkara University, Punjab has been very active in supporting its five adopted villages and distributed ration packets amongst the families of Jhansla village who could not provide for themselves in this lockdown. Apart from this, "the university has supported more than 1 Crore Rupees to PM Care Fund, CM Relief Fund, District Administration and Corona warriors through cash and kind. The New generation Innovation and Entrepreneurship Development Centre (NewGen IEDC) supported by DST, GoI at Chitkara University is also making face shields and cloth masks for onward distribution to front line corona warriors. "It is our responsibility support the national fight against COVID 19, in all possible ways", said Dr. Archana Mantri, Vice Chancellor, Chitkara University, Punjab.
Another major initiative in the line is Radio Chitkara FM 107.8, only radio station in India and world now, broadcasting round the clock programmes on Corona awareness for the community in the region including five adopted villages of Chitkara University in Punjab state since last week of March 2020. Radio Chitkara identified immediately that the priority was to disseminate information regarding spread of coronavirus, its symptoms, and possible preventive measures to be taken by the public for avoiding community transmission in India.
Ever since initiative was taken by Radio Chitkara, the response from the audience (Patiala District, Mohali District in Punjab and Ambala Cantt District of Haryana) has been great to the station. 24 x 7 ongoing transmission within a diameter of 15 kms covering three political constituencies has reached more than 1.5 million listeners through terrestrial transmission.
State government's efforts for people during the Corona crisis are highlighted and do's and don'ts to stop Coronavirus is played again and again in radio to reinforce the habit among the audience. The spots of central, state government on Covid-19 is also played in between programmes so that information can reach to listeners in crisp form.
Efforts of Radio Chitkara are fully supported by Chitkara University Leadership Team. Recently, Chitkara University Chancellor Dr. Ashok K. Chitkara and Pro Chancellor Dr. Madhu Chitkara have declared funding support of Rs. 1 Crore (more than hundred thousand US Dollars) through CURIN (Chitkara University Research and Innovation – Centre of Excellence) for NOVATE+2020 which was the biggest platform in the region where innovative project ideas from all over the country were showcased to find the solutions for problems arising because of the pandemic.