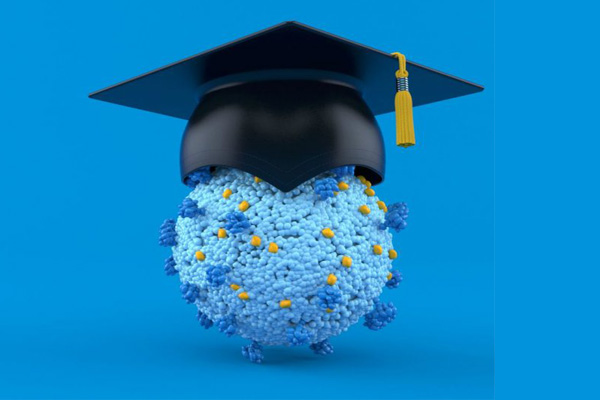 At the same time, the potential long term negative effects on the labor market expected in a few months remain frightening, more so than in previous years, detail analysis by Pankaj Samantray of Elets News Network.
Most likely, 2020 will be remembered as a year full of challenges, agony, new opportunities and a sense of globality; after all, we were "stuck" together. This year has at times left us insecure and perhaps even baffled. The modes of teaching in higher education have drastically changed in last few years. While some old guards still stay with the old chalk and talk of technology, India has been able to resolve the longstanding tension between excellence and equity.

And given the economic and health impact of COVID-19, it is clear that things will remain uncertain for some time to come. Many areas of society (if not all?) Are affected. Long-term effects cannot be fully understood or measured at this time. But it is clear that there will certainly be social changes. There is the possibility of a fundamental change.
Perhaps it is insecurity, although relative, that causes fear in many.

Uncertainty uniquely exists among seniors at our universities. For them, the year unfolds differently in a particular way. What would have been a year to finish and prepare for an exciting new phase has now forced future graduates to continually adapt while feeling a sense of uncertainty about what to expect.
At the same time, the potential long-term negative effects on the labor market expected in a few months remain frightening, more so than in previous years.
Distance education
Like all other school groups, last year's students had to prepare for an online learning experience. For some it was an easy adjustment, while for others the challenges of studying at home, the impact of our entrenched social problems, and the practical impossibility of virtual research were great.
Fortunately, some seniors have returned to our campus for laboratory and clinical work, among other things. And with the loosening of lockdown rules, all students could return to campus. This would particularly benefit those who could not graduate while trying to study at a distance.
On the golden end of the spectrum, it is clear that most of our social housing colleges were more than willing to try online courses.
And perhaps even more importantly, the quality of the titles remains high, even in international comparison. Time will tell how this plays out.
The job market
So far, the number of graduates who have struggled to find employment in the first year after graduation has been relatively low, also compared to graduates from other parts of the world. But this image could be very different for next year. It remains to be seen whether trends in job loss will continue locally and globally, and to what extent they will affect graduates.
With most industries currently employing fewer workers and our formal unemployment rate on the rise, the job market will continue to be under pressure.
In fact, this is true for those who know how to reinvent themselves, take risks, or can afford to take risks and seize opportunities in the right place and time. We ask all of our graduates to do perhaps more than their predecessors expected.
Experience abroad
For many graduates around the world, experience abroad is considered one of the top picks for postgraduate wish lists. In this context, they go abroad to enter the temporary labor market, to gain work experience (three to six months) or to find a full-time position. At the very least, graduates in professional fields tend to join companies that allow some international presence.
However, in December 2020 and January 2021, it could be very different. Borders may not be as closed as they have been in recent months, but job opportunities, including temporary jobs, will almost certainly be less. This will likely limit the chances for graduates to work abroad.
Changing political contexts and a growing sense of 'closing ranks' in some countries could make this a longer-term phenomenon, something that could affect South African graduates more than their counterparts in other parts of the world.
Other studies
It may be safer for our future graduates to pursue their studies in a conscious and directed way. There is much debate about what it means to be "overqualified." However, it is difficult to oppose continuing education. The way you use these skills is, of course, different.
Graduates, of course, should follow the golden rule: choose a degree or research topic that appeals to them. Otherwise, especially since graduate studies require constant personal motivation, they will have a difficult time completing their studies successfully.
If there's an opportunity for graduate school in tough times, take advantage of it. The added benefit may be that graduates can complete their studies in whole or in part internationally.
Financial problems
The financial implications of the pandemic at the personal, family and governmental levels should also be considered when considering the option of further studies. Therefore, our graduates may have to search more and more in order to pay for their degree. However, there may be more options available than we think.
However, it is important to make informed financial decisions during difficult times. This should not prevent calculated risks from being taken.
Professional experience
Getting work experience is always a good idea. It stimulates, the learning continues, and you may find yourself in a different (better?) Future career. The options may be limited with limited payment levels, but the benefits, especially under current circumstances, are endless.
Strong support is perhaps more important than ever. It will continue to be invaluable to retake this conversation, ask these questions, and be challenged, guided, and informed.
In conclusion, we must remember that our contexts and our realities are different. Of course, this will have a noticeable effect on our prospects and opportunities. But we all have to learn to create our own opportunities as best we can. It will also require us to seek support and understand that failure is not the end of the story.
Judging by the number of times I have used the words "could", "maybe", "should", etc., it is clear that we are in the middle of an uncertain moment. However, it is better to deal with uncertainty than to let a false sense of certainty guide our every move.