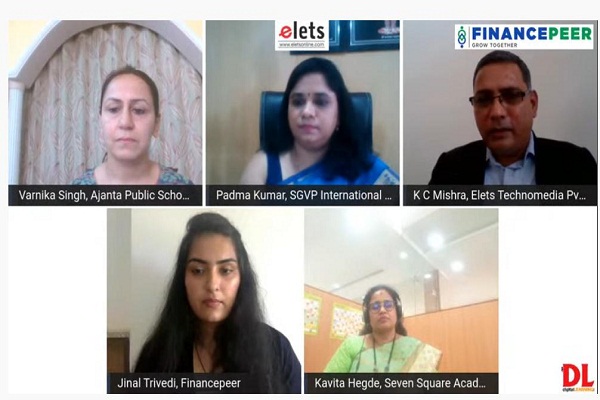 Despite the current challenges of distance and hybrid learning, new opportunities have also emerged, especially in the use of educational technologies. Schools have recognized that educational technology is essential in preparing students for a rapidly changing world. Educators learn new teaching methods and constantly strive to innovate.
The move to distance education has highlighted the need for solid professional training.
Distance education has many advantages and disadvantages. Students have much more flexibility to work at school: they can decide exactly when to study and when not to study. However, many students find it difficult to find the motivation to work without a teacher there; This can lead to further postponement.
While the backbone of distance education has both positive and negative aspects, many experts believe that this form of education is the future of college computing.
Also read: Elets Exclusive: Educators: Students need to reskill and upskill to face the job scenario
Distance learning point refers to the rapid increase in the number of distance learning students due to the coronavirus pandemic. Many experts believe that this backbone of distance education could shape the future of college.
Distance learning has many advantages and disadvantages. A large number of students prefer distance learning due to the greater flexibility and convenience it offers.
DigitalLEARNING Magazine in association with Financepeer organized a webinar on "How the Remote Learning Pivot Sparked Innovation", which highlighted the role of remote learning in the education sector.
Jinal Trivedi, Head of Customer Success/Project Management, Financepeer said "We try to bridge the gap between schools and parents. We pay the entire year's fee upfront to the Institute enabling them to manage their funds efficiently and collect fees from parents in 3 to 12 monthly installments at 0 interest & 0 cost. We are in 65 cities and 4500+ institutions across the country".
Over digital divide she said "We helped a lot of students across the country. Last year was very unprecedented for parents, students and teachers. We have offices in 8 cities and trying to negate the digital divide"
Padma Kumar, Principal, SCVP International School, Ahmadabad said "The educational institutions have witnessed a paradigm shift from last one year. We need to change our mind-set to accept the new change. All the schools have come up with new strategies to tackle the crisis."
Over digital divide, she said "The digital divide is a concern in our country. Orientating the parents was a huge challenge. We introduced various newspapers for students. To negate the digital divide, we discussed the issue with parents."
Over blended learning, she said "Hybrid learning will be the new norm in coming days. The blending mode of learning will remain in the education sector. Teachers have to adapt different modalities of teaching."
Varnika Singh, PCT English, HOD English & Editorial Head of Ajanta Public School, Gurugram said "The year 2020 has taught us many things. The crisis has taught us to make our schools remote. There is a mind-set change within parents and students over adoption of technology in education. We have conducted the new faceless examination in our school. We need to reskill and upskill ourselves."
"Drawing a line between education and use of technology is very difficult. We cannot keep our students away from technology. We have to make students understand the good usage of technology", she added.
"Teachers really need to connect with students as they need motivation for studies. With innovation and creativity, we can serve our students better", she added.
Kavita Hegde, Principal, Seven Square Academy, Mumbai said "The new technologies have arrived with the crisis. The teachers are constantly striving to adapt the new change. There is a transition that is seen in the education system."
"Initially, it was a huge challenging task for many teachers. We started summer camp and many activities through remote learning. In course of time, online education was very essential for schools and parents. Now, students and parents are prepared for the online classes in future also", she added
Over changing curriculum, she said "Teachers have to adapt the outcome based learning. We have to give away the root-learning process. Parents and teachers have to find out new ideas for education. The outcome based learning will help students to be more confident."