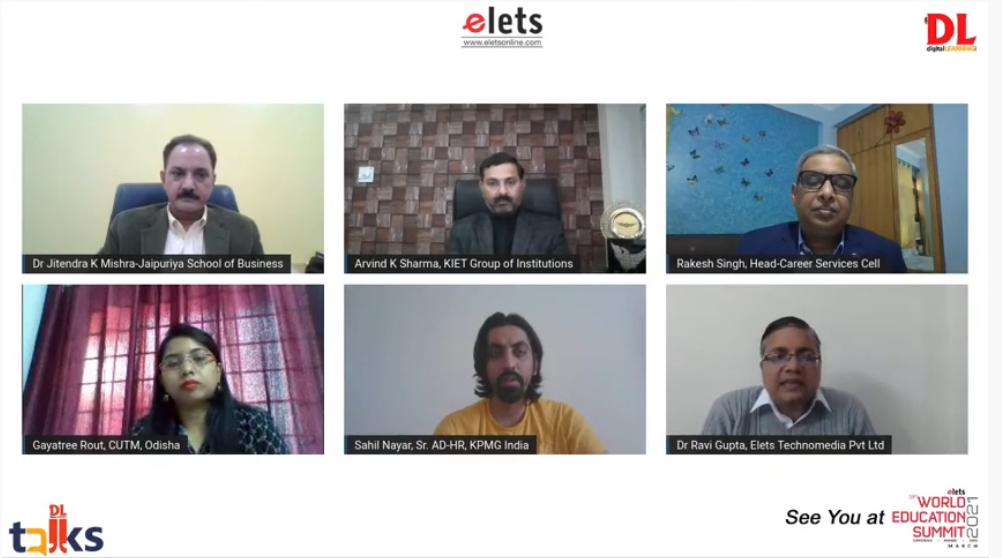 Universities and colleges across the country have opted for virtual campus internships to help students secure employment opportunities during the Coronavirus pandemic. From webinars to sought-after skills and job profiles, to contacting companies for online assessment tests and video interviews, the internship units spare no effort to guarantee students many opportunities.
Universities or institutions organize online evaluation tests for students of the last years to strengthen their candidacy in front of the recruiter. A solid score on your online assessment tests can show the hiring manager how good her skills are.

Institutions regularly host webinars for students to prepare them for the post-pandemic work scenario. Internship coordinators are trying to connect with alumni and business leaders to help students deal with the pandemic.
Almost all companies run online recruitment drives to review student resumes. Once you are shortlisted, they will either conduct interviews directly or opt for written tests.

Elets Digital Learning magazine organized "DL Talks" on "Student placement adaptability during COVID-19: Lessons learnt in 2020" which will discuss the issues of students and colleges over the placement and aims to bring out solutions for them. The panel had eminent names from the corporate and academia industry.
Also read: Educators: Off campus education will surge in coming days
Speaking over the topic, Shail Nayar, Senior Associate Director-HR KMPG India said "Last year has been a great labeller for everyone. We have learnt one thing called "resilience" in this pandemic. Disruption is the new game and we must accept the new normal. We must not forget the lessons that COVID has taught. We must start accepting the "NEO Normal."
He even said, "The demand is very less and supply is huge in the job market. We must understand what jobs of tomorrow are and develop skills for them. It's about employable not employability in India."
He also asked students to reskill and upskill themselves to match the changing job scenario in the country.  In 2021, we will see many good ways of doing things. Hard work can be never replaced with anything. We need to build hybrid skills for students, Nayar added.
Defining the placement challenges, Rakesh K Singh, Head- Career Services Cell, Bennett University, said "The pandemic has brought significant challenges for everyone in every sector. We have created short term tactics to face the pandemic. "Resilience" will be the new tool for everyone and we must adapt the new changes to move forward as things will not be the same."
Over placements in Bennett University, he said "We had completed our placements in the month of January. We quickly moved to the digital mode to provide internships for our students. We accepted and understood the reality and moved to digital mode within no time."
"The times have changed and competition has gone to many folds. We need to prepare students for the new technology and world", added Rakesh Singh.
Over placements, Arvind Kumar Sharma, Head- CRPC, KIET Group of Institutions said "From last 10 months, students and industry have witnessed a paradigm shift. The technology has been a great rescuer in the pandemic.  It's time for us to sharpen our skills for a better future."
Arvind Kumar Sharma also said "We have converted our internships to digitized mode, which helped us a lot. From the month of April, all the classes were shifted to online mode, which helped the placements of our students. We targeted Ed-tech firms, which helped us in placements."
There are a lot of opportunities for youth and every student is an asset for the country, he added.
Dr Jitendra Kumar Mishra, Director, Jaipuria School of Business, Ghaziabad said "The story of COVID is still unfolding. The pandemic has redefined the world and no one is left untouched from the incident. Disruption is a part of life, but we must keep our human connection. Academics adapted the new normal with its own way and found alternatives. Despite such disruptions no one gave up".
He even said "The overall placement volumes have decreased and the CTC part has also gone down drastically. We are trying to cope with the new thing. We need to carry on good things, which we learned during the pandemic."
The pandemic has brought the industry revolution 4.0 more closer and technology has acquired a large space in many places, he said.  We have embedded technology in our curriculum, added Dr Mishra.
To prepare students for the future, he said we must start courses which are more industry-driven and need to change the mind-set that industry is just a recruiter.
Gayatree Rout, Head Placement Training and Alliances, Centurion University of Technology and Management, Odisha said "It was a huge difficult time for all of us. Within a week, we adapted the new change and started online classes swiftly. We are grateful to AICTE, as they introduced Internshala, which was a great saver for us. The job offers of our students were secured."
She also said "The pandemic has helped many people to learn new things about the digital world. Initially, it was difficult for us to start online interviews but things got easier with time. Our students found it easy facing online interviews."
"We had conducted a huge number of webinars for students, so that they can choose their careers wisely. It's very important for academicians to guide students," she added.