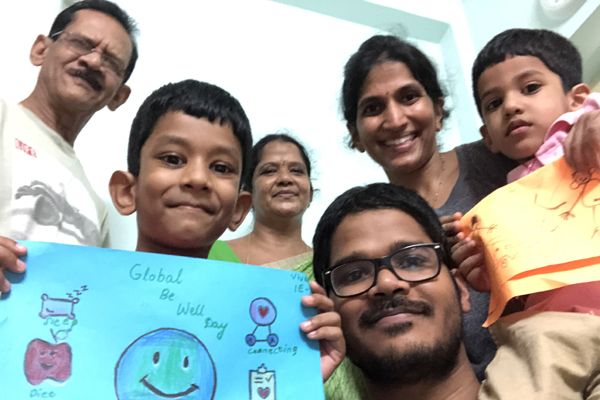 CHIREC International School, Hyderabad is a leading 32-year-old K-12 institution offering CBSE, CAIE & IBDP curricula, and provides an excellent foundation and quality benchmarked education that instils a lasting passion for learning and innovation.
When Covid-19 locked the doors of the physical world in 2020, CHIREC transitioned to a virtual school overnight. Despite the shackles of lockdown that protracted from 21 days to more than 15 months, we assimilated our pedagogy with technology and leveraged our global network to open the most innovative doors of teaching, learning and welfare. The continuous innovation at CHIREC during the pandemic stands on the 4 pillars of Well being, Internationalism, Teacher Welfare & Development and Community Service.
While most of the world was locked down, CHIREC paved its way through the restrictions of the pandemic fostering connections and relationships round the globe. During online school, our students and academic staff continued to earn laurels and left their imprints on renowned Global Platforms. As a part of International Virtual Collaborations, our students took part in discussions with Al-Ain American School, Abu Dhabi, hosted Global Parliamentary Debate between 20 International teams, travelled the world together virtually and became 'digital pen-pals' with the students of Cognita Schools of Southeast Asia, Europe and South America. This undaunted spirit of CHIREC's connections and collaborations in spite of the catastrophe brought by the pandemic got published in the Times Educational Supplement, one of the world's premier and most respected education journals.
Also read: Innovation In Education
With proliferation of the Covid-19 distress, when the world for our teachers and staff shrunk to their computer screens, we at CHIREC made it our utmost priority that our staff feel safe and secure physically, mentally, emotionally and financially. We ensured that no staff members lost their jobs or received a pay cut. In addition to organizing timely health check-up camps and vaccinations drives, we created exciting opportunities for our staff to continue to learn and grow. CHIREC is one of the 15 schools selected for the University College London's Institute of Education's Fellowship Programme for which a team of educators from CHIREC is conducting research in metacognition and dialogic feedback. Moreover, our teachers engaged in stimulating collaborative practices and open-ended conversations in CogCon 2020, a global conference that was hosted virtually by Cognita.
Recognizing the impediments set before the community during these tough times, CHIREC students volunteered and raised a total of Rs. 1.05 crore for Covid Relief through online fundraising organized by Akshay Patra Foundation. In this transformed phase of technology, the CHIREC family also came together to donate about Rs. 68 lakhs towards PM and CM Relief Funds. CHIREC continues to sponsor school fees, covid essentials, restore step wells, organize awareness programmes and encourage student led initiatives for continuous amelioration of the community.
At CHIREC, we understand the importance of staying optimistic and thinking practically during these Covid-19 crises. Minding this, we also instituted an 8-week long Social and Emotional Learning Campaign during the summer break to create a supportive environment to help our community restore, renew, and reinvent itself. While everyone was locked up in their homes, the Cognita Active World Challenge left a refreshing impact on everyone's well being. CHIREC also hosts weekly wellness sessions and activities to focus on the development of students into mindful, empathetic, and resilient individuals.
The past year has truly been a momentous year in terms of the progress made, transforming digitally, learning new technologies and gaining valuable insights into what the future of education should look like. As the world eases into normalcy, CHIREC looks forward to integrating the benefits of online and offline learning to offer holistic education that is more relevant, collaborative and individualized than ever before.